THE canned corned beef section in Australian supermarkets occupies a tiny portion of aisle space but raises some larger questions about retailer decisions related to local versus imported product.
Fresh beef from Brazil is not permitted for import to Australia on Foot and Mouth and BSE disease risk grounds, but fully cooked beef from Brazil can still enter the country as manufactured or processed product that is ready-to-eat.
An example is canned corned beef, which is superheated under steam pressure during processing to sterilise the contents.
While this import pathway has long been in place, closer analysis also raises the question of why more Australian produced beef is not used in the same product category.
As the below pictures show, canned corned beef products sold under the private labels of the two big Australian-owned supermarkets use beef made in Brazil, rather than Australia:
Coles' private brand canned corned beef, made in Brazil.
Woolworths private brand canned corned beef, made in Brazil.
Coles and Woolworths both also stock and sell the "Hamper" brand of canned corned beef, which is manufactured by Heinz Watties in Australia using Australian beef: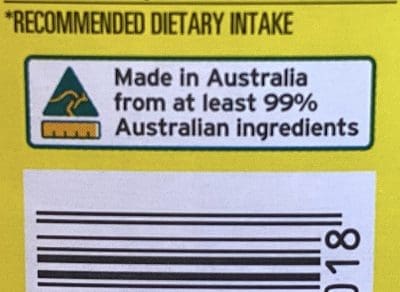 Heinz Watties' Hamper brand canned corned beef, made in Australia.
If it is possible and economically feasible to manufacture and sell an Australian-produced version of the product, as the existence of the Hamper brand demonstrates, why do Australia's own supermarkets source beef for their own private labels from South America, rather than from Australia?
This question was recently put to Beef Central by a reader so we approached Coles and Woolworths to see if they could help us out with an answer.
Both individually responded by pointing out they each stock several brands of corned beef, including locally sourced options and imported products, which they said enabled them to satisfy demand for the product at a range of price points.
In a price sensitive product category, the Australian produced product, Hamper, sells at a price point at least twice the price of the imported product from South America sold under the supermarkets' own house brands, as this snapshot of a Google search for "canned corned beef" shows: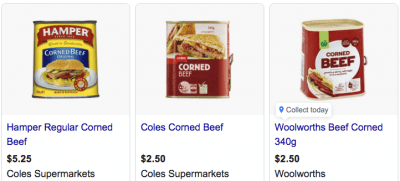 Both Coles and Woolworths also emphasised that they are major supporters of the Australian beef industry with 100 percent of their fresh beef sales coming from Australia.
A spokesperson from Coles said Coles Brand products are "overwhelmingly Australian, with more than 80 percent of products made or grown in Australia".
"Coles is a major supporter of the Australian beef industry, with 100 percent of our fresh beef grown on Australian farms while our export business is helping to expand new markets for Australian beef, " the Coles spokesperson said.
"We range premium Australian made Hamper Corned Beef in our stores as well as our Coles Brand Canned Corned Beef, to provide a value-priced option for customers."
A spokesperson for Woolworths said the chain has an "Australian First" sourcing policy.
"We offer our customers a range of products at different price points to suit different household budgets," the Woolworths spokesperson said.
"The majority of our canned corned beef range in our stores is Australian made and country of origin labelling allows customers to make an informed choice.
"Across our fresh range, we have an Australian First sourcing policy and 100 per cent of our fresh beef is Australian."
While on the same subject it is also worth noting that it is not only the Australian owned supermarkets which market South American-produced canned corned beef under their own brands in Australia.
German supermarket chain Aldi also sells canned corned beef products from Brazil under its own private label "Hydale" in Australia.
Know something more about this issue? Anything to add or any other points you feel should be discussed as part of this story? Join the conversation and share your  thoughts by commenting below.