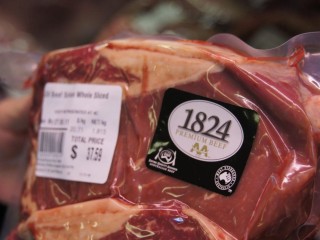 The Australian Agricultural Company's large domestic wholesale/retail business, Chef's Partner will close in coming weeks, reflecting the loss of a major retail customer and generally tough trading conditions.
Observers suggest the Brisbane business has struggled financially for some time.
Almost 30 staff were put-off a month ago, soon after AA Co walked away from a large contract to supply portion-cut, Modified Atmosphere Packaged 1824 branded product as a premium line in Woolworths supermarkets in Queensland and NSW.
It is understood the relationship fell over because AA Co would not sell its product at the price expectations of Woolworths. Sales volume may also have been an issue. The original contract involved supply to close to 200 Woolworths stores, but more recently declined to 80.
The Woolworths northern premium segment will now be picked-up by Cargill's Riverine brand, sourced out of the company's Wagga operations in NSW. Beak & Johnson, already a large value-added protein supplier to Woolworths, is tipped to do the portioning and MAP packing work.
Given Teys Brothers' value-adding facilities in Brisbane, it is possible that the cutting/packaging work could migrate north again, once the marriage between Teys and Cargill is consumated.
Longer-term, it is understood Woolworths' intention is to set-up its own value-add/MAP/portioning operation at its BrisMeat facility near Ipswich. That site is currently under-utilised because of Woolworths' move to a new chilled beef storage and consolidation point at Versacold's massive new 12,000cu m facility at Murarrie. Versacold is one of the world's largest refrigerated warehouse operators.
The Chef's Partner business was established in 2002 as a three-way joint-venture by AA Co, Nolan Meats and former Woolworths senior meat division executive, Pat Dempsey. AA Co bought-out the other partners in 2006, with Mr Dempsey accepting a position as AA Co's general manager, brands.
One observer said the diversified business, which included a MAP facility, portioning and other value-adding work, retail and general wholesale components, probably suffered from putting 'too many eggs in one basket' with its Woolworths connection. The business has apparently come under increasing pressure since AA Co withdrew from the Woolies deal.
Making matters worse is the general stagnation in the retail and food service environment in Brisbane, particularly evident since the January flood event.
"The Queensland economy is supposed to be booming at the moment due to the mining and energy boom, but Brisbane consumers aren't spending," one respected Brisbane butcher said.
Chef's Partner is understood to have serviced about 200 retail and food service customers each week, and the closure will inevitably spark a scramble among players in the wholesale field to pick up the business.
The closure will in no way affect the production or supply of AA Co's flagship 1824 brand or Wagyu business. It will now be distributed through selected, alternate wholesale channels in the Southeast Queensland domestic market, and accessibility will not significantly change. Similarly, specialist portion cutters operating in Brisbane will continue to work with AA Co 1824 and Wagyu product.
1824 now accounts for about $120 million in sales each year for AA Co, accounting for 800-900 head of 100-plus day grainfed cattle each week. Thirty percent of that goes into the domestic trade.
Consumer view:
Beef Central visited the Morningside Chef's Partner facility on Saturday morning to pick up a few closing-down bargains and gauge the reaction from customers.
"I'll be sad to see it go," said Shelley, from Bulimba.
"With five children to feed, we shopped here regularly for big orders, because it is very good quality beef, at a realistic price. I'll continue to shop in bulk, and for better quality product, but price is still important. That now probably means driving across town to the Super Butcher outlet near Brisbane airport."