NATIONAL Australia Bank's Rural Commodities Index rose 2.1 percent in October – the first increase since May this year – driven largely by an increase in cattle prices.
NAB Agribusiness economist Phin Ziebell said the latest monthly report, released today, shows that the Index was also pushed up by lamb, and fruit and vegetables, while domestic grain prices fell.
"Cattle prices roared back to life after good rains in Queensland and New South Wales after months of abnormally dry conditions," Mr Ziebell said.
"After almost falling through the key 500c/kg mark at the end of September, the Eastern Young Cattle Indicator is now over 575c/kg and still rising."
"However, even if seasonal conditions remain strong – which is far from certain – key export markets remain a challenge. Export prices to the key US market have gained recently, although Australian prices still remain detached from US fundamentals in many ways. If Australia is to reflect the US market, the EYCI will likely need to fall further." he said.
"We still see the EYCI at the 500c mark over the coming months, although a good season will challenge this. A price with a 4 in front of it (i.e.400-499c) remains a decent possibility in 2018."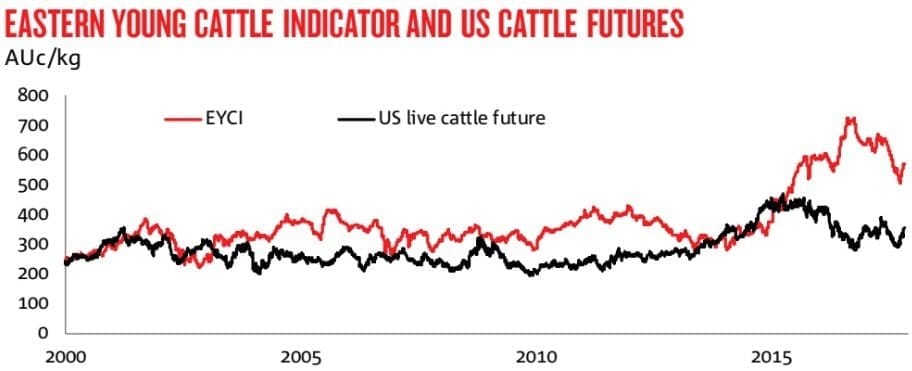 Among other commodities, lamb prices continues to display incredible resilience in the face of the usual spring flush, with the MLA National Trade Lamb Indicator well over 600c/kg and substantially higher than the same time last year.
The wool market is almost back to record breaking highs, rising in October after a decline in September. The spike in coarser wools looks to have abated, but fine and super fine wool remains at a substantial premium.
Mr Ziebell said the wheat forecast remains at 18.7 million tonnes, as October rainfall in New South Wales was arguably too late to boost yields.
Domestic grain prices fell in October, while feed prices rose 2.4pc.
"Some of the pressure on prices due to the current shortage of feedgrain in the domestic market is likely to be alleviated, after rains across New South Wales and Queensland boosted planting conditions for sorghum and expectations for pasture growth," Mr Ziebell said.
Nonetheless, domestic grain was likely to remain at a premium for the rest of 2017, he said.
Prices for most coarse grains have fallen back recently, especially sorghum.
While the Australian dollar remains higher than most agricultural producers would like, recent pressure has been downward, and NAB sees the currency falling to US75c at the end of this year and spending most of next year around the US73c mark.
Interest rate forecasts remain unchanged, with NAB predicting the next movement to be up, in both August and November 2018, with two further hikes anticipated for 2019.
Source: NAB