NUMEROUS examples of how the world is changing and what that could mean for businesses in the Australian cattle industry were touched on at various sessions of the NTCA conference in Darwin last Friday.
From consumer trends to diversification and investment strategies, here are just some of the snapshots and insights offered throughout the day:
Groceries to your door in 10 minutes: Justin Sherrard (left) is an Australian living in the Netherlands as Rabobank's global animal protein strategist. There are five companies he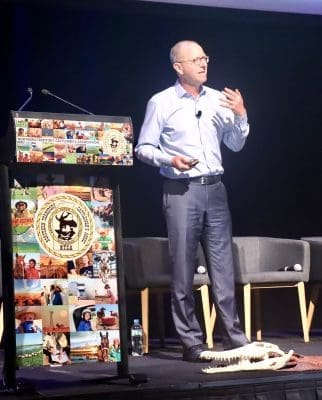 says he can use from his home to order his groceries via his mobile phone and have them delivered to his door within 10 minutes. "I can't walk down to the local supermarket which for me is only 300 metres away and do that shopping and get back home in less than 10 minutes," he said. "I have tried it."
It's all about data: It is not just the speed of delivery that is interesting in the above example. It is also about how the companies are using data from consumer purchasing preferences to make very detailed decisions about which products to offer and what not to offer. Hello Fresh, a weekly subscription service that delivers meal ingredients to customer doors, knows with pinpoint accuracy what its customers want. "They know for example that if they're not offering beef, if they're not offering animal protein on their menu, if they're offering too many vegetarian options, people stop ordering, they know that, and they know the exact point at which people stop ordering," Mr Sherrard said. "They know what type of beef people want and how much time they are willing to spend preparing it, and they get that information berceuse they're a data rich company."
The consumer is now the real driver of the supply chain: Supply chains are now lining up in ways that are giving consumers more power than ever before. "The flip side of the consumer having so much power is they want to start dictating what it is that you're doing."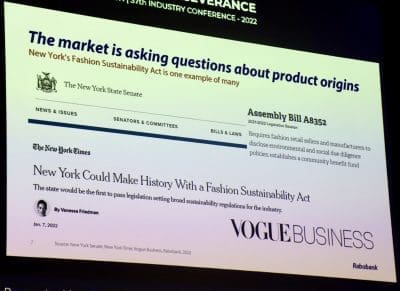 New York fashion week, Australian cattle? The New York state parliament recently introduced a Fashion Sustainability Act. If passed, it will require every fashion house operating in New York to know where their raw materials come from. "Almost all of them use leather, they are going to need under the terms of this Act if it is passed to know where that leather is coming from," Mr Sherrard said. "Once you start knowing where it is coming from, you start asking questions about what the production system is like, and where it came from." While most leather produced in the pastoral sector was more likely to end up in furniture or automotive use than the much smaller fashion sector, once one sector of an industry became focused on where a product comes from, that would start transfer to other sectors as well, he suggested.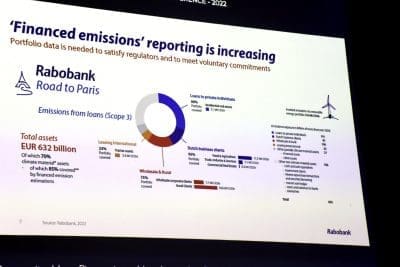 Financed emissions reporting is increasing: About 28 percent of all global assets under management are now being screened for Environmental, Social and Governance (ESG) criteria, which is expected to increase to one third of all global assets under management by 2025. "If you look at the debt market, the numbers are a little bit smaller, but they're growing much faster, about $2 trillion at the moment moving to $11 trillion globally by 2025," he said. Rabobank has started reporting on its "financed emissions", for example, through a newly released annual impact report. "We're not alone in doing this," Mr Sherrardsaid. "We're part of a zero-emissions banking alliance, this was established not even a year ago, already 40 percent of banking around the world has signed up to this." This included three of the four major Australian banks.
Why is an oil and gas giant investing in virtual fences for cattle? Vence, a US startup that offers 'virtual fencing' for ranchers using regenerative ag practices, has just secured funding from two major corporates – oil and gas giant Shell, and animal health company Merck. "This is a classic example of where we are with data at the moment from my point of view," Mr Sherrard explained. "Vence started off here as a virtual fencing company… but you end up with data that enables so much more. Shell's interest? Carbon. Merck's interest? Early detection of animal health, early intervention."
When companies get supply chain claims wrong: The flip side of providing information on where product comes from is what happens when you're not authentic about your claims. Several retail chains in Europe delisted beef from Brazil at the end of last year when investigative reporting showed that, despite assurances to the contrary, beef was being supplied to the retailers from deforested areas of the Amazon. "It is an interesting story about the power of retail and about the need for information, and about what we're doing to transfer information along the supply chain to make sure people are comfortable at the downstream end with what we're doing."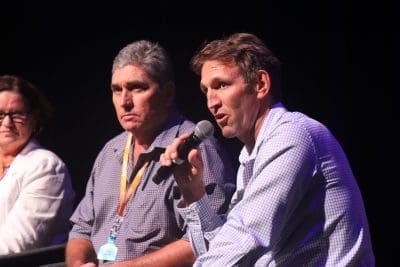 High claims: Ben Hewitt (right) from Hewitt Cattle Company said the company used the term "high claims" to describe the approach it is taking to manage its animals and natural resources across its pastoral holdings. Asked by moderator Luke Bowen to explain the term further, Mr Hewitt responded that several elements roll into what they refer to as high claims, including sustainability, high animal welfare, grassfed and organic production. "The natural resources in Central Australia are absolutely key to that," he said. "High Claims is effectively a term we use to describe the higher we lift the bar all the time, we continue to raise the bar of what we are doing," he said. "It starts out as grassfed which a lot of us obviously do, and then having claims about being grassfed products, then organic, and you keep adding things to that, then you're actually taking those high claims right through to the customers mainly on the supermarket shelf."
$15 cotton t-shirts, backed with full provenance: Tipperary Station farm manager Bruce Connolly which is pioneering cotton production in the NT, noted that in the cotton industry consumers can now buy a $15 t-shirt which is supposed to last for just four or five washes, but is still fitted with a QR code so the consumer can track its provenance. "So, they can find out that it is the highest quality cotton in the world, it comes from Australia, it is ethically produced, they can actually trace the DNA of that fibre to a particular farm in Australia," he said. "So, we need to raise the bar, we need to do it well, we need to do it right."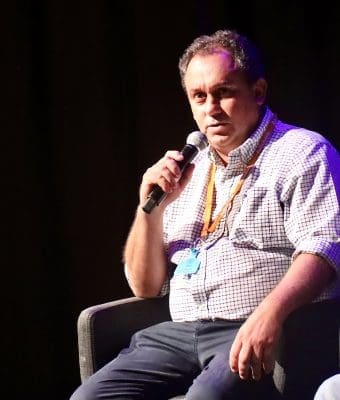 Work as contemporaries, not competitors: AAM Investment Group managing director and CEO Garry Edwards (right) said Australian cattle industry stakeholders should not view each other as competitors, but rather as contemporaries. "There is a conversational change that needs to happen in this room," he said. "As a business we don't see any of you as competitors, we see you as contemporaries, and we're all in there together. So, if there are things that people see and learn from others and are prepared to share, that is about the social license and the whole validating of what we do collectively. It is changing in not seeing your neighbour as a competitor or whatever else, we're in an industry and if we aren't prepared to deal with that and lift up that social license in what we're doing, and frankly call out those who are not doing the right thing, we have seen of lots of outcomes of what happens when you don't manage your animal welfare in the past, it is not a new thing for this room, and the consequence if you don't take charge of it, that should be the greatest lesson."