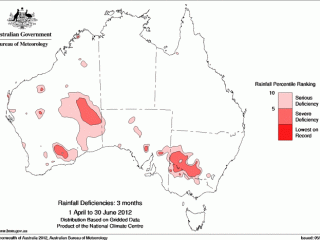 The latest monthly drought statement issued by the National Climate Centre has identified drying conditions in inland Western Australian and south-western NSW and north western Victoria.
A wetter than average summer across most regions of Australia meant that the climate centre did not issue a monthly drought statement for an eight month period stretching from October last year to May this year.
However a return to below average rainfall in parts of southwest and southeast Australia in recent months prompted the return of the monthly statements in June.
The July statement, released on Friday, shows that June rainfall was generally above average across Queensland and the south east mainland coast, while near-average June rainfall along WA's south west coast provided relief following a drier-than-average autumn.
However it shows that 'severe' three-month (April to June 2012) deficiencies have emerged north of Esperance in WA and in south-western New South Wales and the Riverina and adjacent parts of northern Victoria.
The report states that long-term rainfall deficiencies remain in southwest Western Australia. The southwest region had its driest year on record in 2010, and the two-year period from 2010 to 2011 was the lowest on record in some parts of southwest Western Australia.
At an official level Australia remains drought-free, with no exceptional circumstances (EC) areas currently declared in Australia.