Young industry stakeholders aged 21- 35 who are living and working in the agriculture sector in either Australia or New Zealand are invited to nominate for the 2021 Zanda McDonald Award.
The annual award, regarded as a prestigious badge of honour within the agribusiness industry, recognises and supports talented young individuals in the ag sector from both countries.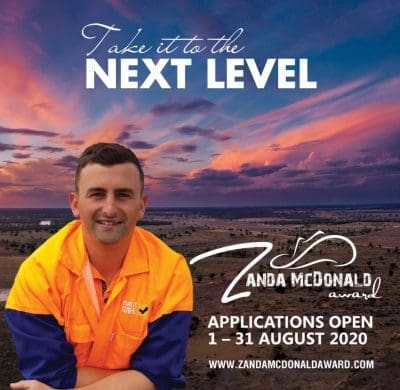 It was launched in 2014 in memory of Australian beef industry leader Zanda McDonald, who died aged 41 after an accident at his Queensland property in 2013.
Traditionally presented during the annual Platinum Primary Producers (PPP) conference, this year's winner, 27-year-old Jack Raharuhi  (pictured right) from Pāmu Farms in Westport, NZ, was announced online, due to COVID travel restrictions.
An impressive personal development package has been assembled for next year's winner, engaging with some of the biggest and best agricultural operators in Australasia. The program is widely regarded as a career and life-changing experience.
Next year's prize package includes:
A fully personalised mentoring trip across Australia and/or New Zealand, where the winner can spend time with leaders across all areas of the primary industry sector.
All travel and accommodation expenses for the mentoring trip, including flights on a private jet, ensuring the winner can get remote and varied locations in style and comfort
an education or training package suited to the winner's needs, up to the value of $10,000
a one-on-one visit from an industry mentor to spend a day with the winner at their place of work
a full day tailored media training session
all expenses paid trip to the 2021 and 2022 Platinum Primary Producers Conference
a one-year position on the Zanda McDonald Award Advisory Group, including being a judge of the 2022 Award
Lifetime membership to the Platinum Primary Producers (PPP) Group
$2000 cash
The award's two other finalists also receive some great opportunities, including an all-expenses paid trip to the 2021 PPP Conference, access to mentors from the PPP Group, a one-on-one visit from an industry mentor, and a full day tailored media training session.
Applications for the 2021 Award open from 1–31 August. Click here to access details.
The award is sponsored by Allflex, Pilatus, CBRE Agribusiness, Westpac, Te Mania Angus Australia and MDH.