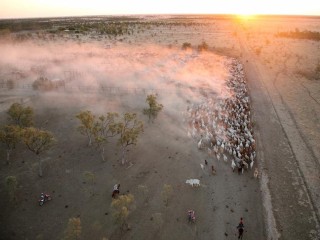 The thwop, thwop, thwop of chopper blades reverberates in the background as Scott Bridle's voice comes through the mobile phone.
"Just hang on a sec," he apologises as his two-way radio suddenly crackles to life.
"Yeah Pete, they're going along well mate, we're halfway across the paddock, just come in along the stock route…
Whoever said blokes can't do two things at once obviously hasn't met Scott Bridle.
Giving a media interview while running a muster, flying a helicopter and coordinating stockmen on the ground below is all in a day's work for the 43 year old.
In fact giving interviews is something Scott has had to get used to in recent times after he launched a book that spectacularly showcases his talent for doing two things at once – flying and taking captivating, powerful images of Australia's vibrant inland.
Scott's R22 helicopter is not just a saddle in the sky but an aerial studio as well, a vantage point he uses to maximum effect to capture some of the many breathtaking scenes he encounters wherever he flies.
Born and raised on a sheep and cattle property near Glenmorgan in western Queensland, Scott attributes his life-long love of photography to his mother, Jane, a talented painter who immersed her children in art from an early age.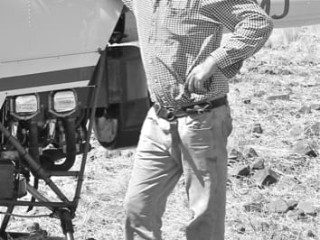 Scott says he has can barely remember a time when he didn't carry a camera with him – from an early wind-on Hanimex to the digital SLRs of today – and has always seen photography as a way of expressing his feelings about the bush and rural life.
"I was always fascinated with the idea of just capturing something and being able to look at it later on," he recalls.
"I just like taking photographs of the things that I feel very proud about, the things that we do in Australia like mustering, that's why I started doing it.
"I think as a young fella growing up on the land you get a real sense of pride in your property and your cattle, you like to go and show your mates and talk to your mates about it when you go away to school."
Upon finishing boarding school in Toowoomba, Scott followed his passion for working with cattle to northern Australia, where he worked for Stanbroke Pastoral company and accumulated more than 10 years of experience as a stockman and running stock camps before he tried his hand at flying.
"When I worked for Stanbroke we were put in front of helicopters all the time, and I was just amazed with them.
"I never thought I would actually fly one.
"I worked on the ground for quite a while before I decided to fly, and it was more when I got to the point where I had sort of done all I could on the ground, I had run camps, been head stockmen and managed a place at Augathella, and then I thought bugger this, I just want to keep working cattle."
After flying for more than 10 years for other companies Scott recently made the decision to buy his own R22 mustering chopper and branch out on his own from a base near Glenmorgan.
He said that as a boy he would never have believed that helicopter mustering would take off quite as it has among the smaller family-sized grazing operations of Southern Queensland and northern NSW.
"People are realising just how economical they are and how easy they can make it if it is done the right way, if you work the cattle right and keep them quiet," Scott said.
"It is a combination of labour and the places are more intense, there is a lot more cattle about now, they have developed a lot more country, and there is a lot more difficult country to get over.
"I find a lot of blokes that have pulled country and with buffel grass, they just can't get bikes across it."
With a digital Canon camera permanently beside him, Scott uses his unique vantage point in the sky to capture some of the many beautiful vistas that regularly unfold before him.
He is quick to stress though that his focus is always on mustering first and photography second.
When you're flying hard during a muster you need "all three hands," he quips, and there's not one spare to hold a camera.
But there are many quieter times in the air when the opportunity to point a lens at a stunning landscape or beautifully lit scene presents itself.
So how hard is it to fly a chopper and take pictures at the same time?
Not too hard at all, he says, explaining that when he takes pictures he flies with his left hand on the cyclic (joystick) and his right hand holding the camera.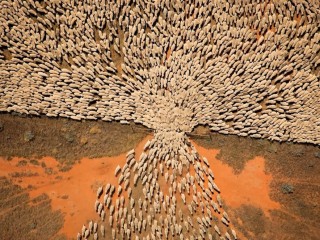 "The hard thing is to keep the machine in position in the right spot," he explains.
"Especially for aerial abstract photos, if you want to get a photo looking straight down, you have got to get up over it at the right height, then roll the machine over on its side, and then take a couple of photographs and then roll back out.
"You've got to time it right to get over the top of the spot, and the height is often the big thing.
"You've got to go to the spot where it looks good, you know, sometimes its 8000 feet, sometimes it is 50 feet."
Scott has recently launched a printed compilation of many of his pictures taken both from the air and on the ground. Titled Outback, the book has attracted media interest across the country.
You've probably already seen his work on the front page of the Oct/Nov edition of Outback Magazine, or in the Australian newspaper or any number of rural and regional newspapers and radio stations that have picked up his story since his book was launched recently.
Interest has been so great that publisher Viking Penguin Australia has now ordered a second print-run within weeks of the book's official launch.
A typical down-to-earth, friendly and unassuming country bloke, Scott isn't too sure what to make to make of his sudden media profile – he's far more at home talking into a two-way than into a journalist's microphone – but he loves the opportunity to share his passion about photography and rural life.
"It is been pretty amazing having all these people ringing me up for interviews, I've never done anything like that before," he says.
"But I really enjoy the fact that people like my photos, I love that."
Scott says he sees himself far more as a pilot who takes pictures rather than as a photographer who flies, and reckons he is just fortunate to be in a helicopter to be able to take pictures from a unique perspective that few others get access to.
However, as anyone who has ever picked up a camera will know, it is one thing to be presented with a majestic scene, and another thing entirely to be able to capture it in a way that evokes a powerful, emotional response as Scott's many pictures in Outback do.
Certainly best-selling publisher and author of Outback Stations, Evan McHugh, has no hesitation in declaring Scott as a special talent with a lens.
"There's no doubt Scott is one of the best photographers working in the outback today," the author says.
"Time may confirm that he's one of the best ever."
For more information about Scott's book and to view more pictures vist his website here