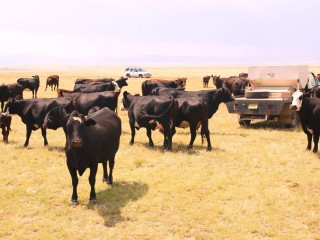 The record-setting drought across Texas and a growing number of southern US states is pushing cattle into US feedlots at almost unprecedented rates.
The US Department of Agriculture's monthly Cattle on Feed report issued on Friday showed that numbers on feed on August 1 reached 10.626 million, an 8pc rise on the same reporting period last year.
The number is the second largest August feedlot inventory since data collection started almost 40 years ago.
In July, cattle placements into feedlots surged 22pc year-on-year, to 2.15 million head – the highest July placements since records began.
USDA's CoF report said the main factor was the severe drought across southern states, which has forced producers to liquidate herds, with additional numbers being sold into feedlots.
Drought and higher feedgrain prices are pushing producers to liquidate herd numbers, while the weak US$ has led to an increase in exports, reducing beef supplies within the US market.
Total US beef inventories at the end of July were pegged at 190,000 tonnes, 3.4pc lower than the previous month.
The bi-annual USDA Cattle Inventory report released last month confirmed that the US cattle herd is likely to continue to decline over the next two to three years, reducing beef production and putting upwards pressure on both cattle and beef prices.
Texas cattle, grain losses total $5.2b
At the epicentre of North America's current drought event, the effects have caused livestock and crop losses in Texas estimated at $5.2 billion over the past ten months. The total smashes the previous record drought impact for the state of $4.1b for all of 2006.
"Yet there are no signs that the drought, which is the worst one-year drought in Texas history, will break soon," Steve Kay reported in last week's Cattle Buyers' Weekly. "Losses for all of 2011 might be several billion dollars more," he said.
The losses are impacting the US beef industry in several ways, Mr Kay reported. Several hundred thousand more beef cows than normal are expected to go to slaughter this year. That dashes hopes that the national hard might stabilise in numbers this year or even next. Fewer cows mean that fewer calves will be born in Texas this year, meaning there will be fewer available feeder cattle in the year ahead.
That will put more pressure on livestock markets and on capacity utilisation levels at Southern Plains feedlots and beef plants.
The loss estimates are based on Texas A&M surveys. The livestock loss component (US$2.1b) includes money spent on feed to keep cow herds intact, and the impact on price of cows and calves being forced to market.
The drought is causing serious damage to the state's cow-calf sector. One estimate suggested Texas calf production could be down half a million head this year, which would reverberate through saleyards and feedlots further ahead. None of these comments account for severe drought conditions across a growing number of other southern US beef states.
CBW reported that there was also the possibility of a decline in imports of Mexican feeder cattle into the US next year, because of drought impact south of the border. Mexican cattle flows into the US are currently up 22pc on last year because of drought in northern Mexico.
Capacity utilisation will decline at the feedlot and the packing plant levels, although this won't start to take effect until next spring, an extension contact told CBW.
Texas A&M economist David Anderson said surveys showed his state had 5.025m beef cows on January 1 this year, but that number might decline by a frightening 12pc, or 600,000 head by January 2012. That would be the biggest year-on-year reduction in Texas breeding cows going back to the 1930s.
The beef cow culling process started well before June, Dr Anderson told CBW. By mid-April, cow slaughter in New Mexico, Texas, Oklahoma, Louisiana and Arkansas was at 20,000 head per week, reaching 25,000 head by mid-June.
The cow slaughter levels in the region meant that beef cow numbers nationally might be down another 2pc by January next year to 30.25m head, Jim Robb, from Livestock Marketing Information Centre told CBW. One quarter of the nation's beef cow herd was now in drought-stricken states, he said.
Bleak outlook for US feedlots
US feedlot nutritionist Gary Holcomb, visiting Australia last week for seminar speaking engagements, said the current US drought conditions were resulting in dramatic increases in capacity utilisation levels in US feedlots.
Mr Holcomb said these were cattle that would normally have been out on grass or wheat pasture at this time of year, but which had been 'moved forward' in feedlot placement from next winter.
"Many US yards are full to capacity, but this coming (northern hemisphere) winter to next spring will see a severe shortage of feeder cattle," he said.
There had been a massive liquidation of cow numbers across the region from Texas to Florida, where the drought had been most extreme.
"Producers started with the older cows, but are now culling back into their heifers. That will have a big impact on calf production for years ahead," he said. "We're just out of cows. Looking at domestic beef production relative to consumption of beef per head of population, we cannot produce enough beef in the US to feed our population."
While drought is applying enormous stress to the US beef production system, simultaneously US exports are approaching all-time record levels.
The low value of the US$ was strongly influencing this, but another big driver was the US recession, Mr Holcomb suggested.
"It's about our domestic consumers coming off the middle cuts into the grounds and round steaks to save money."
Asked what the US's capacity to export beef was likely to be next year, given the impact of the drought on the cattle population, he said much would depend in the performance of the US economy.
"If it continues as it currently is, I think exports will remain reasonably strong. Packers can't currently sell those rib eyes at US$15/lb – US consumers just aren't buying them. So if they can find somewhere to sell those sweet cuts overseas at a higher price, they will continue to do so. But if the US economy starts to improve, much more of that meat will remain within the US market."
The other trend with the high rate of cow liquidation and the shift of the feedlot inventory forward, from winter into the preceding winter/spring, was a huge rise in beef prices, which had almost doubled in some cases.
"We are seeing US feedlot ration cost at US$300/t dry matter basis, and corn at the same price, for most of the concentrated feedlot industry," Mr Holcomb said.
"Our cost of production today, going forward into winter, on the fat calf is US$1.15/lb. Even on a lighter 150-200kg animal, we can do him probably with a breakeven up to US$1.20/lb when the market in the spring is $1.27."
"So there are tremendously challenging times ahead for the US beef and feedlot industry," Mr Holcomb said.
"It is likely that some feedlots will shut their doors permanently, particularly among custom feeders. While they are presently closer to capacity because of the drought, they have been running on lower numbers for some time, because of reduced calf crops and declining cow numbers, and that is only going to get worse."
Some US analysts have suggested producers in some cases are placing breeding animals and young into feedlots in an attempt to preserve the heart of their herd, with the intention of depasturing them again when the drought has broken.