BURGER chain baron Jack Cowin has launched a range of sausages in his latest venture into the plant-based meat market through his Australian company, v2foods.
The Hungry Jack's founder discussed his investment in the emerging plant-based meat market last year.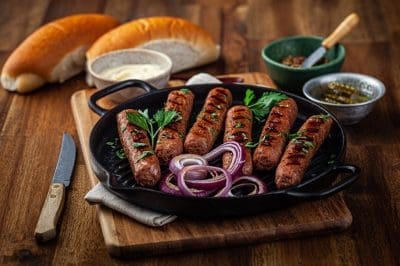 According to launch literature, v2's plant-based snags "sizzle and pop on the barbie like a traditional snag, and offer a great-tasting alternative for the 49 percent of Aussies who want to cut down on their meat intake."
The claim is based on YouGov research commissioned by v2food, which it said found that half (49pc) of Australians were interested in cutting down their meat consumption for health or sustainability reasons.
v2food makes the Rebel Whopper plant based meat pattie for Hungry Jack's, and following the success of its v2mince and v2burgers, which launched in Coles, Woolworths and Drakes Supermarkets last year, v2sausages was the next product innovation, the company said.
"v2food is making it easy for Australians to experience the health and environmental benefits of a plant-based diet, without missing out on the great taste of traditional meats," it said.
"Whether you're trying to cut back on meat to preserve the planet, or you're just curious about plant-based meats, v2 is making it easy and accessible for Aussies to give it a go without missing out on the flavours they've come to know and love," said v2food founder and chief executive Nick Hazell.
The company says the products are "expertly crafted with a mixture of soy protein, coconut oil, onion, garlic, thyme and parsley, allowing v2sausages to deliver the flavour and texture Aussies love, made from the sustainable goodness of plants."
"Whether flame-grilled over a BBQ and served as a classic sausage sanga or in a saucy casserole, v2sausages are set to follow the triumph of v2food's sellout debut range," it said.
v2sausages will be available for a limited time from today at select Coles locations nationwide at $9 for a pack of eight.
"They will provide shoppers with another convenient and price-competitive option to use plant-based meat in their everyday diets," the company said.
In comparison, a pack of eight Woolworths conventional thick beef sausages is retailing this week for $5.50, or $10 for two packs.
"v2sausages were a natural evolution for us," Mr Hazell said in a statement.
"Snags are synonymous with the Australian summer BBQ season and we wanted to serve up a new alternative for meat-lovers and plant-based enthusiasts alike. We're on a mission to help consumers make a better choice, one sausage at a time, for their health and the health of the planet."
"Packed with protein and the goodness of plants, our snags are delicious enough to make the swap," he said. "We don't think you will tell the difference between ours and a beef sausage."
The launch would help v2food capitalise on the plant-based sector momentum in 2020 and capture the rapidly growing plant-based sausage market, which the company said is estimated to reach US$1 billion in value by the end of 2021.