THE high priority placed on the safety of those working in the livestock supply chain and the animals they handle has been reflected in two recent developments at Roma, home of Australia's single largest cattle selling facility.
LRTAQ workshops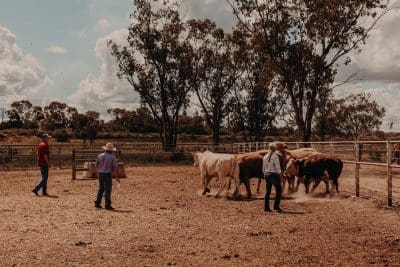 Last week in an initiative organised by the Livestock and Rural Transporters Association of Queensland more than 40 livestock transport operators, saleyards staff, livestock agents and lot feeders participated in hands on workshops learning safe work practices when handling cattle.
The workshops were facilitated by renowned livestock handling consultant Tom Shephard and livestock manager Rick Young.
Mr Young, who has been responsible for handling over one million cattle over his career, said a goal of the day was also to improve awareness about the effects of handling on cattle health and performance.
"What you do in transit or at the saleyard has a significant effect on the animals long after the journey. The effects of your handling don't stop when you shut the gate or drive away," Mr Young said.
"There are major commercial consequences of poor handling such as foot abscesses, non-eaters, injury and stress induced respiratory disease, all of which impact on animal welfare meat quality and yield."
"These workshops raise awareness about these compounding effects and give participants an opportunity to learn best practice techniques by working cattle in the yards with Tom Shephard."
Athol Carter, Central Queensland Manager for Frasers Livestock Transport and a driving force behind the industry-backed training program, said he was pleased with the success of the workshops and commended the LRTAQ for taking a proactive approach.
"There are very unique safety considerations for working as a livestock transport driver, and these workshops have been designed by industry for industry," Mr Carter said.
"It doesn't matter if you've been around livestock for ten minutes or ten years, the workshop content has been designed with both industry newcomers and seasoned operators in mind,"
"Even if you take one thing away from the workshop that allows you to do your job safer and more efficiently it's been worth it. There's no point waiting for somebody to get hurt its about getting out in front and doing something now before the worst case happens."
Mr Carter said feedback to date has been "sensational" and that there is genuine interest for the program to continue.
"These workshops are getting better each and every time we deliver them. We've applied for funding through the federal government, and if successful I hope to see these days rolled out across the state and beyond."
Allen Smythe, Elders Safety and Risk Business Partner Queensland/Northern Territory, explained that on average 75 percent of the company's livestock related incidents occur in the saleyard environment.
"We've made a commitment for every one of our livestock agents to attend workshops like today. For some of our agents it will be a reinforcement of what they do, and for others it is an upskilling process," Mr Smythe said.
"Elders had made the decision to be proactive about the health and welfare of our agents and the cattle we handle."
"At the end of the day if we can bring our staff home in the same condition in which they went to work, and we can deliver cattle from paddock to customer in good condition, then the workshops will have achieved their purpose."
Participants in the workshop heard from Meat & Livestock Australia's Laura Garland on the Meat Standards Australia Program and Queensland Minister for Transport and Main Roads Mark Bailey who acknowledged the "economic powerhouse" that is the Queensland cattle industry.
The workshops were delivered by the Livestock and Rural Transporters Association of Queensland, in partnership with Elders, Meat & Livestock Australia and the Maranoa Regional Council.
New cross loader set to improve safety for drivers and livestock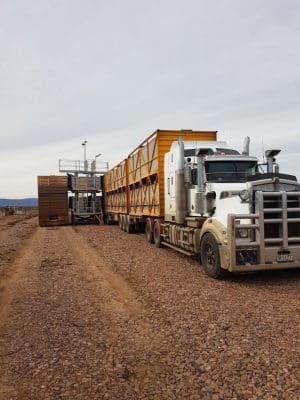 A new cattle cross loading facility designed to improve safety for drivers transporting livestock has been established by IOR at its diesel stop at the Roma Saleyards, and is now open and free to  use.
It is well known that the traditional method of transferring cattle between road train crates (reversing two trucks together and having the driver manually climb over the stock crate to push along stubborn animals from one truck to the other) is considered one of the most dangerous activities for both drivers and livestock.
The new cross loader, modelled on IOR's popular cattle cross loader facility in Port Augusta, South Australia, will improve productivity, safety for drivers, and animal welfare.
It enables road trains or B-Triples to be driven to the side of a module fitted with gates and unloaded into a B-Double reversed onto the other side.
Rural Queensland producer representative group AgForce said it acknowledged and appreciated IOR's contribution to the industry with the simple yet high-functioning device.