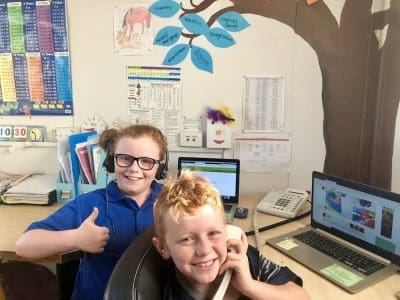 In response to lobbying from rural and regional community groups NBN Co has today announced new plans that will no longer count the use of essential internet services – including email, general web browsing and critical software updates – towards monthly data allowances.
The new "Sky Muster Plus" product is scheduled to be available next year for eligible users in NBN Co's satellite network footprint.
The new product will help deliver fast download speeds by providing access to a wholesale 25Mbps product that can now boost above 25Mbps wholesale speed when applications and network support allows.
The new wholesale plans will no longer count the use of monthly data allowance towards essential internet services – like internet banking and email.
This means when a user exhausts their monthly data allowance, wholesale download speeds will not be slowed down for regular web activities like accessing emails or internet banking.
Use of other web traffic, however, including streaming video and online gaming, will continue to be subject to monthly data allowances, with speeds being shaped if data limits are exceeded.
Last year, the company doubled the maximum monthly wholesale data limits on Sky Muster satellite services (from 150GB to 300GB per month) and also increased the average peak data allowance that phone and internet providers can offer to users by 50 per cent (from 30GB to 45GB).
According to research released by NBN Co earlier this year, the nbn access network helped create $450m in additional gross domestic product (GDP) in regional Australia in 2017. That figure is forecast to drive an additional $5.3bn in GDP in regional areas by FY21.
The research also forecasts that Australia's position in terms of internet equality will leap into the top 10 of Organisation for Economic Co-operation and Development (OECD) nations – up from the bottom 10 – by the time the nbn access network rollout is complete.
"We have been listening to feedback from consumers and industry on what we can do to improve customer experience on the nbn Sky Muster network," NBN Co's CEO Stephen Rue said.
"The new Sky Muster Plus product is designed to give regional and rural Australians peace of mind knowing that essential internet services, like emailing loved ones or accessing internet banking, should not slow down if their monthly data limit has been exceeded.
"Our team is also continuing to consult with industry on a number of additional wholesale product updates on the Sky Muster satellite service, including a regional enterprise service as well as additional applications to enable remote telehealth and distance education."
'Unmetered enthusiasm' for Sky Muster Plus
Better Internet for Rural, Regional and Remote Australia has been lobbying for fairer data packages for inland Australians for more than four years, and had suggested unmetered data on Skymuster as one way to improve the service.
BIRRR co-founder Kirsty Sparrow said the group met today's announcement with 'unmetered enthusiasm'.
"This is a very positive step in the right direction to end the 'data drought' that has restricted business, education and social development across regional Australia," she said.
"It will allow for improved Sky Muster plans that can deliver unmetered access across sites such as web browsing, email, smart phone and PC operating system updates – downloads which will not count toward monthly data allowances.
"The proposed option will also help deliver faster download speeds, by providing 'bursts' up to 50Mbps (wholesale speed), when applications and network support allows.
"We are looking forward to the outcomes of the consultation process (between nbn co and providers), with new plans expected to become available to customers in 2019."
Based on the average user, she estimated that approximately 30-40 percent of nbn Sky Muster usage will be unmetered with the new product.
She said Sky Muster Plus will make a significant difference to those who have been battling limited data allowances, especially for the 42pc of Sky Muster users who have no other internet option.
ICPA welcomes announcement
The Isolated Children's Parents' Association had also advocated for increased data levels and unmetering of essential education sites for rural and remote students for some time.
"ICPA (Aust) is extremely encouraged by this positive step by nbn with Sky Muster Plus," ICPA President Wendy Hick said.
"Remote education has been a focus during consultations with the nbn Regional Stakeholders Roundtable where we have discussed improved data allowances for geographically isolated students.
"This announcement will see primary, secondary, tertiary and boarding students with Sky Muster services at home able to participate.
"It is also envisaged that services such as telehealth will benefit.
"Rural schools and students will also stand to gain from this new paid option."