Unlawful killing of cattle, Dimbulah
Initial investigations indicate that sometime between February 4 and February 8, 2016 unknown people attended a fenced paddock on the property on Mt Mulligan Station Road and killed two station cows, removing an ear from each beast.
The cattle were not been butchered in any way and it is believed the offenders have left the cattle where they were killed to return and hunt for feral pigs using their carcasses as bait.
Plain Clothes Constable Michael Hinchcliffe said life on rural properties was hard enough without these offences impacting further.
"This kind of blatant disregard for owners' rights and the lack of respect for people's cattle has to be stopped," Plain Clothes Constable Hinchcliffe said.
"It has to be understood that these cattle are their livelihood.
"Property owners have the right to expect their boundary fences to be respected and shouldn't have to worry about people killing their cattle."
If anyone has any information regarding this matter or any other offences of a similar nature they are encouraged to contact their local SARCIS office on 07 4030 3321 or report any information anonymously through Crime Stoppers.
Stolen WA dog tracked to Qld
The Cloncurry Stock and Rural Crime Investigation Squad have been conducting investigations into the theft of a family dog, Jasmin, that was stolen from a Perth address in January 2016.
SARCIS detectives received information that the 20-week-old border collie dog was at a cattle property near Cloncurry. On February 24 2016, detectives executed a warrant on the property and located and seized the dog.
A 20-year-old female was issued a Notice to Appear to appear in the Cloncurry Magistrates Court for the offence of Bringing Stolen Goods into Queensland.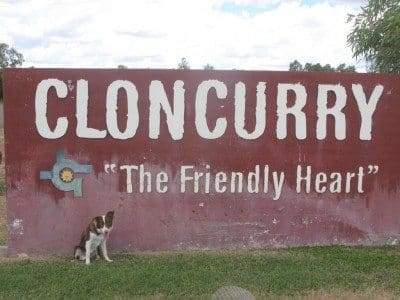 The owner was highly appreciative of the efforts from police at Cloncurry and his family is looking forward to being reunited with 'Jasmin' after her long trip home.
Anyone with information which could assist with this matter should contact Crime Stoppers anonymously via 1800 333 000 or crimestoppers.com.au 24hrs a day.
Source: Qld Police