Qld Police investigate Mt Isa, Cloncurry cattle kills
Detectives from the Cloncurry Stock and Rural Crime Investigation Squad (SARCIS) are seeking assistance from the community in relation to an investigation into incidents in which cattle have been killed and butchered in and around Mount Isa and Cloncurry. In the most recent incident two cows were shot and butchered on a property on Lake Julius Road, Mount Isa, between February 6 and February 10. Initial investigations suggest unknown people have driven to a dam and shot the two cows, before butchering the animals and removing the meat. The carcasses of the animals were later located by the owners.Between January 10 and January 12, a single cow was shot and butchered on a property at Oorindi, between Cloncurry and Julia Creek, with the carcass later located by the owners of the animal. Constable Nick Hempel of Cloncurry SARCIS said the squad was concerned about the increase in such offences and the squad is investigating the possibility of links between the two incidents. Detectives are also aware of recent, unconfirmed reports of  similar activity around the community of Doomadgee area. There is no suggestion these reports are related to the incidents around Mount Isa and Cloncurry.Police would like to remind the public that offences of this nature are  serious crimes and can attract a maximum penalty of up to seven years imprisonment, as well as impacting on the livelihood of rural property owners.Any person with information that may assist in any of these matters is urged to contact the Cloncurry SARCIS on (07) 4742 8813/8814.
Orange man charged with stock theft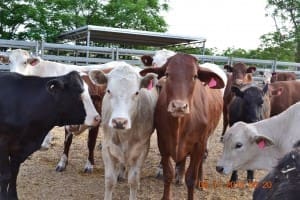 Detectives from Parkes traveled to Orange last week where they arrested a 24 year old Orange man and charged him with numerous offences in relation to stealing cattle at Parkes in October 2014. An investigation was initiated on October 28 after Police were called to a vacant farm block about 23 km east of Parkes. A number of cattle were located on the property. They were examined and their ear tags scanned. Police determined the identifiers on at least 15 of the cattle appeared to have been tampered with. These cattle were seized by Police and secured in the local Council Pound. After a media campaign the cattle were identified as being stolen from a feedlot near Parkes. After a three month investigation, a 24 year old Orange man was arrested on the 18th February 2015 at the Orange Police Station. The male was interviewed in relation to the theft and after which he was charged with 5 counts of Stealing Cattle, 2 counts of Fraud, 1 count of Remove Identifier from Stock and 1 count of Sell or Dispose of Cattle Not Properly Identified. In total, 28 cattle had been identified as being stolen from the property. He was released on conditional bail to appear at Parkes Local Court at a later date.
Thuddungra cattle thefts investigated
Cootamundra Rural Crime Unit are currently investigating the theft of 26 head of cattle from a property in the Thuddungra area. The owner of the property conducted a count of stock in early January 2015, with all stock accounted for. Around the 26th January 2015, the victim has moved the stock with nil adverse detected. On the 8th February 2015 the victim has moved the stock and noticed a descrenpies in the number. The stock were mustered and a count revealed that the below described 26 heifers were missing out of a mob of 103. Missing stock is described as 16-18 month old Angus and Angus Cross heifers, with an average live weight of 570kg. Stock are ear-marked with the properties registered ear-mark as well as all stock being ear-tagged with NLIS devices. All stock marked with the below illustrated ear-mark.Ear Mark – An italic or slanted 'W' shape out the back of the offside ear. Police from the Cootamundra Rural Crime Unit wish to speak with any person who may be able to assist with any information in relation to the missing stock or any persons or vehicles who has been sighted acting suspiciously in the Thuddungra-Mines Road area and surrounding district. Contact Rural Crime Investigator Paul Clancy at the Cootamundra Rural Crime Unit on 0269420099, 0269420005 or 0427552848.
Sources: Queensland Stock and Rural Crime Investigation Squad, NSW Police Rural Crime Unit.