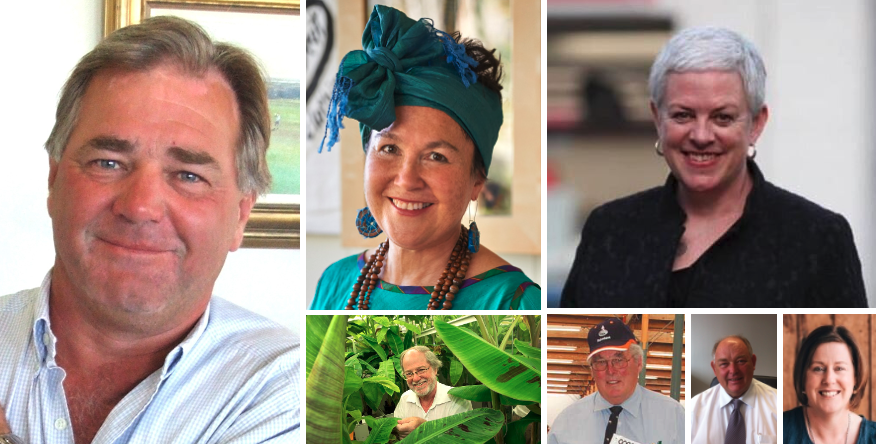 Victorian meat processor Frank Herd, leading livestock breeder Jim Gough and former Meat & Livestock Australia regional manager for Japan, Melanie Brock, are among several Australians with connections to the agriculture sector to have been honoured with 2022 Australia Day Awards, announced today.
Former Australian Meat Industry Council president, Victorian beef and sheepmeat processor Frank Herd, has been awarded an OAM for service to the meat processing industry, and to the community.
Mr Herd is the managing director of MC Herd Pty Ltd, a family-owned company which operates a multi-species meat processing and exporting business in Geelong, founded in 1951 by brothers Frank Sr, Jack, Murray and Fred Herd.
Mr Herd is also managing director of Challenge Meats, a value-adding and smallgoods manufacturing business established by Herds in the 1960s, and a director of HW Greenham & Sons Pty Ltd, which operates processing plants in Tasmania and Victoria.
In addition to serving as national president of AMIC in the early to mid 2010s, Mr Herd is a former director of the Australian Meat Processing Corporation, PrimeSafe Victoria and the Australian Red Meat Advisory Council. Outside the livestock sector he is the patron of the Angelsea Surf Life Saving Club; a campaign fundraiser and honorary member of St John of God Hospital, Geelong; and a life Member of the Old Geelong Football Club.
Hancock Prospecting executive chairman Gina Rinehart, who has expanded into agriculture with numerous large-scale cattle property acquisitions since 2015, had been named an Officer in the General Division (AO) for distinguished service to the mining sector, to the community through philanthropic initiatives, and to sport as a patron.
QUT scientist, Distinguished Professor James Langham Dale AO, was recognised with a top award – a Companion of the Order of Australia – for his services to agricultural science, particularly through biological and biotechnological research and development, leadership, and to gene technology.
Professor Dale, an agricultural biotechnologist, has developed potentially lifesaving bananas for some of the poorest people on earth. In 2004, Prof Dale was made an Officer in the Order of Australia (AO) for services to agricultural biotechnology and in 2019 he was named Queensland Senior Australian of the Year.
Melanie Brock, who served as Meat and Livestock Australia's Japan regional manager from 2010 to 2014 and continues to work in the country where she is regarded as one of Japan's most respected APAC specialists, was named a Member (AM) in the General Division for significant service to Australia-Japan relations.
Former Australian Veterinary Association national president Dr Robert Johnson from Millthorpe, NSW, received an AM for significant service to veterinary science, and to professional societies.
Among many roles in the national and international veterinary community, Dr Johnson chairs the NSW Department of Primary Industries Stock Welfare Panel and is a director, of Vets Beyond Borders.
Wagin, WA Merino breeder and a driving force behind the success of the Wagin Woolarama agricultural show, Malcolm Edward, has been awarded an OAM for service to the stud merino industry, and to the community of Wagin.
Mr Edward is a former president of the Stud Merino Breeders Association of WA (1996-99) has also been an active member of the Wagin Lions Club since 1968.
Branxholme, Vic, sheep and cattle breeder, show judge and long-serving federal councillor of Australian Corriedale Association and Herefords Australia, Jim Gough, has received an OAM for service to the livestock industry.
Mr Gough also served as vice president of the Beef Improvement Association of Australia and was the recipient of Howard Yelland Award for outstanding service to the Australian beef industry in 2012.
Leading equestrian eventer Sue Gunn, who owned and ran the Sevenbardot Poll Hereford Stud at Goondiwindi and then Bylong with husband Jim until its dispersal in 2017, has been awarded an OAM for service to equestrian sport.
A very successful jumping rider, Sue ran the Denman Horse Trials in NSW for many years where Olympians gained their knowledge, and is a former director of the Sydney International Equestrian Centre.
Chair of Tasmanian Women in Agriculture, Belinda Hazell from Stanford in Tasmania, has been awarded an OAM for service to primary industry. Belinda is the co-founder and principal consultant for Optimum Standard, was awarded a Churchill Fellowship in 2018, and has served on a range of State and National boards and committees including Freshcare Limited, Rural Business Tasmania, Rural Youth Organisation of Tasmania and Agfest Field Day. In 2021 she was an Australian State Award Winner for Tasmania for Excellence in Women's Leadership.
Australian Livestock Markets Association inaugural chair and Forbes Shire Council general manager, Stephen Loane, has been awarded an OAM for service to the livestock industry, and to local government.
Mr Loane, who ran his own livestock agency at Dungog from 2000 to 2008, has also served on the Australian Sahiwal Breed Society, the Australian Registered Cattle Breeders Association, the Working Kelpie Association and the Australian Stockhorse Association.
Journalist, author and former Rural Press Club of Queensland president Jane Milburn has received an OAM for service to fashion sustainability, honouring her work to inspire social change and contribute to sustainable living across communities through slow clothing practices.
She established Textile Beat as a purpose-driven business in 2013 in Brisbane to inspire a creative approach upcycling natural fibres. She is the author of Slow Clothing: finding meaning in what we wear, and was a 2019 Churchill Fellow investigating ways that hands-on upcycling can help reduce textile waste and enhance wellbeing.
She has also served as a former vice-President of the Australian Council of Agricultural Journalist from, 2009-2010 and has been the Director and Principal Consultant of Milburn Media since 2002.
Founder of the charity group Sober in the Country Shanna Whan, who has created social impact and change around how alcohol use is discussed in rural Australia, was named 2022 Australia Day Local Hero.
When Shanna almost lost her life to alcohol addiction in 2015, giving up drinking was just the start. What began as volunteer work to help others locally, evolved into a grassroots charity called Sober in the Country (SITC) which now has a national reach and offers peer support, powerful broadscale advocacy and education.
Shanna donated about 20,000 hours to the cause and now travels on invitation as the spokesperson for SITC. She has appeared on multiple major national media platforms, in person, in paddocks and at conferences.
She courageously shared her harrowing journey to sobriety on Australian Story in 2019. Now, through the national charity, she is amplifying the essential, life-saving message and charity campaign that it is always "OK to say no" to booze.