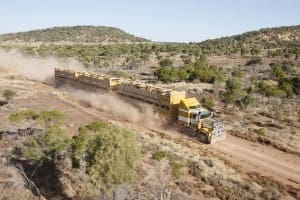 Rockhampton will host a high-level industry roundtable next month to identify funding priorities for the Coalition Government's $100 million Northern Australia Beef Roads Program.
Deputy Prime Minister and Minister for Infrastructure and Regional Development Warren Truss said the October 2 roundtable will give industry representatives the chance to shape investment priorities for roads which are vital to northern cattle supply chains.
"The Australian Government is committed to building better infrastructure and driving down operating costs for northern Australia's cattle operations," Mr Truss said.
"We have committed $100 million through the Northern Australia Beef Roads Programme to improve roads which are critical to transporting cattle across the north. This is the first of three roundtables to be held in northern Australia where industry representatives can have their say about where available funding can be best spent.
"These roundtables will provide a platform for industry and governments to come together to identify funding priorities such as road upgrades and capacity improvements that increase productivity and reliability when transporting cattle."
Mr Truss said the long distances involved in transporting cattle contributed to significant costs, with land transport costs comprising up to 35 per cent of the market price of livestock.
"This program aims to reduce the costs of transporting cattle in the north, which involves some of the longest land transport distances of any Australian commodity. Of course, any improvements carried out through the programme will also benefit other road users and improve connectivity for local and regional communities," he said.
In addition to the Northern Australia Beef Roads Program, the Australian Government is investing $600 million towards a new northern Australia roads program.
Roads to be considered for funding under that program include key roads in the north, as identified in Infrastructure Australia's northern Australia audit, as well as roads identified as priorities by jurisdictions.
Northern roads will also benefit from the $5 billion Northern Australia Infrastructure Facility, which will provide concessional loans for major infrastructure in the north.
A further two Beef Roads roundtables will be held in Western Australia and the Northern Territory.
Source: Minister for Infrastructure and Regional Development