ROBOTICS researcher Professor Koorosh Khodabandehloo wants to go to Mars, but not as a space tourist.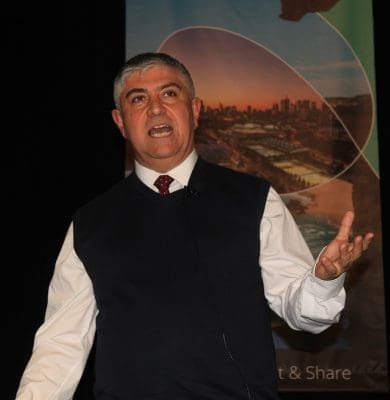 After asking other meat industry researchers in Melbourne last week to join him in addressing the industry's processing challenges with robotics, Professor Khodabandehloo wasn't joking when he said he is "off to Mars".
For the UK-based scientist, space is the next frontier and he is waiting to buy his Mars ticket — "as soon as they start selling them."
"I would love to go, in 2028," he said.
"I've said to my family I'm going and they seem comfortable for me to go."
The Adjunct Professor with University of Southern Queensland's Centre for Agricultural Engineering said in the next 10 years humans need to find out how to produce food on Mars.
"Because we can't rely on the base planet to supply all the time the things we need to eat, if we decide to colonise Mars.
"I have seriously considered what the issues are," he said.
"The journey would be exciting, but most importantly, if I was going to live on Mars and I wanted to live there another 10 years before I die, which is inevitable, what would I really need?
"And how do I create the capabilities that we would all need … from the 3D printing of a hut that I can live in, getting the technology that will give me the oxygen I need to breathe and at the same time having a multi-storey farm that it is indoor to produce the food I need? Professor Khodabandehloo said.
"And if I can do it for me, then I can do it for other people and therefore the Mars mission in terms of colonisation can become real."
Business magnate and investor Elon Musk has said he aimed to fly tourists to Mars within 15 years aboard SpaceX capsules and Professor Khodabandehloo hopes to be on one.
Off-the-shelf robotics available now
Professor Khodabandehloo told fellow researchers at the 64th International Congress of Meat Sciences and Technology in Melbourne last week that robots can work in meat processing; cutting, handling and packaging our food.
The professor has inventions which have applications in aerospace, food and surgery. Since 2005, at the request of Australian meat industry, he has actively pushed the boundaries of automation for its benefit, bringing 20 years expertise from European project to Australia. At USQ in Toowoomba, he is encouraging a young team to start working on new Robot applications for the meat sector.
At the ICoMST conference he presented a pioneering project which started in 1989 and took 14 years to commercialisation costing close to $6 million, to deliver robotic primal cutting of pork carcase sides, now available from BANSS Germany.
Professor Khodabandehloo also outlined one of his latest projects, a robotic beef striploin fat trimming solution under development with support from the Australian Meat Processing Council and Australian beef processing companies. The project will do its first testing of an integrated prototype in 2019. The basic technologies such as sensing and cutting have been successfully tested ready for performance evaluation, planned for late 2018. Professor Khodabandehloo showed the ICoMST delegates a lab prototype of the fat-trimming technology, but the video is not ready for public release.
"As consumers of quality meat, we are getting more and more fussy about the layer of fat that we have on our steak – and that is a challenge for the industry and I thought how would you go about automating the process which is virtually impossible to perform on a beef Striploin primal," he said.
Professor Khodabandehloo said robotics are starting to become more common in meat processing plants and he had taken several projects to completion to perform tasks previously performed by people.
He said the cost of absenteeism in Europe is estimated at 2.5 percent and the US manufacturing productivity loss due to absence is estimated at $2.8 billion/year. In some meat plants in Scandinavian countries, one in five meat workers don't show up for work due to work related health issues, such as repetitive strain.
Many people in Europe asked him about the unemployment that would be created by the use of robots, Professor Khodabandehloo said.
"Actually for me that's a bit of a out of context question, because if we didn't have robots we wouldn't have the cars that we are driving at the price we have today."
Professor Khodabandehloo said with aforementioned $2.8 billion loss in the US alone, 20,000 robots could be installed, but this would take over 10 years and only deal with the absenteeism in Norway.
"But today there aren't enough robots being made for us to buy such numbers, nor do we have the numbers of robot engineers to work on the solutions for industry to install."
Professor Khodabandehloo concluded by asking those in his audience, especially young researchers, to "join the team" to meet the challenges of the future "because actually I'm set to going to Mars."
After his presentation, he said robots are good for a number of tasks in abattoirs, although others need to remain "human-based" because of the range of capability and analysis needed to assure food safety and quality.
"Robotics should certainly do primal cutting and concentrating on the jobs that are difficult, requiring sharp or heavy tools, replacing also people who are on band saws.
"Just removing people from those jobs that are critical to the operation, but also can be done by robots with the tooling and the sensing capabilities that we have can make a big impact," he said.
"We need to look hard at yield-critical jobs."
Professor Khodabandehloo said the pork and poultry industries are well into robotics, but robotic use across the wider meat processing sector is not even at 3-4 percent of the potential use.
"We've got a long way to go and need to press on with managing the changes that delivers higher efficiency and much improved value."