The end of a highly successful partnership was marked at the 2019 RNA Paddock to Palate competition weight gain results field day yesterday.
For the past nine years cattle entered in the commercial competition have been fed at Mort & Co's Grassdale Feedlot near Dalby.
In the first year at Grassdale the competition comprised a total of 200 head of cattle, with $5000 in prize money on offer.
Nine years later, the competition has grown to this year comprise almost 1000 head of cattle entered by 56 individual exhibitors competing in four separate classes, and close to $60,000 in prize money available.
The total number of cattle entered in the newly added HGP fee 120-day export class, created in response to growing demand for HGP product both domestically and internationally, was 200, the same number as the entire competition attracted in 2010.
With heavy machinery currently at work developing more pens that will expand Grassdale Feedlot's total capacity from 50,000 head to over 70,000 head, the company has made the decision that after nine years of growth it is now time to pass the baton to another feeding enterprise.
Mort & Co Private Client Manager Berry Reynolds said Mort & Co was proud of the role it had played in helping to lift the competition to become the leading feedlot and carcase competition of its kind in Australia.
RNA chief cattle steward Gary Noller paid tribute to the Mort & Co's commitment to growing the competition over the past nine years competition in an address to three busloads of producers that came from as far as Central Queensland and northern New South Wales to attend yesterday's results presentation.
Mr Noller confirmed that the competition will move to two feedlots in 2020, with JBS' Beef City feedlot near Toowoomba to feed entries the Class 37 100-day competition, Class 38 70-day competition, and Class 40 HGP free 120-day export class, and Smithfield Cattle Company's Sapphire Feedlot at Goondiwindi to feed the cattle for the Class 39 Wagyu Challenge.
Tips for producing high performing cattle from RNA champs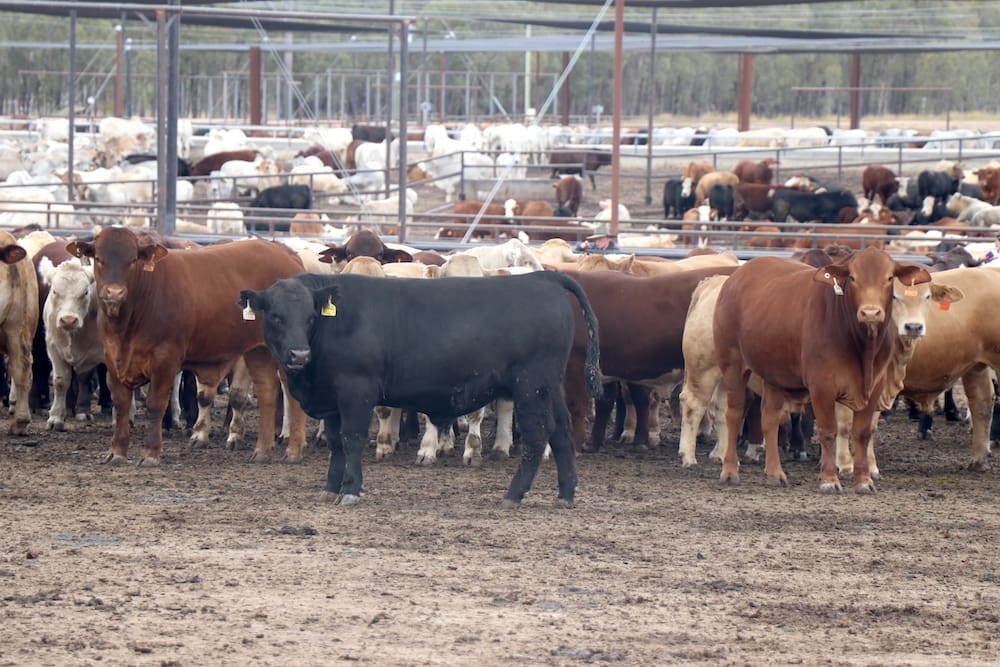 At yesterday's weight gain section results field day Beef Central asked some of the major winners and competition officials for their tips on producing high performing cattle.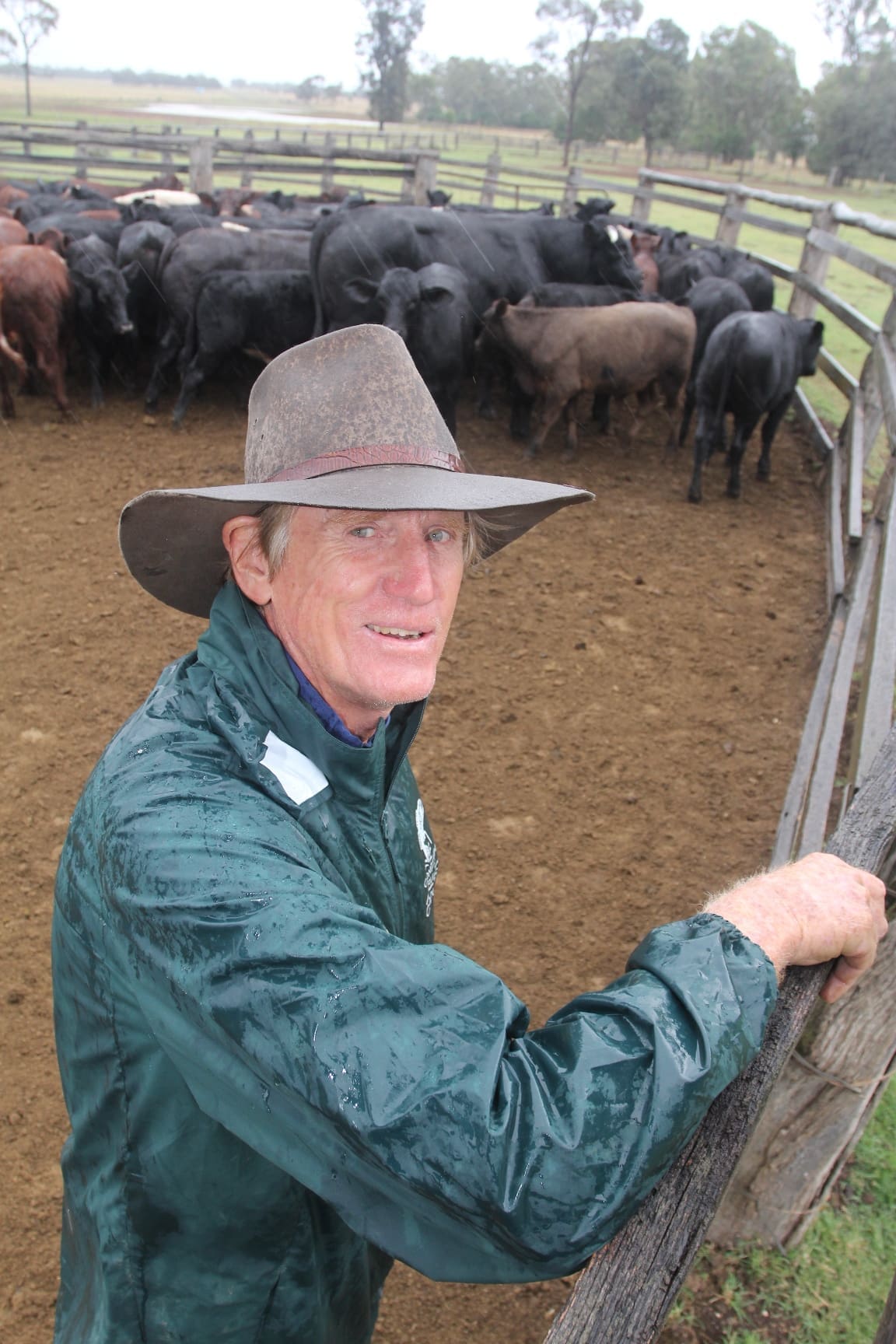 Class 38,  70-day trade class winner, Dulacca cattle producer and veterinarian Lee McNicholl, offered the following succinct advice:
– Buy bulls in the top 25 percent of relevant EBVs
– Yard wean your cattle and feed them good hay and clean water.
– Run them as a mob before feedlot entry and don't box with stranger cattle (The RNA comp at Grassdale is my one exception, however they still do well)
– BRD pre-vac if you can.
Class 37, 100-day export class winner David Bondfield from Palgrove at Dalveen, said selecting cattle with frame and length was important for high performing cattle in the 100 or 120 day category.
In terms of weight gain, he suggested selecting cattle not carrying too much condition.
"Very much a good store type condition and I know going forward as far as carcase assessment they certainly have got to have the  genetics in them and the shape in them that will give an even fat cover and plenty of yield," he said.
"As with any feedlot cattle they have got to last the distance so temperament and disposition has got to be right, and certainly structural soundness if they are going to continue to perform right through to the end to the time on feed.
"There is no silver bullet, it is picking cattle that are functional, sound and with the ability to grow out for the full term on feed."
Yulgilbar Pastoral Company from Baryulgil, NSW, won the new 120 day Hormone Growth Promotant (HGP) free export class; the highest individual weight gain award in the same class at 2.559kg and the highest individual weight gain award in the 70 day trade class (Class 38) with a steer recording an ADG of 3.610kg.
"We're passionate about producing structurally correct, functionally efficient cattle," Yulgilbar manager Rob Sinnamon said.
"The genetics behind these steers, the more focus you can have on identifying those commercially relevant cattle, the easier it is to compete in these competitions, and obviously from the bottom line financially, you are going to hit the grid and hit the specs more often.
"Don't try doing anything extreme, identify those animals you believe are your best performers, look to the carcase specifications, understand the weight gains that varying feedlots have, some vary from feedlot to feedlot, and try to target the right cattle for the right competition."
RNA chief cattle steward Gary Noller, an experienced seedstock and commercial cattle producer, said the challenge is finding those cattle that can combine weight gain with superior carcase traits.
"Average daily gain is very important because we are all still as producers getting paid cents per kilogram, so it is a matter of a compromise.
SEE TOMORROW: RNA Paddock to Palate – Champion Station lives up to name
"You are trying to maximise the amount of muscle which is your yield and your daily gain with the amount of coverage you get in terms of fat and marbling.
"So you try to lift your muscle as high as you can and your growth rates as high as you can while keeping or maintaining an ability to be able to finish.
"That is the trick, that is where sometimes you overshoot, or go one way and you have to come back.
"To me that is the test that probably keeps people interested, it is like a good golf shot, you do a drive and it goes 300 metres right down the centre of the fairway, you know you can do it, but the next four or five you fluff
"I think people know they can do it, they keep trying to emulate what they know they can, but it doesn't always work that way.
"And the more data you get that is reliant on indexes through EBVs and sire lines, dam lines, people start to get into that genetic side and tend to be able to drive that.
"You simply come back to moderation without compromise so, getting the benefits of muscle, getting the benefits of fat coverage."
Overall weight gains for each section
All cattle entered in the 2019/20 RNA Paddock to Palate received Zoetis Bovi-Shield MH-One vaccine at the feedlot, to help prevent Bovine Respiratory Disease (BRD).
Results across the four categories were as follows:
The 100 day export class averaged 2.52kg per day with an incredible top of 3.6kg/day for the individual animal.
The 70 day trade class averaged 2.44kg/day also with a top of 3.6kg/day.
The Wagyu Challenge class averaged 0.95kg/day with a top of 1.42kg/day for an F1 Wagyu Angus steer.
The new HGP free 120 day export class averaged 1.81kg/day with a top of 2.55kg/day.