Is a bank within its rights to deny service to any law-abiding business or industry it chooses, or is such action illegal under Australian competition and consumer law?
The question may soon be put to the direct regulatory test after the Red Meat Advisory Council this week asked the Australian Competition and Consumer Commission to investigate alleged contraventions of the secondary boycott provisions of the Competition and Consumer Act 2010 (the CCA) by Animals Australia and Bank Australia.
RMAC alleges that secondary boycott provisions of the CCA may have been breached through Animals Australia acting in concert with Bank Australia to refuse financial services to Australian red meat and livestock businesses.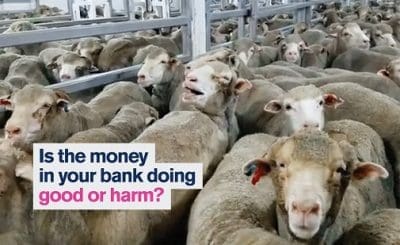 Bank Australia's "responsible banking policy", which has been publicly promoted by Animals Australia, states the bank does not provide financial services to "organisations that use intensive animal farming systems…or organisations that export live animals".
Based in Victoria, Bank Australia is an amalgamation of 72 credit unions and co-operatives. Its origins lie in the former CSIRO Co-operative Credit Society. In 2015 it re-branded to the name Bank Australia and describes itself as Australia's first "customer-owned bank", operating 14 branches and reporting annual revenue last year of $130 million.
More broadly there have been growing reports of larger lenders quietly withdrawing support from industry sectors opposed by animal rights groups amid threats of activist-led consumer backlashes against their brands.
RMAC alleges Bank Australia's "responsible banking policy" is a restrictive trade practice that amounts to a secondary boycott of law-abiding Australian red meat and livestock businesses.
"Bank Australia's policy to refuse financial services to law-abiding businesses for non-environmental or consumer protection reasons is a targeted attack against our nation's 434,000 red meat and livestock workers," independent chair John McKillop wrote in the letter to the ACCC.
RMAC alleges the relationship between Animals Australia and Bank Australia demonstrated through cross-promotion in paid advertorial content and digital media indicates the potential for both parties to be acting in concert to implement restrictive trade practices against the red meat and livestock supply chain.
Furthermore, Animals Australia had a demonstrated track record of publicly advocating for boycotts against livestock industries.
"As a government regulated authorised deposit-taking institution, Bank Australia has a responsibility to the Australians employed throughout the red meat and livestock supply chain," Mr McKillop wrote to ACCC.
"Our industry's 77,000 law-abiding businesses are the economic backbone of regional Australia, and they should not have to suffer unlawful restrictive trade practices.
"If Bank Australia's relationship with the extremist activist organisation, Animals Australia, is found to be in contravention of the Competition and Consumer Act 2010 it is incumbent upon the ACCC to institute proceedings and seek the highest possible penalty."
A spokesperson from Bank Australia told Beef Central in a statement that its animal welfare positions in its Responsible Banking Policy have been developed internally and independently.
"Bank Australia recognises the critical role agriculture and farmers play in producing food and other goods that sustain us as a community, and help drive our economy. This is reflected in the many and diverse businesses and individuals we lend to across Australia, including in the agricultural sector and across regional areas.
"Our decision not to lend to businesses that employ intensive animal farming systems is based on a significant amount of research and engagement with stakeholders across the sector including animal welfare advocates and agricultural industry representatives.
"And, as a customer owned bank, we're guided by the views of our customers who have helped shape our approach to responsible banking. Many of them have told us that they don't want their money being used to support practices that cause harm and distress to animals."
They added that the bank's policy positions do not explicitly rule out lending to meat producers, only those that employ intensive animal farming systems, and/or those active in the live animal export trade.
Beef Central has sought further comment from Animals Australia and the ACCC and will update this article as they are received.
Federal inquiry hearings scheduled for late July
A joint Federal Parliamentary committee inquiry is currently underway looking into the prudential regulation of investment in Australia's export industries.
The terms of reference include a focus on the consequential impacts of changes in prudential standards and practices across banking, insurance and superannuating institutions for "legitimate, law-abiding businesses connected to Australia's export industries".
The Red Meat Advisory Council has taken the opportunity to lodge a submission on behalf of Australia's $28.5 billion red meat industry, in which it raises concern about the influence now being exerted over major banks by a highly-coordinated international network of "anti-farmer and anti-meat extremist organisations", and is among a range of groups due to give evidence to the Parliamentary committee at public hearings being held in Canberra later this month.