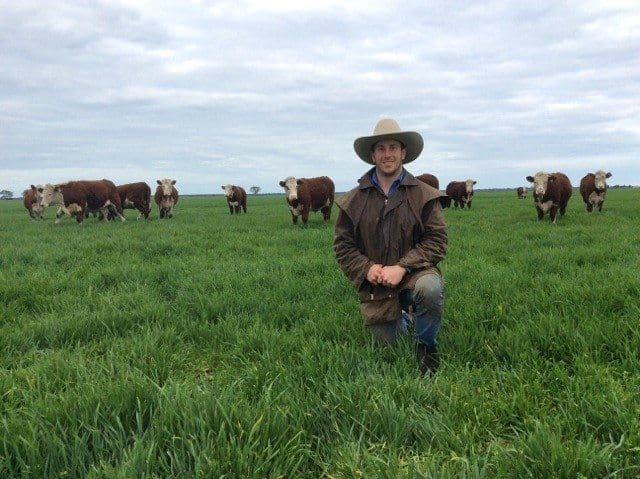 Geoff Birchall, from Avignon Hereford Stud, Loomberah, NSW. Picture: Hereford Australia.
Young grass-fed beef producer Geoff Birchnell has sharpened his life and business skills thanks to the Cattle Council of Australia (CCA) and NAB Agribusiness Rising Champions Initiative.
Mr Birchnell, 32, was the runner up in the 2015 Rising Champions Initiative, announced at a gala dinner in Canberra last August.
The initiative aims to inspire, empower and support young people passionate about the Australian beef industry and to provide them with an opportunity to be directly involved.
Applications opened on May 2, with the winner given the opportunity to develop knowledge, political acumen and leadership skills to be a young champion in the beef industry.
Now in its sixth year, the award caters for young people aged 18 to 35.
Mr Birchnell is co-principal of the Avignon Hereford Stud, at Tamworth, NSW, and a founding partner in beef export business, Ausgreen Foods, based in Brisbane.
He was introduced to the Rising Champions Initiative by 2014 finalist and Queensland cattle producer Sam Becker.
"I thought it was a great opportunity – I could see how the program was crucial in Sam's personal development over that 12 months and thought I would hopefully follow in his footsteps,'' Mr Birchnell said.
The distinction between the roles of Cattle Council and Meat & Livestock Australia (MLA), and the interaction between peak industry bodies had been a "grey area'' for him before Rising Champions.
"When something goes wrong in the beef industry, everyone questions where MLA is. If they simply understood the charter of MLA and the role of Cattle Council to be the voice for the industry, it would save a lot of frustration,'' Mr Birchnell said.
He found Rising Champions was a great opportunity to network and make connections.
"The experience of meeting agricultural ministers was great and I remember Barnaby Joyce saying we have to be politically connected and engaged because at some point in time when political help is needed to drive a vision, it's too late when that situation arises to make those connections.''
Mr Birchnell was invited to sit on the CCA's marketing, market access and trade committee to observe and contribute, giving him access to knowledge and experience.
He believes it is vitally important for youth to have a voice on industry matters.
"(CCA) are appreciative of the younger voice on the sub-committees – they acknowledge the importance of young people in agriculture and we are encouraged to contribute,'' he said.
"It is just human nature for younger people to have different ideas and it's a great environment to have those ideas heard.
"Cattle Council was something I didn't know a lot about, so I didn't really have any preconceived notions.
"Cattle Council is far more dynamic than people think it is. I've certainly encouraged people coming up to this year's Rising Champions to get involved – people who would really benefit from the program from a personal aspect and bring advantages to Cattle Council going forward.''
Mr Birchnell said Cattle Council was a vital component of the beef industry.
He said beef producers had the ability to direct strategic vision and influence how their levies would be invested by being part of Cattle Council.
He has used the leadership skills gained in Rising Champions while establishing his business over the past year, and has completed a corporate governance course sponsored by Cattle Council.
The five-day company director's course involved 15 beef producers learning skills in leadership, compliance, financial indicators and risk strategies.
Mr Birchnell plans to continue to invest time and energy in the partnerships formed within Rising Champions.
"The Rising Champions was the first step for me and over the past 12 months I have thrown myself into it, I've been accepted and I feel the opportunity to add value and be empowered,'' he said.
"I am constantly falling back on what I learnt in that one week and the interaction afterwards.''
Young people aged 21 to 35 and passionate about the beef industry can apply for the NAB Agribusiness Rising Champions Initiative.
Finalists will receive an all expenses paid trip to Canberra on
August 25-27
to network with government and industry leaders, and work with a Cattle Council mentor to develop personal goals.
The national winner will attend the International Beef Alliance conference in New Zealand on
October 18-21, 2016
.