COVID is again exerting influence over the domestic red meat market, following lockdowns in major capital cities like Brisbane and Sydney, and interstate movement restrictions in other states.
As of yesterday, there are about 12 million Australians across four states and territories in lockdown, including parts of WA and the NT as well as NSW and QLD, while South Australia was also placed on high alert amid reports several members of a family tested positive overnight.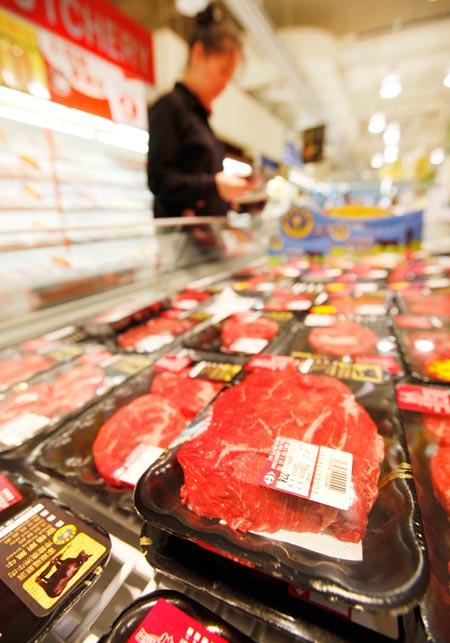 In contrast with earlier circumstances, Victoria is currently the least affected of the three largest eastern states – but Victorian school holiday-makers are no longer able to travel north for a mid-winter break.
Wholesale meat trade contacts say all this has produced a pattern similar to what was seen when COVID first struck Australia in April-May last year.
While the trend this time is nowhere near as severe as in 2020, meat retailers including supermarkets and independent butchers are gain being hit hard with heavy buying of items like mince – along with toilet paper and rice.
The same as last year, food service demand for red meat has this week retracted dramatically, as lock-downs take effect in some of Australia's largest capital cities, and holiday spots like the Gold and Sunshine Coasts turn into ghost-towns. Hundreds of Victorians raced home from Queensland on last-minute flights last night to avoid being forced to isolate at home for their quarantine period.
Some supermarket outlets were displaying 'product temporarily unavailable' signs for red meat items this morning.
Buyers cautious
Mid-year is typically a difficult trading period for domestic red meat, with lacklustre demand for steak cuts because of the cold weather, but consequently higher demand for slow-cook items.
This year, however, wholesalers say market dynamics are changing 'virtually on a daily basis.'
"Because of the renewed uncertainty associated with COVID again, nobody is prepared to buy forward," two large wholesale operators complained this morning.
"Buyers are operating hand-to-mouth, because they don't want to get caught with stock they might not be able to use, like many did last year."
"Customers are taking some spot product this week, but nobody is interested in forward product for August. Buyers have changed this year – they are prepared to miss out if necessary – if they don't have it, they don't have it – but nobody want to get caught again," a wholesale trader said.
"The domestic wholesale market is getting much harder to predict this year – it is not following historical patterns at all. But there's not big volumes of meat around – people can buy what they need, but they just have to pay the money."
"I wouldn't say it has reached panic stage yet, but many customers this week are anticipating that this latest COVID wave will take some time to clear," another wholesale contact said. "People are a lot more conservative and cautious in the approach this week."
Grinding meat challenged
Even before the latest COVID lock-down orders emerged, June wholesale domestic beef trading was described as 'just steady,' with a particular shortage of trimmings and cow meat for manufacturing  and mince. That's due partly to the current very low rates of cow kill across Australia because of herd rebuilding.
As reported in yesterday's weekly kill report, last week's national slaughter saw females making up just over 41pc of all slaughter animals – a near record low – putting a big hole in manufacturing meat supply. Making that worse was the point that cuts like knuckles and outside s are currently too expensive to 'divert into the grind.'
Strong imported lean grinding meat prices in the US (last week reaching 783c/kg CIF – the highest price since June last year) have also pushed more of the meagre trimmings supply into the US market.
At the other end of the market, grainfed cuts were described this morning as being in good supply, due to the fact that numbers on feed across Australia continue to flow at high levels, with more than one million head on feed, despite current low herd size.
"Because of the high cost of slaughter cattle, processors are reluctant to lower prices on barbecue steak cuts this year, like they normally do in mid-winter when demand is lower," one wholesale trade contact said.
"They need to try to maintain prices on those steak cuts to help their cut-out value on a grainfed carcase, which has cost them a lot of money to produce," he said.
But that is now getting more difficult, with all the big food service operators like pubs and clubs (heavy users of grainfed streak cuts) closed in Sydney and Brisbane this week. Melbourne food service had also gone 'very quiet', another wholesale trader said.
"There's no doubt that COVID is exerting more influence on the domestic beef market now, than it has since this time last year," he said.
Depending on size and quality, good grainfed strips were quoted this morning at anywhere from +$17/kg to +$20/kg, wholesale. Similar cube rolls are being held from +$25 to low $30s/kg, and $35/kg for good, desirable examples.
Grinding beef prices have shown some substantial gains in recent times, with frozen 85CL currently selling from 720c/kg to low 820s, for vacuum-packed chilled. COVID demand for mince is part of that.
"Nobody really knows what to do in the current market cycle," one wholesaler complained.
"It may remain very unstable until at least September, when conditions warm up and demand for barbecue cuts again starts to grow, heading into Christmas," he said.
"But behind that, there's still great uncertainty about the size of cattle kills through the back half of the year, and what type of cattle are presented for slaughter. And international demand is another variable in the mix at the moment."
Supermarkets lift retail prices
Major supermarket retail prices have risen in recent months, in response to red-hot slaughter yearling cattle prices they are having to pay in order to secure supply.
Both Coles and Woolworths are currently paying their beef contract-holders more than 800c/kg carcase weight for cattle meeting their specifications, Beef Central has been told – about a dollar a kilo higher than this time last year.
That's pushed retail prices higher in recent months. In a sign of the times, some supermarket red meat lines now bear retail pricing stickers marked on a price 'per hundred grams' basis, instead of 'per kilogram.'
Coles currently has its four-star lean mince at $15/kg, scotch fillet at $41.20-$42.50/kg, porterhouse at $37/kg. Woolworths has lean mince at $15/kg porterhouse at $37/kg and scotch on special for $37/kg (normally $41/kg).
Some lines at some stores for both Coles and Woolworths this morning were listed as temporarily unavailable.