SIGNS that the US is heading for all-time record meat protein production in the next couple of years would normally spell danger for Australian beef exporters, both in terms of US demand and price outlook.
But promising to offset that big production increase in US chicken, pork and beef is an apparent resurgence in demand for meat from US consumers, a leading red meat industry analyst suggests.
Visiting Australia last week for annual meetings with local supply chain stakeholders was US economist, Len Steiner. His business, Steiner Consulting, produces a weekly commentary on US imported beef market outlook and pricing for MLA.
After two or three decades of gradual, but persistent declines in beef consumption in mature beef consuming markets like the US and Australia, any talk about a turnaround in demand trends is always likely to attract attention.
Changing consumer perceptions about fat
Dr Steiner point to the impact of a recent best-selling book called "The Big Fat Surprise – why butter, meat and cheese belong in a healthy diet," which had taken many negative nutrition studies done on meat consumption since 1950 and 'ripped them apart.'
"Many were found to be highly inaccurate, and skewed," he said.
Adding to the trend were other recent reports like a Time Magazine feature on "Why scientists were wrong to label animal fat the enemy", which had helped create a shift in US consumer perceptions about the role of meat protein in a balanced diet (see images below).
"But eating habits don't change instantaneously. You can't put out a report like that and expect to see a response at the supermarket next week. It's more like a 30-year timeframe – so maybe we are now 8-10 years into that cycle," Dr Steiner said.
"Books like The Big Fat Surprise are driving changes in the marketplace, and if anybody in the beef industry does not read it, they are making a mistake," he said.
"We think meat consumption in the US is going to improve, as perceptions about animal fat change. We're only going to be able to eat what we can produce (or import), but if it eventuates, consumers are going to be willing to pay more for beef."
Dr Steiner told last week's Brisbane industry briefing that he expects per capital meat consumption (beef, pork and poultry) in the US to rise further over the next three years, driven by chicken at an all-time record, but also by beef, showing a significant rise. And it appeared that there was room, after 2019, to rise further.
For beef specifically, US consumption is forecast to continue to increase out to 2019, to around 34kg.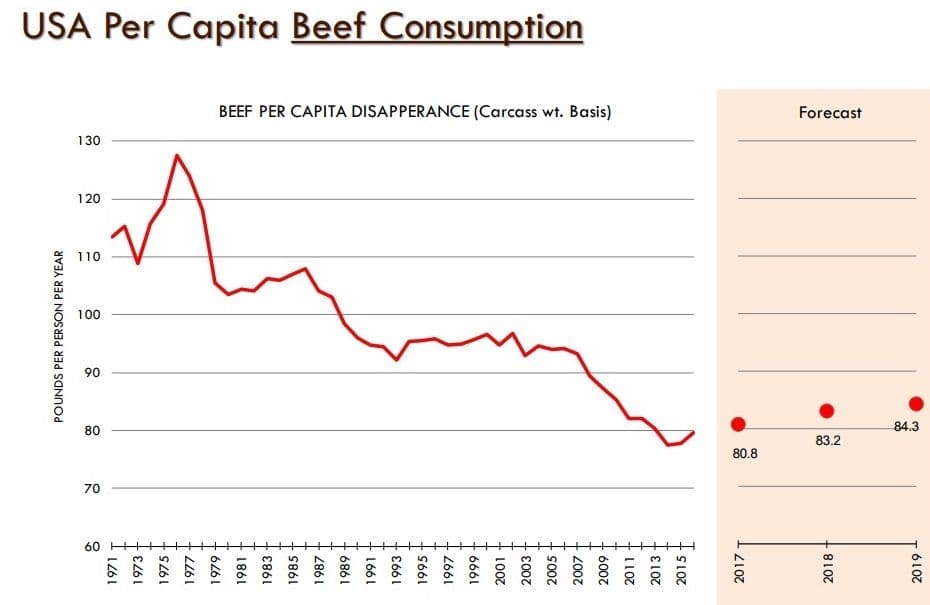 "All of a sudden, we are in a growth industry. But in my opinion, while US consumers really like beef, apparently they are not prepared to pay just any price for it. The long-term ratios of beef prices versus chicken breast continue to rise, but while consumers are willing to pay a premium for beef over competing proteins, at some point, price becomes important," he said.
Among competing proteins, US pork production was likely to grow by 2.5 billion pounds over the four years to 2019, passing beef to become the second most consumed protein in the US after chicken. But even though US pork production is growing rapidly, about 22pc of that would be exported, meaning per capita US pork consumption would not change a lot.
While some processors in the Brisbane audience felt Dr Steiner's forecast for increased demand to compensate for much higher meat production looked brave, others were more receptive.
Stronger economic conditions
He said the improved US and world economic conditions would also help deliver demand growth for beef.
"Economically, relative to a year ago, most of the world today is in pretty good shape. The US stock market just hit an all-time high. And what usually happens when people have money in their pocket is that they increase beef consumption. We think that is the case at this point, and will continue through 2018," he said.
"The good economic fundamentals for the world market that Australian beef is selling into we think will continue through 2018."
While the US economic recovery since recession in 2008-09 had been a little erratic, it continued to improve. Job creation had been consistent, with unemployment rates down to 4.1pc, and likely to be lower a year from now. The US economy had added jobs consistently every month since 2010.
"Quite often, if a consumer is worried about their job security, they may be hesitant to spend money on items like more expensively priced beef," he said.
While US retail grocery and food service sales were up in value, meat prices in the US had trended down in the past two years, Dr Steiner said, as US herd size and production had grown.
Feed input costs
The US livestock industries currently had considerable competitive advantage over Australia in feed input costs, his presentation showed.
Steadily increasing average corn yields, acres planted, and favourable seasons have seen the US corn surplus grow. This year's crop will be the second biggest in history, meaning when carry-over from last year's big crop is added, corn production is now outpacing consumption, and pushing prices lower. Feed input costs in the US are now the lowest they have been in a number of years.
Adding to that demand for corn for ethanol production is flat, and forecast to decline.
One Australian in the audience calculated that current US corn prices, in A$ terms, were as low as $138-$177/t.
It provides a massive advantage for US cattle feeders compared with Australia, where feedgrains are currently uncomfortably high.
"How is the US going to dispose of that corn?" Dr Steiner asked. "At this time we have more chickens coming, more pigs coming and more beef coming," he said.
This 2017-18 year, consumption of feed for livestock use in the US will be the highest in a decade, at around 5.57 billion bushels.
All-time record US meat production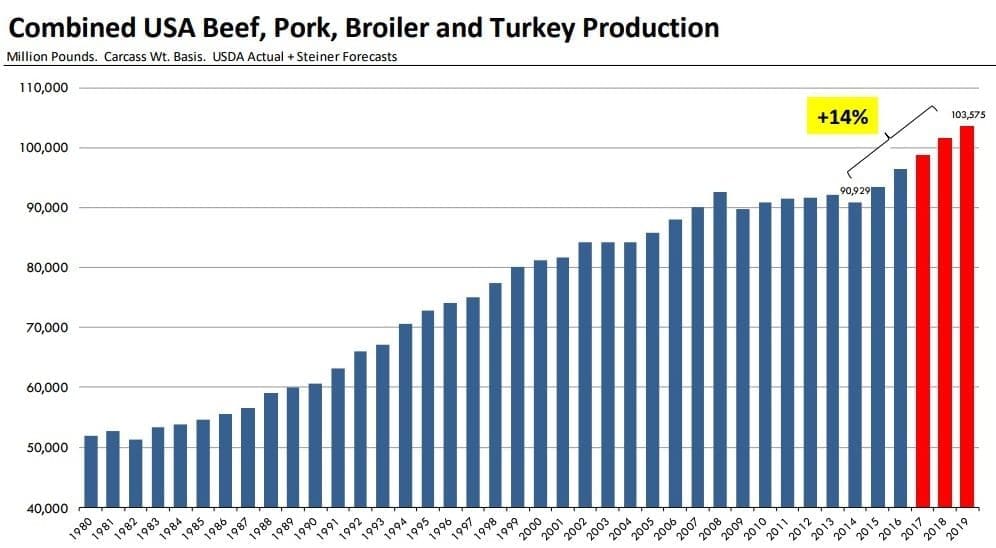 After a period of relative stability at around 91 billion pounds, US meat protein production (beef, pork chicken and turkey) was again a 'growth industry', Dr Steiner told last week's gathering.
This graph has volume at a record close to 100 billion pounds in 2017, before climbing even further to 1.035 billion pounds in 2019.
"Normally that would have a negative impact on meat and livestock prices," Dr Steiner said.
"But the thing we see as different this time around is that change in demand for meat in the US. If you don't believe that that will happen, you have to be very bearish on prices – but the only way you can reach the price projection we have for coming years, is if you anticipate demand increase."
This year, Steiner anticipates a 4pc increase in US beef production (to 26.222 billion pounds), +3pc in pork and +2pc in chicken.
Next year, it anticipates every species to be higher in production, with beef rising another 4.4pc to an all-time record 27.37 billion pounds, and +2.9pc (28.16 billion pounds) the year after that.
From its recent low-point of 88.5 million head in 2014, Steiner has the US herd size next year at 94.8 million head. That's a rise of 6.3m head in four years, due to one reason: profitability.
"Everybody along the chain is making money. Demand is giving everybody a little more margin, along the chain," Dr Steiner said.
In an extraordinary turnaround, concerns were growing about running out of slaughtering capacity in the US, especially for pigs, and chicken processing was already at capacity. Beef still had a little capacity left, with a new 3000-head-per day plant built in Idaho relieving some of the pressure.
Additional beef production was coming not only due to greater calf numbers, but higher carcase weights due to both genetics and growth implants, and reaching marketable weights earlier.
Where does extra meat go?
"We've got more meat coming at us in the US – the question is, where is it going to go?" Dr Steiner asked.
While there is likely to be a modest rise in US exports in the next couple of years as beef production continued to grow, most of would staying within the US, due to the demand factor, he said.
Food industry becomes more complicated
Dr Steiner said in recent times, the food industry in the US had become 'much more complicated,' making it more difficult to monitor.
"In the past, we used to think about two segments – retail, and food service (restaurants, hotels, clubs etc). Today, retailers are selling cooked meals, meal 'kits' for easy preparation, some have an in-store restaurant, and a deli department that offers a vast range of pre-prepared ready to cook and ready to eat items."
"At the other end, there's a trend for restaurants to offer take-away, for home-consumption. One steakhouse chain I spoke to said only 50 percent of their meals are now consumed on-premises. The rest are either carry-out, or delivered by an Uber Eats delivery guy to somebody's house."
Food trucks, online retail and Amazon Eats were other channels which were blurring retail and food service.
"It's making it more difficult to track exactly what's going on in meat consumption," Dr Steiner said.
Price forecasts
Steiner's forecast for US prices next year include:
Live steers up 2.3pc from 2017 to 123.42
90CL lean manufacturing beef up 4.8pc on the fresh domestic market
90 CL imported blended cow beef at US$232.50/cwt, a 5.6pc rise form 2017 – a US2c premium over US domestic 90s, due to competitive customer pressure from China.