FOLLOWING an initial survey earlier this year, the University of New England is continuing its pioneering research seeking to place a monetary value on product quality information in the Australian red meat supply chains.
The work compares the values expressed at the different levels of the supply chain, and investigates the incentives for sharing of information with other stakeholders along the chain.
In an initial on-line survey carried out earlier, responses from calf producers, finished cattle producers and seedstock producers suggested:
Of all the information provided by sellers when animals are sold, information on breed is the most common, followed by age of animal, the feed used, and live weight.
Producers (store buyers) placed the highest value on information that is of high quality. When purchasing breeding animals, for example, producers were willing to pay more for information that is more accurate, more consistent, and more precise.
On average, the premium expected by producers for provision of quality-related information to buyers is $20.04 per head of cattle.
Finished cattle producers place more value on information about Estimated Breeding Values and MSA than do stakeholders whose primary business is calf production. Finished cattle producers willingness to pay for such information was higher on average than was breeders'.
For both breeders and finished cattle producers, improved quality of information would improve financial performance in terms of sales, price received and customer retention.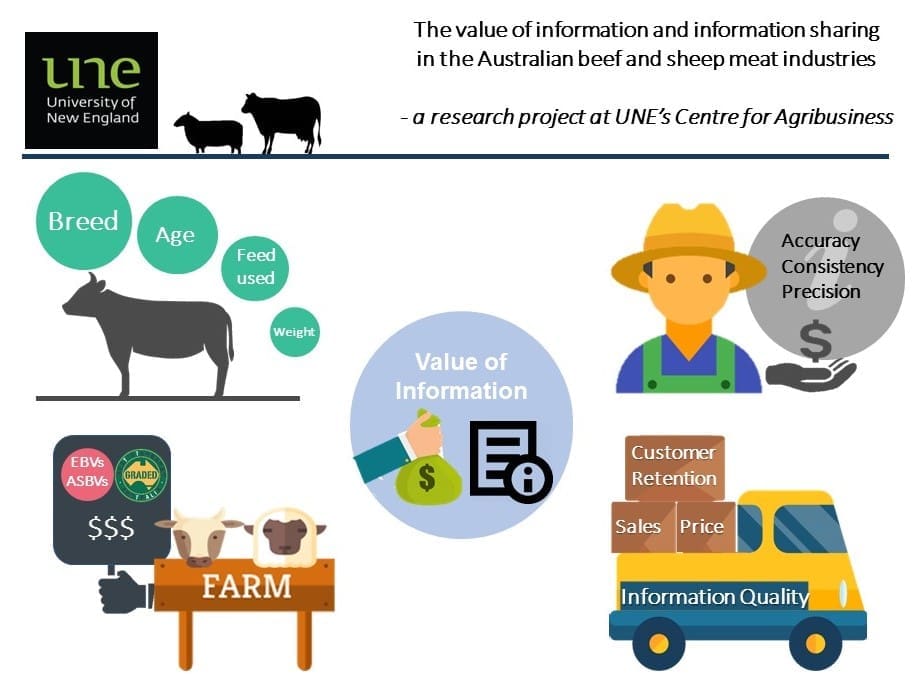 A second survey, targeting "pure information" meat quality indicators such as certification is now being launched by researchers at UNE. This piece of work focuses on certification of products and feedback to producers.
It will better characterise market failures in information provision, by establishing relative and absolute values for information and the extent and allocation of its benefits in the supply chain.  In addition, the mechanisms by which information generates value in the supply chains will be identified.
UNE professor Derek Baker said the work was of value to industry organisations, and funding agencies in government, as a means of better allocating support in the meat industry. It would also serve to inform technology adoption decisions and mechanisms for firms in the supply chain.
This second on-line questionnaire is targeting cattle breeders, cattle finishers and processors. It takes about 10 minutes to complete.