Claims that Australia is demanding the United Kingdom accept hormone treated beef in a post-Brexit trade deal have sparked angry headlines and outrage from British media, farming groups, meat processors and politicians in recent months.
But it appears the fury has been fuelled by fake news.
Australian industry leaders have told Beef Central that not only is this "absolutely not the Australian position", negotiations to develop a post-Brexit free trade agreement between Australia and the UK have yet to begin, and Australia has yet to form a definitive position for the negotiations.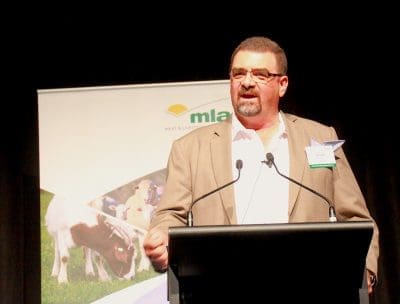 "We haven't started negotiating the UK FTA, that process has not got underway yet," said Jason Strong, CEO of Smithfield Cattle Co and Chair of Australia's EU and UK Red Meat Market Access Taskforce.
"For anybody to come out and say this is going to be a component of it, it would be like kicking a field goal at training and trying to get credit for it in the game on Saturday."
The furore was sparked in early April when London's Times newspaper reported Australia will demand Britain accept imports of hormone-treated beef when it leaves the EU.
The EU has long banned the import of beef from cattle treated with hormone growth promotants, claiming at least one of the hormones used is carcinogenic.
Australian and the United States say the claims are scientifically wrong and believe the EU ban amounts to unfair trade protectionism.
The Times' report said its information was based on a "briefing paper prepared for British Ministers" which said Australia had identified that gaining access for hormone treated beef would be a key issue in a post-Brexit trade agreement with the UK.
Numerous media outlets have since repeated the same claim, prompting fury from UK farming groups and politicians and political commentators, who argue the move would lower the UK's agricultural standards.
However, the angry response appears to have been triggered by misinformation.
After seeing the media reports Mr Strong said the Australian industry went looking for the initial source of the claim, and traced it back to a comment in a submission to a Senate Inquiry last year.
"It is absolutely not the Australian position," Mr Strong said.
"Where it has come from is that there was a senate inquiry into looking at potential opportunities and trade and opening up into the UK last year.
"And there were a number of submissions that went into that inquiry from a whole range of different people, and one of those submissions had a comment about the opportunity to push for hormone treated beef into the market as something that should be considered.
"It is not an industry position, we don't support that approach, but more to the point, we actually don't have a definitive position on a UK FTA as the process hasn't kicked off yet."
Mr Strong said the Australian industry had 'given up' on trying to set the record straight.
"It didn't seem to matter what we said, there was more interest in the drama the issues of HGPs created," Mr Strong said.
Mr Strong said EU commissioner for trade Cecilia Malmström is due to visit Australia in the next few weeks which will be the starting point for Australia's negotiations to develop a free trade agreement with the EU.
While there had been a lot of discussion and preparation, talks to commence an Australian FTA with the UK were also yet to begin.
"There has been a lot of time lining up the things we think are important and how we want to engage, but we certainly haven't put a stake in the ground on any of those things, because we want to keep everything on the table,"
"The UK FTA is going to be very important to us specifically, but they're also going to be negotiating with everybody else, and as that process gets underway, then we will certainly start establishing what parameters we will work off to try and get the best result there."
"The industry is working very closely together to make sure we're able to achieve the best result for both the EU and UK FTA.
"These two negotiations are the best chance in 40 years for significant increases in our red meat access to Europe."
Alexander Downer, who has just completed a four-year term as High Commissioner to the United Kingdom, now replaced by George Brandis, has also publicly described reports of Australia pushing for the UK to accept hormone treated beef as a "myth."
"For a free trade agreement with the UK, food safety issues are unlikely to be an issue at all," Mr Downer told London's Telegraph newspaper in April.
"The Australian government has never raised the issue of hormone-injected beef with the British government and nor has the Australian beef industry made any representations to us in support of exporting hormone injected beef."