A REMOTE Queensland small stock processor is about to significantly increase its capacity – with the completion of an expansion at the end of May this year.
Western Meat Exporters (WME) in Charleville is expected to increase capacity from 15,000 per week to 22,000 with completion of an $11 million expansion, using $4 million from the Queensland Government. The facility primarily processes goats and a number of sheep and lambs.
The expansion of the Charleville abattoir is mainly focused on removing bottle necks in the boning room and load out area, to allow the kill floor to run uninterrupted. There will be some robotics to pick and pack cartons in the refrigeration area and the chilling process will be more efficient.
The area is generally seeing increased investment into goat processing, with Thomas Food International (TFI) last year purchasing a dormant plant in Bourke, NSW, about 450 kilometres south of Charleville. Sheep Central is expecting more details on the opening of Bourke soon.
WME managing director Campbell McPhee said the increased investment into processing was following the millions-of-dollars invested into exclusion fencing.
"We engaged with the State Government in 2018, before COVID, on the back of their investment into the small stock industry through its cluster fencing program," Mr McPhee said.
"We are seeing a lot more males being processed and retention of females, whereas in the past people weren't giving much consideration to drafting before they sent them to us.
"The majority of the goats in Qld are running behind wire now and not as many wild rangeland goats are coming to the plant."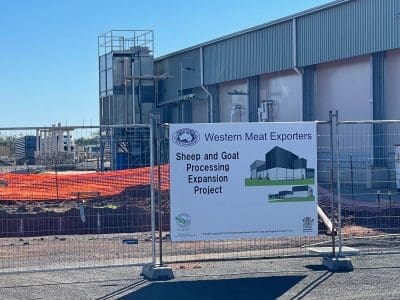 Goats have been one of the most consistent livestock markets since 2018, with over the hook prices mostly staying above 800c/kg carcase weight.
Mr McPhee said pinning down accurate herd numbers was hard to do with goats, but there was no doubt it was increasing.
"Most of our goat projections have been through new customers making contact with us and other avenues like AuctionsPlus – where considerable have been coming back into Queensland," he said.
"Both the Queensland and New South Wales governments do aerial surveys and there is a forecasting committee in NSW. But I haven't struck anyone who believes goats are in a negative growth pattern."
Enough room for two plants
The area has traditionally struggled to sustain two plants, with the Bourke abattoir managing less then four months of processing after it finished construction in 2019 – lying dormant since.
Mr McPhee said he had limited details about TFI's plans at Bourke, but he was confident there was enough stock to supply both plants.
"I don't know a lot about Bourke, but I think the opening of the plant there will be great for the people of Bourke," he said.
"We do source some stock from down that way. However, there is a lot of goats south of Bourke that go to Victoria."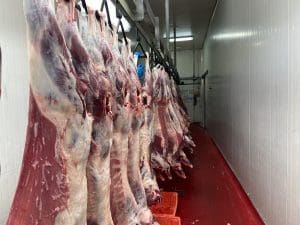 Mr McPhee said the viability of WME was bolstered by its ability to process sheep and lamb, with the industry also growing in the area.
"With the small stock in general, if people are managing them, they're not going to decrease their flocks down to zero in the next drought," he said.
"Sheep and lambs are increasing, as well as goats, and we have taken a lot of confidence from the investment into the fences."
Labour to remain competitive
Both abattoirs are expected to be on the lookout for workers, with Charleville expecting to increase its workforce by 60 to 220 and Bourke having the capacity to employ 120.
The Charleville plant still has many Vietnamese workers who moved to the town in 2006, with those families becoming part of the community. More recently, it has been using the Pacific Labour Scheme – which Mr McPhee said was successful but not as much of a long-term prospect.
"We keep exhausting the local talent pool every year and we don't have the backpackers coming through anymore," he said.
"We are finding a lot of young people through the Pacific Labour Scheme who come here to make money and return home after about three years.
"That cycle has been successful and talking to our pacific islander employees they are really enjoying the. We see the Pacific Labour Scheme as a long-term prospect."