AMONG the many impacts of COVID-19 on the red meat sector have been disruptions to the progress of industry restructure discussions.
For the past year the Red Meat Advisory Council, which manages the $40 million red meat fund, has been overseeing a review of the industry's Memorandum of Understanding.
Established in 1998, the MOU sets out the roles and responsibilities of the various bodies that administer and invest industry levies generated by cattle, sheep and goat producers, lot feeders, livestock exporters and processors, and the councils which represent each sector of Australia's red meat industry.
In July last year a taskforce established to conduct the review recommended a major restructure of industry bodies to create a new single overarching body, which would receive and manage all red meat industry levies, and would represent and advocate for the entire Australian red meat sector.
Recommendations also included creating an additional body to manage red meat industry research and development, and another to manage all red meat industry integrity systems in a single company.
Representatives of the various red meat industry peak councils and research and development organisations, along with RMAC, have been holding discussions since that time to try to find common ground on how far the final restructure should go and what form it should take.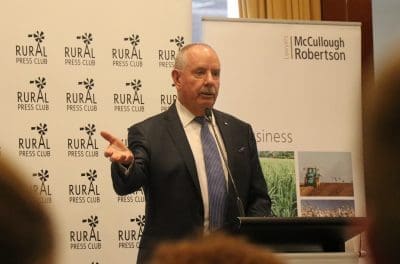 The last major public update on how those discussions have been progressing was delivered by RMAC chair Don Mackay to a Rural Press of Queensland lunch in early February.
In that update he said the peak industry councils and RDCs involved in the discussions supported creating the single integrity company as recommended, which would bring all of the various integrity functions such as the National Livestock Identification Scheme, Livestock Prodution Assurance, Austmeat, Safemeat etc, into one organisation, and noted that PricewaterhouseCoopers Australia (PWC) had been commissioned to develop a business model for the new unit.
However the idea of funnelling all levies into a single Red Meat Australia body had not been supported, and autonomy for how each sub-sectors' levies are spent would remain with each individual sub-sector.
At the time of that address he said there was still also debate as to whether a single second company could or should be formed to combine the roles of the three red meat RDCs (Meat & Livestock Australia, Australian Meat Processor Corporation and LiveCorp) into a single body to oversee all marketing, innovation and extension for the red meat industry.
Asked this week how the discussions were progressing and whether they had been affected by COVID-19 disruptions, Mr Mackay told Beef Central that work was still progressing, but had been slowed as a result of the coronavirus event.
He said PWC has now completed its review of how a single integrity unit could work.
The COVID-19 issue had further highlighted the value of having a low-cost, digital approach to integrity systems, he said.
"That is certainly going along and has pretty universal support," he said.
"In terms of the single service provider, we're working on that.
"There is not universal support for this in terms of just simply going to one body.
"I think there is support for the collaborative premium that might come from all of the organisations working well together, and the Minister (David Littleproud) has a specific agenda around some changes to R&D (through the RDC review launched by his predecessor Senator the Hon Bridget McKenzie last year)."
Mr Mackay said the industry bodies are still working through the issues.
"Maybe not quite as fast as before, but we haven't lost focus on it," he said.
"We're not wed to one idea, we're just wed to finding something that works better.
"As far as the one Red Meat Australia concept, we're still considering how that might look
"I know the original model was a grand type organisation which was the recommendation from the independent group.
"We're working quietly on this, this whole process has been affected considerably by COVID-19 and will take longer to work through because of it, but we're working quietly along, just see what might be better or not better."
Mr Mackay also paid tribute to how well the Australian red meat industry has adapted to the dramatic changes in circumstances brought by COVID-19 to keep operating and to keep Australia and its overseas customers fed throughout the crisis.