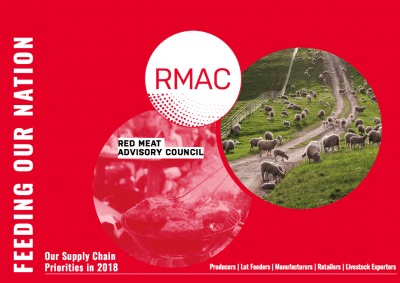 The Red Meat Advisory Council has today handed a report to the Australian Government, spelling out 26 tangible actions it can implement this year to help sustain the competitiveness of the multi-billion dollar red meat sector.
The measures outlined in the "Feeding our Nation 2018" report include the need to finalise the Indonesia-Australia Comprehensive Economic Partnership Agreement; resume the live export trade to Saudi Arabia and the Philippines; rapidly ratify the revived Trans-Pacific Partnership; resource efforts to reduce technical barriers to trade; ensure fresh beef importation meets Australian equivalent food safety and production standards; fund innovation adoption in regional Australia; support industry's beef and sheepmeat language white papers and provide tailored business development support programs for red meat retailers.
The Australian red meat industry involves 75,000 individual businesses, employs 405,000 people, both directly and indirectly, and is growing at a rate of five percent each year. It is major contributor to national food security, economic activity and export revenue, and has a goal of unlocking $7 billion in value by 2030.
Getting policy settings right is of upmost significance to sustain the industry, RMAC independent chair Don Mackay said.
"It is crucial that the Australian Government joins us in tackling the challenge of making our supply chains even more robust and competitive."
"The Feeding Our Nation 2018 is focussed on tangible and readily implementable initiatives that the Australian Government can actually deliver."
The report was presented to the recently appointed Minister for Agriculture and Water Resources David Littleproud this morning at a welcome reception hosted by the board of RMAC for the Minister at Australian Parliament House.
Mr Mackay said he was excited to work with Mr Littleproud to build on existing momentum of key trade reform achievements already in 2018.
"We have had a great start to the year with the announcement of the Comprehensive and Progressive Trans Pacific Partnership – let's build on this for a bigger and better year for true Aussie red meat, our customers, and our businesses."
"We commend Feeding Our Nation 2018 to Minister Littleproud and look forward to working with him to return greater value to Australia's 75, 000 red meat producers, lot feeders, manufacturers, retailers and livestock exporters and the broader Australian community."
The "Feeding Our Nation 2018" report can be viewed here.