A family owned business is playing a leading role in helping to grow Australian beef's share of the protein snacking market.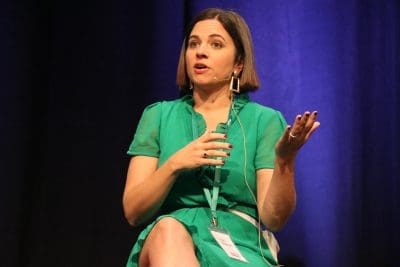 Within the growing global snack segment, products described as containing protein are growing at a rate of 22 percent, Jim's Jerky CEO Emily Pullen told the Red Meat 2019 forum on Wednesday.
15 years ago Emily's parents, Jim and Cathie Tanner who had a Droughtmaster operation in Central Queensland with a feedlot supplying Woolworths, bought a small butcher shop on the western outskirts of Toowoomba.
Surprised at the amount of additives and highly processed nature of existing jerky products they started making and selling their own.
They found the key to selling their product was to get consumers to sample it first, so exhibited at field days and markets around the country and selling online.
After building a national profile for their Jim's Jerky brand they have since made the decision to expand from a direct selling to a retail model, with their jerky products now sold through Woolworths, Coles and independent supermarkets around the country.
They still exhibit at field days, which also provides an invaluable opportunity to continually gain direct consumer feedback and to test new products and packaging.
From the close level of engagement they have with consumers, Ms Pullen said that despite all the noise about fake meat it was clear "consumers love beef".
Ms Pullen said the protein snacking market has considerable growth potential in Australia.
In the United States 14 percent of snacks are beef, but in Australia the figure is around 2 percent, she said.
Within the protein snacking category, where health is a key driver, not all products are created equal.
"We have the number one protein with iron," she said.
"Better-for-you snacking is not a big ball of sugar, it is Australian beef in a packet."
Ms Pullen told the forum the operation sources lean butt cuts and topside to make its beef jerky, with low intramuscular fat and low interconnective tissue.
"If you use budget cuts, you get budget jerky," she said.