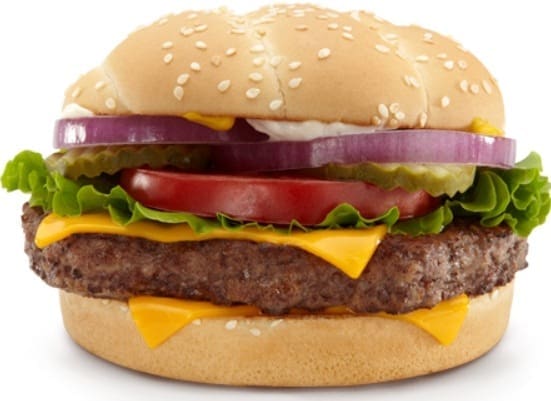 BUILDING trust with customers is the big driver behind McDonald's focus on developing sustainable beef programs worldwide.
As the single largest beef customer worldwide, McDonald's knew that with the size of its global supply chain, it could have both a significant impact and also a huge opportunity to make a difference in sustainability, beef and lamb producers were told in Tamworth yesterday.
Speaking during a sustainability session at Meat & Livestock Australia's Red Meat 2019 event was Dr Nicola Robinson, who runs McDonald's global beef sustainability strategy, and sits as an executive member on the Global Roundtable for Sustainable Beef.
Operating in more than 100 markets around the world with around 37,000 restaurants, McDonald's serves 69 million customers daily. Indirectly, through its suppliers, the company sources raw material from tens of millions of beef producers around the world.
As the company's second largest supplier country, Australia supplies not only McDonald's restaurants within in Australia, but exports to large markets across the world including the US,  Japan and other parts of Asia.
"We know that with the size of our global supply chain, McDonald's can have both a significant impact, and also a huge opportunity to make a difference," Dr Robinson said.
She said for McDonald's to continue to grow its business successfully, it had to be customer focussed – whether that be regaining customers it had lost, converting the casual customer to a committed customer, or retaining its existing customer base.
One of the key ways to do that is to build trust with customers.
"We know that trust in our brands, in our food and where it comes from, and the impact that our company has on the world is a big driver of customers coming through our doors," Dr Robinson said.
"We believe that delicious food is also sustainable food – not only sustainable for us, but for our customers – and as one of the world's leading restaurant brands, we are committed to using our scale for good, in making this vision a reality."
As the world's largest customer for beef, McDonald's was frequently approached to support a wide range of environmental and social causes. "But we really wanted to focus on those that are most meaningful for our business, and where we could really help drive change – not just in our own system, but beyond it," she said.
The company carried out an analysis to identify five global priorities – one of which was beef sustainability – which McDonald's was interested in partnering with supply stakeholders on to help drive change.
"These priorities reflect not only the impact we have as a business, but also the opinions of key stakeholders – not just customers or activists, but also investors are increasingly asking us about things like beef sustainability," she said.
"Given that we are a beef burger company, it should not be surprising the beef industry, as it is absolutely core to our brand, and is the key ingredient for our most iconic products."
Under its 'Scale for Good' program, McDonald's was committed to partnering with farmers and ranchers working in the beef industry around the world, to help take responsible beef production to scale.
"We believe that responsibly-produced beef is better not only for customers and the environment, but also for producers. We know that the producers are key, and they have to be at the absolute heart of this effort," Dr Robinson said.
"Given that Australia is McDonald's second largest beef supplier worldwide, the work happening here under the Australian Beef Sustainability Framework is really exciting for us."
Defining beef sustainability
Dr Robinson said McDonald's had intentionally not gone out and defined its own definition of beef sustainability.
"It's a topic that people have a lot of different opinions about, and we were very keen to work with the industry in each of our top ten supplier countries to come up with locally appropriate definitions."
Beef production varied widely around the world, and even within the same country, she said.
The company had been working with these multi-stakeholder groups to help define beef sustainability for each supplier country, to develop transparent supply chain programs that McDonald's could plug its supply chain into, to enable it to communicate to customers that the company is sourcing responsibly-produced beef.
"We want to be able to take that story to our customers, so they can continue to feel good about those choices," Dr Robinson said.
Canada goes down certification path
She used Canada as an example of a country where McDonald's had already been able to take the message right through to consumers by partnering with the beef industry, via an advertisement rolled-out across all movie theatres and in-store in recent months.
One of its messages it contained was that the same pound of Canadian beef produced 15 percent less greenhouse gas emissions today than it did 30 years ago, meaning the environmental footprint from beef was shrinking. It also highlighted that Canadian beef producers felt that sustainability was fundamental to their long-term futures, and the partnership with McDonald's was allowing Canadian beef producers to 'tell their story' about sustainability.
"It's the type of commercial that we would like to see one day in Australia, perhaps," Dr Robinson said.
The ability for McDonald's to take stories like this to consumers was exciting, not only for McDonald's, but also as an opportunity to highlight the great work that beef producers involved in the company's supply chain were doing around the world.
"This work has never been more important," she said.
In Canada's case, it had taken the decision to go for a certification process to underpin its beef sustainability claims.
"Certification is not something we are advocating for globally, but it's the local route that the Canadian industry chose to go down. What we are looking to do globally is produce transparent supply chain programs that we can take to customers," she said.
Dr Robinson said there were now 23 multi-stakeholder roundtable efforts around the world working to define beef sustainability locally, in partnership with the industry, and to take that into the supply chain.
"In fact the most recent example was launched last week in Christchurch, New Zealand. What all these industry frameworks are doing is to bring together diverse stakeholders at the national level to agree on a common definition that the industry can support on beef sustainability, and to take those practises to scale."
McDonald's was also active at the global level, through the Global Roundtable for Sustainable Beef, allowing stakeholders to partner on some common issues, and to tell a story to key global audiences that are watching the beef industry.
Research support
In parallel with its work in working with sustainable beef roundtables across the world, McDonald's was also supporting research in fields like regenerative grazing practices. In one project in the US, the company had injected $4.5 million in matching grant funding into a project quantifying the benefits of regenerative grazing management – not only focused on carbon sequestration, but farmer wellbeing, animal wellbeing and biodiversity. Results are due to be finalised next year.
"It's the peer-reviewed science behind this that we are really excited about, as there's a lot of science lacking in this space, and there is a unique story-telling element to the project," Dr Robinson said.
"Work like this is another great vehicle to take beef sustainability messages to consumers."
Australia's approach to beef sustainability
Asked for her impression of Australia's approach to beef sustainability, Dr Robinson said the beef industry here had grabbed the bull by the horns and had 'really worked collectively' to define sustainability as it applies in an Australian environmental context.
"The reporting that you do is really transparent, and the metrics behind the Australian framework are really leading-edge. Your commitment to set targets (referencing the industry's carbon neutral 2030 objective) are going to be really important to set a direction."
"To be a leader in the future, certainly a lot of the other production regions that McDonald's works with are definitely looking in that direction, also. That commitment is really important, to set a direction."
Dr Robinson said as the framework develops, she was looking forward to seeing how individual beef producers can get 'plugged in' to the framework, in demonstrating how their farm contributes to those outcomes.
"There's a lot of exciting things to come, but we commend the work that Australia has already done," she said.