In conjunction with the mining tax legislation, Federal Parliament on Monday night passed bills on changes to be made to the Superannuation Guarantee Act which contains the mandate for employer superannuation contributions to rise to 12 percent.
Australian Chamber of Commerce and Industry chief executive Peter Anderson said his group would be lobbying the Government to deliver some wage relief.
"The best outcome now would be for the Government to announce in the Federal Budget some sort of wage trade-off for businesses," he said.
"Secondly, there should be some additional tax benefits announced for employers to offset the cost of the superannuation guarantee."
The increase will take the superannuation rate from 9pc to 12pc by 2019-20, with the first rise to come in July 2013, when the levy lifts to 9.25pc. But Peter Anderson says it's "insulting" for the Government to suggest the increase can be afforded over a decade.
"How increasing a payroll levy every year for the next seven years ends up making the levy affordable is beyond logic," he said.
The two bills passed on Monday propose to increase the current superannuation guarantee rate of 9pc to 12pc. This will be transitioned in from July 1 2013 as follows: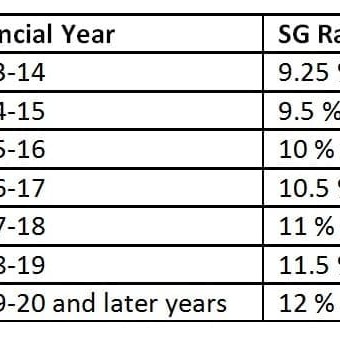 AWX payroll manager, Suzanne Bish said the second part of the Act sought to abolish the upper age limit for the superannuation guarantee.
She said whereas current legislation provided that superannuation is payable for those aged between 18 and 70 years, changes to the Act meant super would now be payable to over 70s from July 1 next year.
"Much like the transitional provisions of rates of pay for Modern Awards, the slow increase for the Superannuation Guarantee is designed to assist employers with rising staff costs," she said.
"By the time of completion of the new rate of 12pc, it will have been 17 years since Australians have seen a rise in mandatory contributions from their employers (the rate was increased from 8pc to 9pc in 2002)."
Looks like more cost pressure to come for employers.
To access the latest listings on Beef Central's 'Jobs Central' recruitment page, click here, or look for the Jobs Central clickable link on the top right of the home page.