Latest listings on Jobs Central
Farm Technologist, Agronomy – NSW (Rimfire client)
Industry Manager, Crop Protection – WA (Rimfire client)
Branch Manager, Emerald – Qld (Elders)
Overseer, Herbert Downs – Qld (NAPCo)
Livestock Overseer – SA/VIC (McBride)
Feedmill Operator, Hay – NSW (Spinifex Recruiting)
Seedstock Property Manager – NSW (Spinifex Recruiting)
Territory Manager – SE NSW/Canberra (Rimfire client)
Leading Hand / 2IC Cropping, Moree – NSW (Rimfire client)
Senior Trade & Market Access Manager (Agribusiness Recruitment)
Production Planner (Case Ready Beef) – Harvey Beef
Cattle Station Manager – Port Hedland, WA (Agricultural Appointments client)
Software Technical Support Consultant – Qld (eLynx)
Property (Farm) Manager, Rocky Creek – NSW (Faulkner Farming)
Click here to access these and other exciting meat and livestock supply chain jobs currently listed on Jobs Central.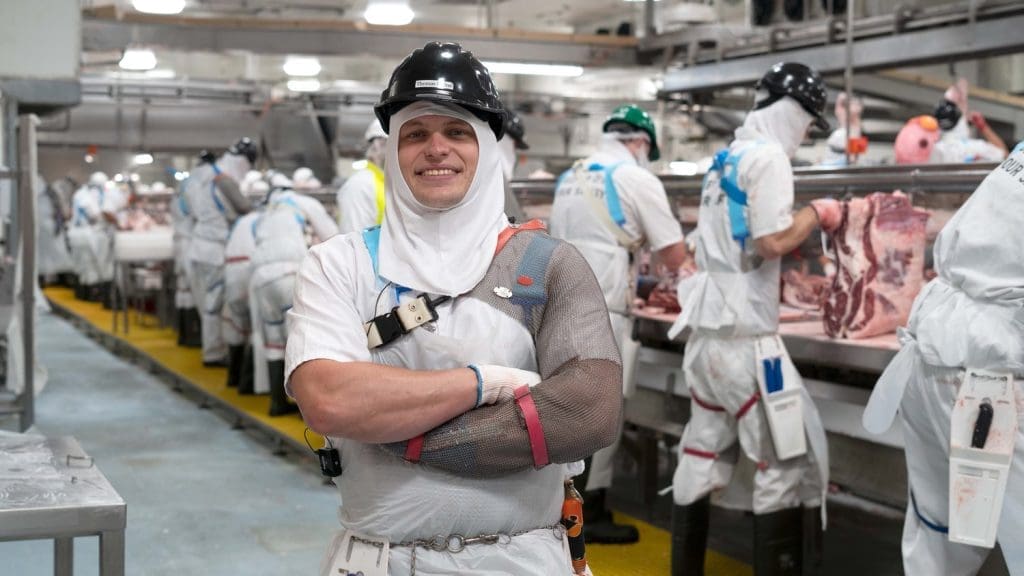 THE red meat processing industry has produced a new TV and social media advertisement targeting processing as an attractive career path for young people.
The ad uses a testimonial case-study approach featuring young JBS Beef City (Toowomba) boner, Thomas Irvine (pictured above).
Starting work with JBS after leaving school, Thomas says working at the plant has provided him with a strong work ethic which "carries over to general life skills – like going to the gym, saving money, relationships – everything."
"Working here let me save enough money to buy a house. It's important not to just get complacent with things – waking up every day and saying, I can be better, it's my day to be better."
Thomas emphasises the range of jobs available in the processing industry – whether it is as a knife-hand, labouring, forklift operations in the load-out area, office jobs, or working in the feedlot (JBS Beef City is one of only two integrated lotfeeding/meat processing facilities in the country).
"There's just a plethora of things you can do in this industry," he says in the ad. Click on the link below to access.
The More to Meat campaign is run by the Australian Meat Processor Corporation AMPC, under the slogan, "More skills, more opportunities, more rewarding – there's more to a career in meat than meets the eye."
The campaign encourages people to speak about an industry they're proud of by showcasing Australian red meat processors' contributions to regional communities and the national economy. The red meat processing industry's contribution to full-time employment in Australia totals more than 138,000 jobs – many of whiuch are in regional and rural areas.
AMPC has established a 'More to Meat' campaign website, which can be accessed here.