Latest listings on our recruitment page, Jobs Central:
Meat Inspectors / AAOs – (Meat Inspectors)
Policy Manager – (Australian Lot Feeders' Assoc)
Grader Driver, Davenport Downs – (Paraway)
QA Supervisor, Tasmania – (Greenhams)
QA Supervisor, Gippsland – (Greenhams)
Overseer, McAllister – (Stanbroke)
Livestock Supervisor, Wonga Plains – (CAMM)
Feedlot Administrator – Wonga Plains (CAMM)
CEO, Sheep Producers Australia (via Carnovale)
Communications Officer – (Angus Australia)
Project Manager, Water Development WA – (Bilba)
Station Manager, Taroom area – (via Red Dog)
Livestock & Supply Chain Coord, Whyalla – (NH Foods)
Livestock & Supply Chain Coord, Wingham – (NH Foods)
Feedlot Livestock Management – (Rangers Valley)
Livestock Feeding Manager, VIC – (via Agricultural Appts)
Stationhand – Wandoan area (Stanbroke)
Salesperson/Meat Trader – DRJohnston (JBS)
Non Executive Directors – MLA (via Carnovale)
Click here to access these and other exciting meat and livestock supply chain jobs currently listed on Jobs Central.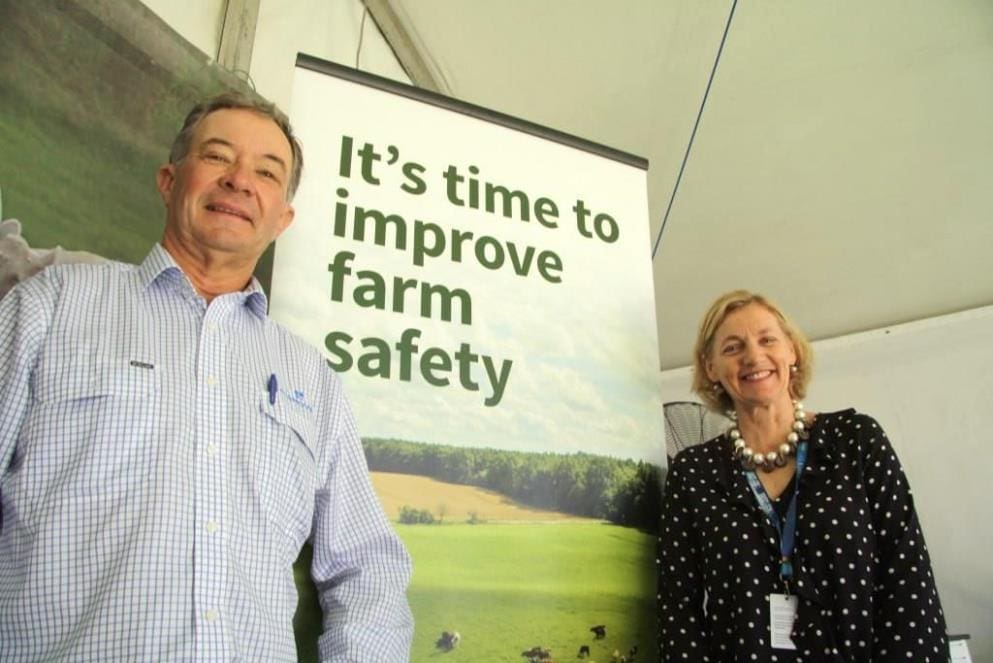 THE name, Palgrove, might be famous for its Charolais and Ultrablack seedstock, but an online staff induction course which it has adopted was also a hot topic of conversation at the company's Beef 2018 trade site.
Known as the Online Rural Property Induction, the initiative was developed by Olive Learning in conjunction with Palgrove's Prue and David Bondfield (pictured above), and is now being expanded with the involvement of organic branded beef supply chain, OBE Organic.
Ms Bondfield said the online induction course came about because Palgrove felt the need to standardise the knowledge of its workers as the business expanded from its home property at Dalveen near Stanthorpe.
"Because we had different locations – some run by property managers, and some by us at head office – getting people to have a basic understanding of what was required was important for us to have across the board," Mrs Bondfield said.
"We asked Olive Learning to develop it because we wanted it to be based on visual learning, and we started using it last year."
Palgrove's investment partnership struck with the New Zealand Superannuation Fund (click here to view earlier article) has brought a corporate flavour to the family farming operation, and Mrs Bondfield said that meant it was expecting to buy properties beyond its home, Emerald, Miles and Ben Lomond holdings.
"We employ 16 staff now, and that will increase considerably," she said.
"For all of us, we have to look at risk, and ask ourselves: 'If something goes wrong, what did we do to prevent that?'
"In terms of farm safety, the risk gets bigger as you get bigger."
Mrs Bondfield said staff, whether new to the rural sector or highly experienced, were benefitting from the baseline the online induction put in their skill-set.
"On each property, we want to be sure that everyone understands what's required, and finds the same system."
Online learning can then be augmented to suit specific properties, and Ms Bondfield said this was the attraction for OBE Organic, which is using additional modules based around working on vast and remote properties.
She said the standards promoted through the Olive Learning package would assist Palgrove in its aim to be an 'employer of choice.'
"Young people are very aware of their safety and rights, and if there's a labour shortage, we want to have a good name so we can get the right people."
Mrs Bondfield said all new staff must complete the Online Rural Property Induction prior to their first day at Palgrove, after which a manager observes the new recruit's performance to ensure competency has been achieved.
"If we find they haven't had enough training, we can then help them get it."
David Bondfield said the Olive Learning course was a straightforward way to improve safety and operations.
"A lot of people are thinking about this, but don't know where to begin. This is a good place to start."