Latest listings on Jobs Central:
MC Livestock Driver – Hardwicks
Livestock Drovers – Hardwicks
Station Manager, Rugby Run – ACBH
Meat Process Workers – Central Agri Group
CEO – via Rimfire
Breed Development Manager – Herefords Australia
Business Manager, Grains – via Rimfire
Station Manager, Oban – Western Grazing
Livestock Sales, Territory Manager – Elders
Production Manager, Casino – Riverina via Rimfire
Click here to access these and other exciting meat and livestock supply chain jobs currently listed on Jobs Central.
For a change of pace in this week's recruitment article, we take a look at staffing issues in the US farm sector, which is arguably facing even bigger challenges than Australia. Cooperatively-owned US rural bank CoBank compiled a recent report into the US farm sector hiring challenge. Presented below is an edited version, focusing on issues which will resonate with the Australian beef industry.
IN A tight US labour market, agriculture is struggling disproportionately compared with other industries to compete for scarce labour.
With the US economy growing and manual labourers chasing higher wages that are offered in more wage-competitive industries like transportation, construction, hospitality and mining, employers in agricultural industries are being forced to increase wages at a faster rate to compete.
The quickening pace of wage inflation in agriculture puts significant stress on profitability at a time of depressed commodity prices, the CoBank report found.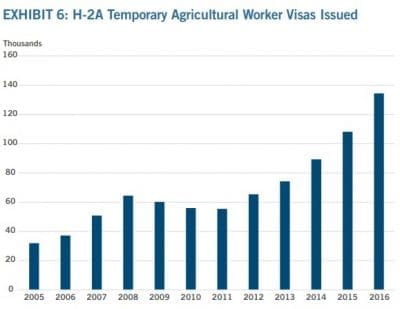 As the US's pool of migrant agricultural labourers from Mexico continues to shrink due to ongoing economic, demographic and policy shifts, agricultural employers in the US face a future of further tightening in the labour market.
To adapt to a worsening labour climate, agricultural employers in the years ahead will increasingly be pressured to raise wages and worker benefits, seek out workers via temporary visa programs, turn to other areas like Central America's Northern Triangle or East Asia for workers, adopt new technologies in robotics and automation, or ultimately move operations abroad to regions where labour is more accessible, the report found.
Case study: Friona Industries and Cactus Feeders
This year, there are 800,000 more cattle in US feedlots compared with 2017.
Much of that feedlot growth is centred in the Texas Panhandle, the region with the largest concentration of cattle feedyards in the nation.
Operators like Cactus Feeders and Friona Industries, both based in Amarillo, compete with each other, food processors and the oil industry for the personnel needed to wrangle the millions of cattle that pass through their yards each year.
Friona Industries, the world's third-largest commercial cattle feeder, needs 300 fulltime employees – including genuine cowboys who work from horseback – to help care for the 450,000 head of cattle always on feed at its six yards. The situation is similar at Cactus Feeders, the world's largest privately owned cattle feeding operation. Cactus needs 500 workers to care for and market the one million head of cattle that pass through the company's 10 feedyards annually.
The majority of those on the payroll at the two operations are nearly identical: Hispanic men with permanent residency or citizenship working low to semi-skilled jobs. Many employees have been with Friona for 20-plus years, but another 20 to 30 percent are a "revolving door," said chairman and CEO Don Gales.
Though Friona pays a fair wage, it can't compete with what neighbouring oil companies offer.
"They [employees] can drive a feed truck for us or go to the oil fields and get $10 more an hour to also drive a truck," Mr Gales said. Cactus Feeders boasts a lower-than-average employee turnover. Kevin Hazelwood, senior vice president and chief of staff, attributes this to the company's commitment to "taking care of a man's family" with "a good living wage, affordable health benefits and retirement benefits."
Cactus stands out as unusual, because it is 100 percent employee-owned.
"Employee ownership creates a good work environment," Mr Hazelwood said.
The company launched an employee stock ownership plan (ESOP) in 1990 to buy out the original owners of Cactus Feeders. Now, every employee, age 18 or older and working a minimum of 1000 hours annually, receives shares of stock equivalent to about 8.5pc of his yearly earnings. Shares are hand-delivered to employees during annual business meetings held at each facility.
"We have hourly guys with 15 to 20 years of service who retire with more than $250,000 in stock at no cost to them," Mr Hazelwood said, underscoring the ESOP's long-term appeal.
An aging workforce in the feeder industry troubles Mr Gales. Many of Friona's employees are due to retire at about the same time, which will leave a significant void in both employee numbers and experience. Most work 55 to 60 hours weekly.
"I see a challenge in finding people willing to work those kinds of hours. It will take more employees to work those same hours, and we already can't get enough," he said.
Will automation ease labour pain?
While automation is starting to gain a place in US agriculture, robots could not replace the human touch and eyes required to provide quality animal care, said both Schwartz and Gales.
Still, Mr Gales sees automation opportunities. Driverless feed trucks, which could replace the five or six drivers required at each Friona feedlot, are one such possibility.
"We already have computerised equipment to ensure the right feed goes in the right bunk, so it's not much of a stretch to think we could have robotic trucks doing this work," he said.
Cactus Feeders is applying technology wherever possible to gain operational efficiencies. Feed mills are run mostly by computers, high-tech tools are identifying maintenance issues before they result in downtime and drones are replacing some of the work being done by cowboys, such as taking inventory.
There's a limit to the applications for automation, though, said Hazelwood. It will never be a viable substitute for animal handling and care – the work of a cowboy. "We're not going to automate this man [cowboy] out of a job," he said. "What he does is the essence of caretaking. We can't automate that."
Bridging the Gap
In addition to offering competitive pay and attractive benefits packages, some US protein producers are trying more creative approaches to recruit and retain employees. The results of these efforts range from poor to good, but no one approach has proven to move the employment needle significantly. Some of the strategies and their outcomes include:
Thinking younger – Both Friona Industries and Schwartz Farms are visiting area high schools in search of future employees. Friona employees spend time in agricultural education classrooms to help familiarise students with career opportunities in the feedlot industry. The company is also helping students buy horses and tack, so they are ready to come to work after graduation.
Seeking out pockets of high unemployment – After Hurricane Maria devastated Puerto Rico last year, many islanders were left jobless. Seeing opportunity, Case Farms opened a recruitment office there. The company recently helped 50 people relocate to North Carolina to work at one of its plants.
Encouraging employee feedback – "We're doing a better job of listening to our people," said Schwartz about the Schwartz Farms company culture that encourages employees to speak up when they see a problem or have an idea. There is a similar mindset at Case Farms where employee groups meet weekly to offer their ideas for workplace improvements and productivity enhancements.
Improved training – Many are investing more in employee training. "We want to challenge, lead and coach our employees to be their best," said Sheila Schmid, who oversees human resources at Schwartz Farms. Before they can care for pigs on their own, the company's barn employees are required to spend several weeks job shadowing a veteran employee and must complete 20 hours of computer-based training in subjects such as animal care, animal behavior and biosecurity. The company has hired a bilingual trainer to ensure new employees fully understand what they are taught.
Promoting rural lifestyle – "We've taught our kids to think that success means getting a college degree and moving to a large city. But quality of life counts for a lot, and we rural employers need to exploit that," said Schwartz. He points out the lower cost of housing as one factor that makes rural areas preferable to urban locales.
More frequent pay raises – At Schwartz Farms, new employees are promised pay increases after three, six and 12 months on the job. After the first year, raises are given annually.
Incentive pay – At one of its meat plants, Case Farms adds an additional $1 per hour to paychecks of employees who report for all of their scheduled shifts each week. The incentive has done little to improve attendance. Paying more competitive wages, rather than offering bonuses or incentives, is working better at Schwartz Farms.
Source: CoBank