Latest listings on Jobs Central recruitment page:
Assistant Manager, Yanina – MacTaggart Pastoral Co
Feedlot Assistant – Jabell
Governess / Domestic Support – Minderoo South Station
Livestock Clerk – Teys Beenleigh
Mill Technician – Peechelba Beef
Operations Manager, Beaufort River – Wellard
Head Stockmen, Birrindudu & Mt Sanford – Heytesbury
Head Stockman/Livestock Personnel, Mt Fyans – HAAFCO
Livestock Overseer – Epenarra, NT – AGP
Stock Person / Station Hand – Princess Royal Station
Click here to access these and other exciting meat and livestock supply chain positions currently listed on Jobs Central.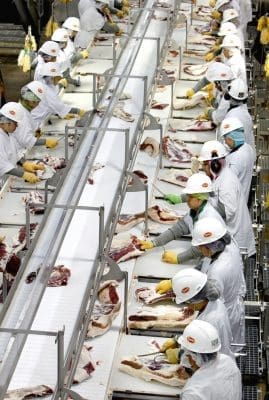 EMPHASISING a similar issue to that in Australia, meat protein processors across the United States face a growing labour shortage, particularly in beef processing plants says Steve Kay, Editor of US Cattle Buyers Weekly.
The shortage he says involves a lack of both unskilled and skilled workers.
Virtually every beef company surveyed recently by CBW for its annual Top 30 Packers ranking, cited labour as the number
one issue facing the US processing industry.
Concerns are growing that beef packers will not have the ability next spring and summer to process all the cattle that will need to be processed, not because of the throughput capacity to do so but because of lack of access to the labour required to run plants at required levels.
Pork processors he reports are exporting more bone-in hams, primarily to Mexico, as a shortage of skilled boners is not allowing them to produce as many boneless hams as they normally would.
Processors big and small all cite labour as the top issue and are focused on not only paying higher wage rates to attract higher-skilled employees but also introducing automation and robotics in the most difficult jobs.
While Australian meat processors face a raft of issues including regulatory issues, market access constraints, rapidly rising energy costs, labour access remains an important challenge.
Helpful careers advice
The Australian Meat Processor Corporation has an excellent suite of resources for people considering a career in the red meat processing industry.
Australian red meat processing employs around 34,000 people across Australia – many in regional areas – making it the nation's second largest employer by sector.
"It's an exciting and innovative field, where you will have the opportunity to build a career, make new friends, develop professional contacts, and shape the future of the industry," AMPC suggests.
AMPC's "Meat. Your Career" platform includes resources and helpful links, case studies of real people working in the industry, careers options within the sector, training advice and other information.