Latest listings on Jobs Central recruitment page:
Senior Analyst M&A and Strategy – (Rimfire client)
Meat Inspector – Wagga Wagga (Eville & Jones client)
Head of Communications & Corporate Relations (QRAA)
Manager Program Delivery (QRAA)
Senior Instructor – Higher Education (QATC)
International Meat Trader – US-based (Rimfire Resources client)
Plant fitter – Harvey Beef
Administration Officer-Feedlot (Stanbroke)
Livestock Manager (Bindaree Beef)
Assistant Feedlot Manager (Bindaree Beef)
Human Resources & Learning Development Manager (Bindaree Beef)
Operations Manager, Grassdale Feedlot (Mort & Co)
Farm Manager – Westmore TAS (Greenham Tasmania Pastoral)
Click here to access these and other exciting meat and livestock supply chain jobs currently listed on Jobs Central.
OVER the past five years, a common request or discussion point from agribusiness employers when looking to recruit for either existing or new positions is workforce diversity.
This is often driven by businesses recognising either the opportunity to tap into a new talent pool, or in fact be a directive from management to comply with company policy.
Regardless of the sector, organisations globally are recognising that diversity can have real benefits to an organisation's culture, sustainability and profitability and shouldn't be focussed on to simply fulfil a corporate charter or provide a 'feel good' factor for employees, shareholders or customers.
A talented and diverse employee base can give agri-businesses a competitive advantage. Workforce diversity can of course cover a range of criteria including age, ethnicity, industry background and experience, academic qualifications, disability and probably the most common, gender.
Statistics offered by large pastoral companies and feedlots clearly show that there are a lot more females working in the cattle industry now than there were in earlier times.
Given the prevalence of interest around workforce diversity, recruitment firm Rimfire Resources looked at some relevant data from 93 organisations that participated in its Agribusiness HR Review conducted late last year, to give an overall feel for the industry from a gender perspective. Most respondents tended to be larger agribusinesses, rather than smaller family-scale enterprises.
Findings from the review indicated that 28.7 percent of organisations exposed to agribusiness have a policy regarding workforce diversity, while only 18.1pc actually measure diversity within their workforce.
The topic most commonly covered by a diversity policy is gender, followed by ethnicity and disability. According to the Workplace Gender Equality Agency, female employees account for 46pc of the overall Australian workforce.
Analysis of data from the Rimfire Resources Agribusiness Salary Review in September 2015 showed that the agribusiness sector is more male-dominated than the overall Australian workforce. Of the 9468 records that indicated gender (77pc of all records), 67.25pc were male and 32.75pc were female.
When looking at specific sub-sectors within agribusiness, the most even gender split was seen within the Animal Health and Nutrition sector, with 41.2pc female employees, 40.2pc male employees and 18.6pc unknown.
Data collected from participants in Rimfire's GradLink program also supports these findings. Within the 11 years the GradLink program has operated, the split of male and female participants has remained fairly even (see graph below). In both 2013 and 2014, the number of female participants outweighed male participants.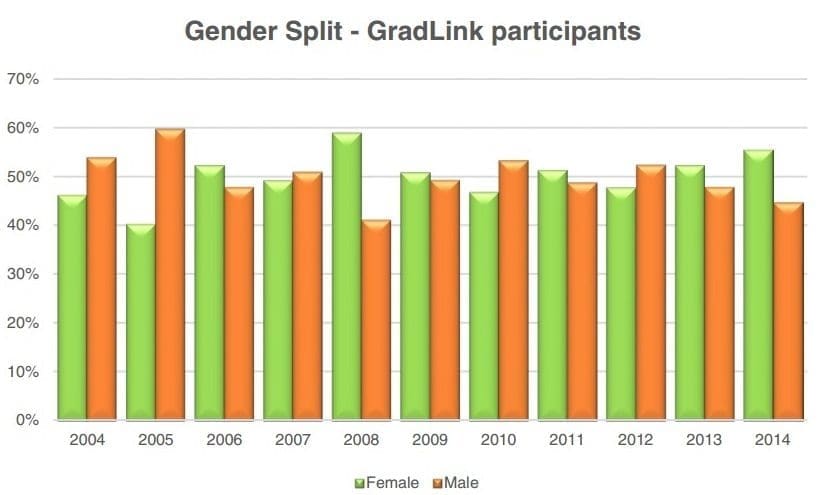 When analysing the Agribusiness Salary Review database by age and gender, it is apparent that a far more even gender split is emerging within younger age brackets.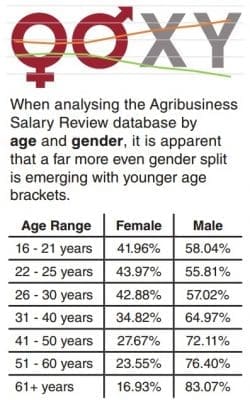 Individual roles which showed a completely even gender spilt included:
Advisor – Government/ Stakeholder Relations
Field Officer
Finance Manager
Inventory/Stocks Officer
Project Coordinator
Shipping Manager.
Source: Rimfire Resources