Latest listings on Jobs Central:
Experienced Station Hand, QLD – via The Remote Office
Wagyu Supply Chain Manager, NZ – Brownrigg Agri.
Stockman (2nd/3rd year) – Live Export Facility
Senior Trader-Sales, Procurement, Sourcing – Staughton Group
Livestock Manager, Feedlot – Smithfield Cattle Co
Head Stockperson, Willeroo – Hancock Agriculture
Station Manager – Ravello Station
Livestock Hands, Pen Riders – Opal Creek & Brindley Park
Livestock Manager, Brindley Park Feedlot  – ACC
Assistant Manager – Amungee Mungee Station NT
Meat Processing Workers, Moe & Tongala – Greenhams
Click here to access these and other exciting meat and livestock supply chain jobs currently listed on Jobs Central.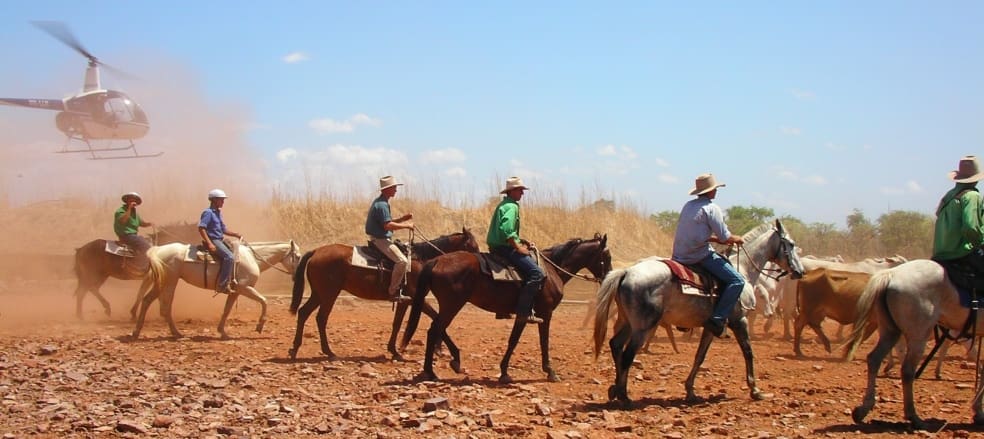 ACCORDING to the latest ABS census, agriculture's workforce is growing, and getting younger. The number of people working in the sector in Queensland, for example, increased by nine percent between 2011 and 2017.
Not surprisingly, the majority of Queensland's agricultural employees live in rural and regional areas of the state. In 2017, more than 81 percent of agriculture industry employees lived outside greater Brisbane. The percentage of ag-employed people living in greater Brisbane also increased, by 4pc to 16pc of the total.
A greater proportion of Queensland agriculture sector employees worked full time (71pc), compared with the general Australian workforce (65pc). Some 30pc of the agriculture workforce in the state owned or managed an enterprise.
The proportion of people under 35 working in Queensland in agriculture is increasing. While those working in ag were older on average than the general workforce, the proportion of workers under the age of 35 rose over the past five years to 29pc in 2017, up 3pc from 2011. Of those young people, 35pc per cent are women, up 3pc from 2011.
There is also an emerging trend of young people working in agriculture to hold a non-school certificate level or higher qualification, with the proportion rising by 6pc between 2011 and 2017.
Most young agricultural employees in the northern state work as labourers (54pc), or managers (22pc). Many of them work in the beef cattle, grain farming, sheep, fruit and tree nut and vegetable industries.
Snapshot of people working in agriculture in QLD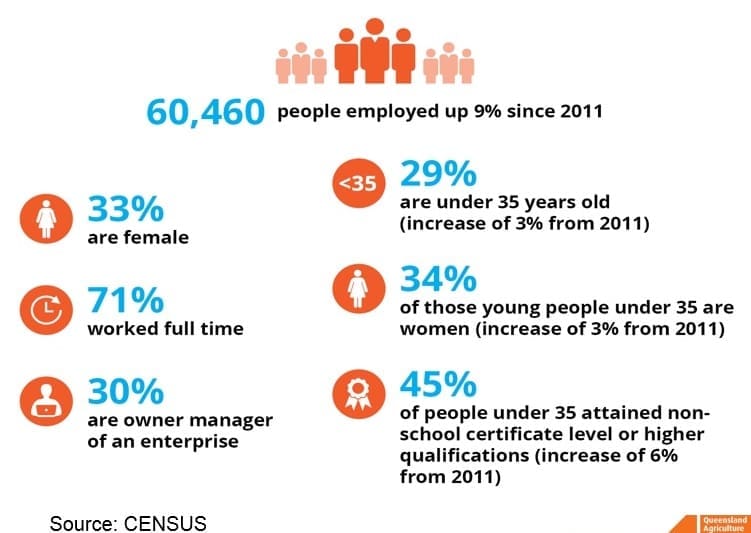 Census insights like this highlight the importance of understanding how the nation's agricultural workforce is evolving, and ensuring the younger generation of workers meet the current and future needs of the sector.
Helping deliver that in Queensland is the Rural Jobs and Skills Alliance (RJSA), representing industry members and government organisations in provides leadership and advice to government, service providers and other organisations on employment, skills, industry training and workforce planning issues on behalf of Queensland's agriculture industries.
The next ABS Census will be conducted in August 2021.