Latest listings on Jobs Central recruitment page:
Livestock Manager, Tintinara SA – Thomas Foods Southern Cross Feedlot
Operations Coordinator – Halleen Australasian Livestock Traders Pty Ltd
Feedmill Operator, Vic – Bunnaloo Pastoral Co
Senior Stockperson/Pen Rider, Vic – Bunnaloo Pastoral Co
Fleet Coordinator Livestock – JBS
Farming Manager, Koojan Downs – Harvest Road
Station Manager, Brunette Downs, AA Co – via Rimfire Resources
Chief Executive Officer – Inventia Genetic Technologies
Administration/Customer Service Officer, Roma – TopX
Domestic Wholesale Manager – JBS
Business Development Officer – NTCA
Compliance Officer, Jindalee Feedlot – Teys Australia
Click here to access these and other exciting meat and livestock supply chain jobs currently listed on Jobs Central.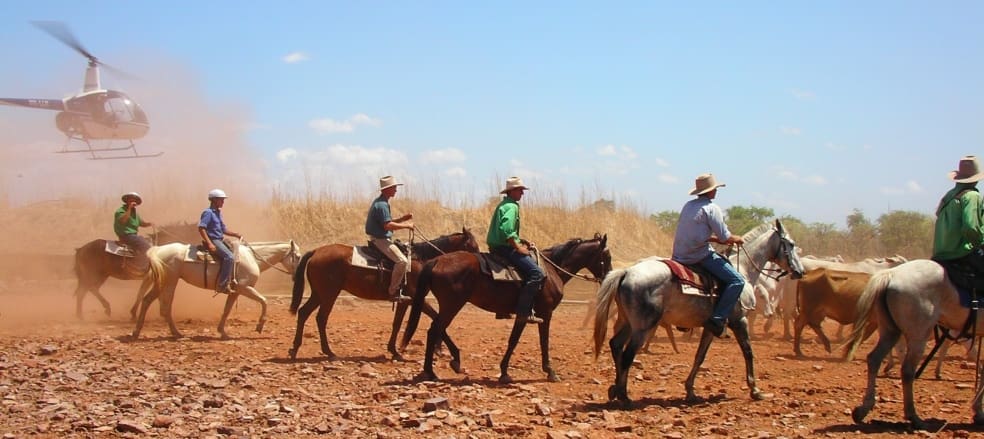 THERE appear to be four key trends presently working to re-shape Australia's agribusiness talent pool, causing shifts in demographics that will have potentially long-lasting effects on the sector's  skilled labour resource.
That's the view of recruitment specialist, Agricultural Appointments, in a recent report titled "Trends that are shaping the ag talent pool."  
Agricultural Appointments' analysis suggested that three of these trends are negatively impacting attempts to address the current skills shortages being felt across all Australian agriculture sectors:
Continuous departure of large numbers of Baby Boomers from the available workforce
Loss of agricultural science graduates to other professions
The sector's inability to attract female agricultural science graduates into the agricultural sector, or convince women who have entered the sector to stay and pursue a long-term career in agribusiness.
The remaining, potentially-positive trend, lies with the return of immigration as our society emerges from its COVID-19 bubble and we anticipate the return of migrant workers, who are likely to drive productivity and, hopefully, help to address the candidate deficit.
Here's a quick summary of the report's findings:
Demographic changes – Baby Boomers
The most considerable generational shift in 70 years is currently in full swing in Australia, with Baby Boomers increasingly retiring and, in many cases, holding on beyond the traditional retirement timeline. Over the last decade, Gen Y has staged a dramatic demographic takeover, claiming the nation's two largest population groups in the 2016 census, thanks in part to a surge in migrants –and putting an end to the combined 70- year majority reign of the Baby Boomers and Generation X.
The working habits of Gen Y are markedly different to those of the Baby Boomers. As it currently stands, members of Gen Y average more than four careers in their lifetime, stay an average of 2 years in a role, work for 17 employers in their lifetime, have a voluntary turnover rate in excess of 15%, and one in three works casually or part-time. These younger demographic groups are primarily based in the cities and, increasingly, do not entertain thoughts of working in regional areas. These factors mean it will be harder for agriculture to attract and retain younger skilled people to crucial roles.
Job demand and talent availability
Results of a graduate pathway survey, conducted at one-, three-, and five-years following graduation, yielded some surprising statistics regarding the loss of agricultural science graduates to other professions (Coates and Edwards, 2008). The study found that only 15-20% of agricultural science graduates chose to pursue a career in an agricultural industry, while a further 15% of agricultural science graduates side-stepped an agricultural role in favour of entering professions within the Government, Education, and Health & Community Services sector.
The data generated by these analyses indicate a substantial loss of agricultural science graduates to other professions, something not seen to the same extent in other graduate courses such as engineering.
Sector is failing to entice female ag graduates to pursue a career in the industry
Over the last 25 to 30 years, there has been a dramatic change in the gender balance of the students enrolling in rural and veterinary courses at all Australian universities and agricultural colleges, with women now making up the majority of students in such training courses.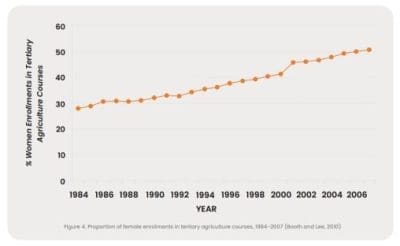 Overall, almost 12,000 students were studying a Bachelor's degree in agriculture, environment, and related studies in 2014. While other higher education programs like engineering are still struggling to enrol women in STEM specialties , women are responding favourably in the high-skilled agricultural professions, as evidenced by the roughly equal gender balance at this higher qualification level.
However, in the twenty years from 1998 to 2018, the proportion of women employed in the Agriculture, Forestry, and Fishing industry sector has remained at 30.1pc, making it one of the most significantly male-dominated industry sectors in Australia.
Given the proportion of women now graduating from rural training courses in Australia, it is clear that the failure to utilise this significant talent pool is exacerbating the skills shortages in Australian agriculture and it is an issue that needs to be addressed. Intelligence gained from Agricultural Appointments' data reveals that, across hundreds of roles and more than 10,000 applicants in 2019, around 85pc were male.
New immigrants driving productivity
Australia's broader migration program has been revolutionized over a generation, without anyone really noticing. There has been a massive increase in Australia's annual permanent migration intake from 85,000 in 1996 to 208,000 in 2017/18. Where, in the past, our migration intake was predominantly from English-speaking countries such as the UK, New Zealand, and South Africa, non-English speaking countries such as India and China emergence of as the most prominent sources by far of migrants (Bankwest Curtin Economics Centre, 2019). In a recent recruitment exercise for a role with a significant agricultural science organisation, we sourced and presented around 65 candidates, 75% of whom were new immigrants to Australia and only 25% were Australian-born. Of these new immigrants, 85% had postgraduate qualifications – the majority at doctorate level – whereas around 50% of the Australian-born candidates had doctoral qualifications. We are also seeing an increasing trend towards the appointment of new immigrants with good agronomic skills to specific farm services in the agricultural sector, which is excellent news given the significant skills shortages in this sector.
From 2006 to 2016, the number of Australian-born individuals holding a tertiary degree increased by 30%, compared to a whopping 77% increase in the overseas-born population. The data also show that contemporary immigrants are committed to continuing their education, with 35% of recent immigrants having pursued further studies after arriving in the Australia. A quarter of individuals who already possessed a postgraduate degree when they arrived in the country completed another postgraduate degree after their arrival.
Click this link to access the full report
Source: Agricultural Appointments