Latest listings on Jobs Central recruitment page:
Farm Leader, Prime City Feedlot – JBS
Pen Rider specialist, Prime City Feedlot – JBS
Livestock leader, Riverina Feedlot – JBS
Livestock Operations Team Leader, Riverina – JBS
Pen Rider specialist, Riverina – JBS
Head Stockperson, Roma – Australian Country Choice
Agronomist, Southern Flinders Ranges – via Agribusiness Recruitment
Meat Processing Specialist, Greenstock – Woolworths Group
2IC, Central Queensland – Sunland Cattle Co Wagyu
Irrigation Cropping Manager – via Rimfire Resources
Business Development Manager, Horticulture – via Rimfire Resources
Agribusiness Data Analyst – Bush Agribusiness
Business Development Manager, AgTech – via Rimfire Resources
Technical Assistant – BarH Grazing
Station Hands, Hughenden area – via Ag Workforce
Overseer / 2IC, Ebor – Wright Pastoral
Farm Hand, Injune – Hewitt Cattle
Farm Manager, SA – Swiss Australian Farm Holding
Cane Productivity Manager – via Agricultural Appointments
Click here to access these and other exciting meat and livestock supply chain jobs currently listed on Jobs Central.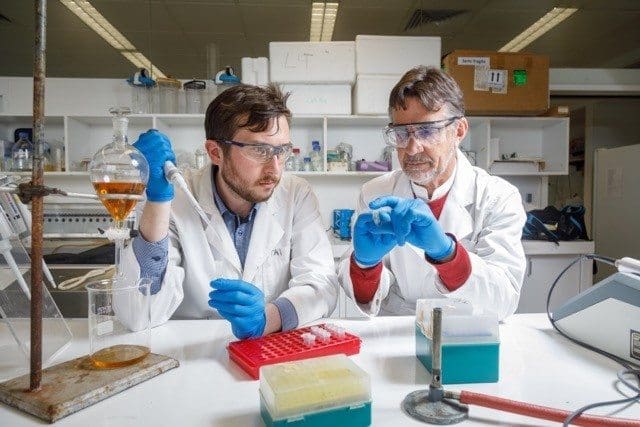 THE global agriculture sector faces some significant challenges in keeping up with demand as we head toward 2050.
It is estimated that by the middle of this century agriculture will have to provide food and fibre for nearly 10 billion people.
Consumers need more nutritious food that is affordable and safe; producers seek innovation to help them beat climate change and natural resource constraints; and the entire agri-food value chain must rapidly adopt new practices and tools that contribute to a healthy sustainable world.
A strategy is required that focuses on sustainable agricultural productivity growth in order to meet current and future demands, while protecting the environment and ensuring the productive sustainability of the agricultural sector for future generations.
Agricultural productivity increases when farmers implement technologies and production practices that produce more crops and livestock from fewer resources. A key element to supporting increased agricultural productivity is to engage young agricultural leaders and equip them with the knowledge, resources, and access to markets needed to produce and distribute food to feed the world.
However, in Australia we seem to be missing the mark. Since the early 2000s there has been a decline in the availability of agricultural graduates in Australia, often due to perceptions that ag career paths were not attractive and that there were limited career opportunities available.
A 2017 study undertaken by the Department of Primary Industries and Regional Development in Western Australia discovered that the benefits for agricultural graduates, such as job security, job variety, competitive salaries and an industry that embraces innovation, are not well understood by school leavers.
The DPIRD study also listed reasons raised by youth against considering an agricultural career, including:
Not being from a farming background
Reluctance to move to a regional area
Unaware of the jobs available in the agricultural industry
Can earn more money in a different industry
Agriculture sector lacks technology/innovation.
A 2010 report from Pratley and Hay indicated that there were at least six agricultural jobs for every agricultural graduate and that the shortfall in the availability of suitable was a threat to the sustainability of agricultural industries within Australia.
In 2018 the NSW government mandated the study of agriculture in all state high schools, after a 2013 review into the agricultural education and training system in NSW recommended a compulsory study unit in agriculture, alongside a range of other measures designed to boost agricultural education in the state.
Analysis of final year high school students studying agriculture in 2019 demonstrated that NSW held the highest proportion of agriculture students across the nation at almost 60pc of the national cohort.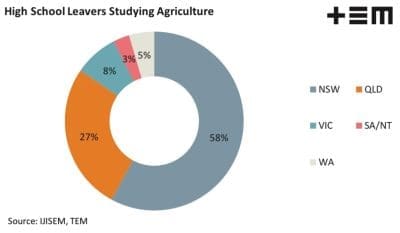 Despite the high proportion of final year agricultural students in NSW the trend in student volumes since the 1990s has been on a downward trajectory, reducing by about 40pc over the last three decades. Given the shortfall in university agriculture graduates compared to the large number of jobs in the agricultural sector, this lack of students who have studied agriculture coming out of secondary school is unlikely to help improve this situation in the short term.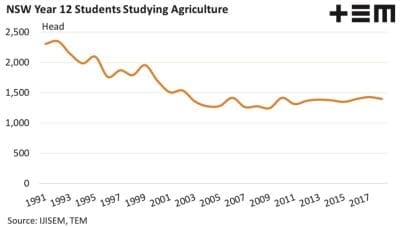 The 2016 Australian census highlighted the difficulty that the agricultural sector faces in attracting the brightest minds with the bulk of the agricultural workforce holding no recognised non-school qualification.
Indeed, 55pc of the agricultural workforce comprised employees with no qualifications beyond the high school level compared to 33pc within the broader Australian workforce. Employees with certificate and advanced diploma levels of education were roughly similar between the agricultural industry and the broader Australian workplace.
However employees holding bachelor's degree qualifications were significantly lower in the agricultural sector (10pc) compared to those within the broader Australian workforce (22pc). A similar disparity was seen at the postgraduate level of 2pc in agriculture versus 7pc across the total workforce.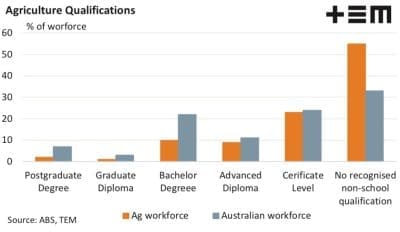 It is crucial to "reframe agriculture as a business choice that is intellectually, socially and financially rewarding, as well as one in which young people can have an incredible impact on issues such as climate change, hunger, displacement, poverty and more" (International Agri-Food Network, 2018).
Currently, working within the agriculture sector is perceived by many school leavers as "just being a farmer." While it is understood, within the agricultural sector, that farming is a crucial aspect of the industry that underpins all of the other non-farming agricultural job avenues it is not the only role within agriculture.
In order to attract our brightest minds, the agricultural sector needs to promote the broader range of interesting and varied career options that come under the agricultural industry banner.
This concept is outlined by Dr Hlamalani Ngwenya, in her creation of the PERFECT acronym that highlights the opportunities available in agriculture across multiple career paths. The acronym was created to challenge people to broaden their view of agricultural career opportunities and to attract brilliant and innovative youth, including those outside of the mainstream agricultural field.

Agriculture is still seen from the dominant perspective of primary production or 'farming'. While farming is an important aspect, narrowing the perspective of agriculture to this alone, has an influence in further alienating the young people away from agriculture. Farming requires other support functions such as policy development, entrepreneurship, research, finance, extension & advisory services, communications and technologies/trade.
Data and insights provided by Thomas Elder Markets