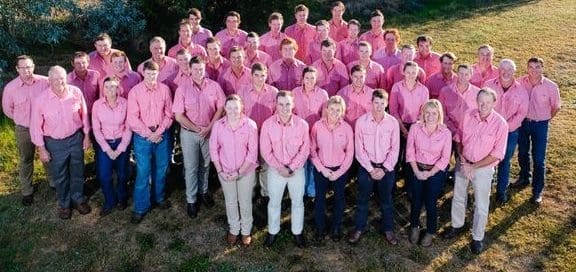 TWICE a year Elders welcomes some 8 to 10 new trainees into its ranks, giving young people committed to a career in agriculture the opportunity to receive practical training from experienced Elders staff at branches around the country.
At the end of the 18 month program trainees graduate with a Certificate IV in agriculture through Wodonga TAFE, which was named large training provider of the year at the 2018 Australian Training Awards.
Upon graduation trainees also have the opportunity to apply for permanent roles within the vast Elders network across Australia. Graduated trainees from previous intakes are currently working in livestock sales and farm supplies sales in roles including branch managers and branch sales support. Previous graduate Jake Kennedy, who is now the Elders Clermont branch manager in Central Queensland, won 2018 Australian Livestock and Property Agents Association's Mike Nixon Award for excellence in marketing by agents with fewer than 10 years experience.
Applications for what will be thirteenth intake of trainees are now open until January 31.
Elders prefers applicants to have at least a year or two of life and work experience before applying for the program.
This is not a course for people still wondering if a career in agriculture is for them, but rather for those who have already set their mind on pursuing a career in one of the many areas in which the Elders business operates, such as livestock sales, finance, real estate, water and grain trading etc.
It is also essential that applicants are prepared to move long distances from home from the outset. The first posting trainees take in this program can often be 1000km or more from home.
"It is important to note that as successful candidates will be required to relocate throughout the Elders national network, those best suited will have worked away from home for a minimum of six months prior to applying." said Elders Trainee Program Coordinator Simone Dand – herself the winner of the 2017 Mike Nixon Award.
"They also need to know this is a career and an industry they want to work in, it is not 'a come and see if you like it' type of program."
Click here to access Beef Central's recruitment page, Jobs Central – your one-stop shop for careers across the Australian meat & livestock industry.
Ms Dand said Elders is looking for applicaticants who:
have effective communication and interpersonal skills;
are self-motivated;
have a great work ethicl and
a desire to build a long term career with Elders.
The Elders Trainee Program has also been recognised with Federal Government Australian Training Awards in recent years.
Applications for intake 13 are now open. Elders is looking for applicants with a passion for agriculture, effective communication and interpersonal skills, effective communication and a strong work ethic. To apply, email a cover letter and resume to traineeships@elders.com.au before 5pm 31 January 2019.
Click here for more information on the Elder's traineeship program on the Elders' website