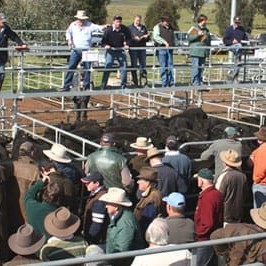 Individuals who are attracted to the pastoral livestock industry want more than wages – they are looking for long-term security for themselves and their family so they can plan for their future, a recent industry-commissioned study has shown.
The key challenge for 'medium-sized' enterprises is to avoid burning out employees through too many work hours, a national survey has shown. Employees will tend to stay if they feel valued, respected, supported and are doing rewarding work.
Medium-sized employers occupy a substantial chunk of the cattle industry employment marketplace, MLA's "Attracting and Retaining Staff" research project suggests.
Based on the findings of a national workforce survey of the pastoral livestock industry, the key features of medium-sized employers are that they:
Employ 6-14 full-time staff
Have a mix of mature and younger workers.
Have a mixed-age workforce with 40pc being younger than 30 and 38pc between 40 and 59.
Employees work long work hours and weeks.
There are compelling reasons for medium-sized employers to review their current attraction and retention practices, based on the results of the survey.
Staff shortages account for a loss of productivity between $15,200 and $51,000 annually, and the cost of staff turnover, on average, is $90,160 to $187,920/year. That assessment is based on cost of recruitment, loss of productivity and training.
While most of these costs are not transparent, they potentially have a significant impact on the long-term financial viability of medium-scale cattle enterprises.
In its project report, MLA has devised a series of strategies for medium-sized enterprise when engaging employees, designed to assist their sense of certainty about the future:
Ensure the basics are met
Effectively communicate the total remuneration package showing the overall dollar figure for cash and non-cash items, incentives and bonuses
Ensure fairness and consistency in the remuneration packages for similar roles
Structure the remuneration package for pay on an hourly basis
Link remuneration to workplace performance, rewarding specific concrete achievements
Assist younger employees with saving and financial planning
Investigate the ability for employees to have portable employee benefits.
Provide good quality accommodation and well-maintained equipment.
Foster an efficient, safe, healthy and harassment free work environment.
Ensure job tasks provide variety and learning
Ensure employees have a clear understanding of the expectations of their role.
Align job tasks to the employee's knowledge, skills and experience.
Find out what skills employees have and encourage multi-skilling.
Provide training and opportunities to improve qualifications.
Provide a career path for each individual
Provide a career plan with clear roles and responsibilities, the steps to move up the career ladder, what education and experience are required and how long it will take to progress.
Provide leadership opportunities for male and female employees.
Provide managers with training on career coaching.
Ensure employees have a work-life balance
Monitor work hours and workload to avoid fatigue and risk to personal health. Encourage flexible hours, time in-lieu and taking holidays.
Enhance the sense of well-being through employees experiencing a sense of community with fellow workers.
Ensure managers are approachable, supportive, good communicators
Provide training to managers so they have the necessary communication, coaching and feedback skills to engage employees, specifically younger employees (Generation Y) and foster teamwork.
Provide regular informal and formal performance feedback.
Recognise hard work, commitment and experience.
Address immediately individuals who are not performing effectively.
Provide a positive future of the farm and its reputation
Communicate the farm's track record, financial stability, demonstrated success and show that the company is well run, organised and is a quality operation.
Provide guaranteed work where possible.
Make employees the farm's 'ambassadors' and reward them for any staff referrals.
This week's AWX Agribusiness employment survey:
Recruitment Challenges within the Agribusiness Sector.
Previously we talked about positioning the agribusiness industry as a desirable place to work and the challenges that came along with it. What do you think? What are your recruitment challenges within the agribusiness sector?
To participate in the survey, click here. Results discussed in coming weeks.
* To view latest jobs listings on Beef Central's recruitment page, 'Jobs Central,' click here