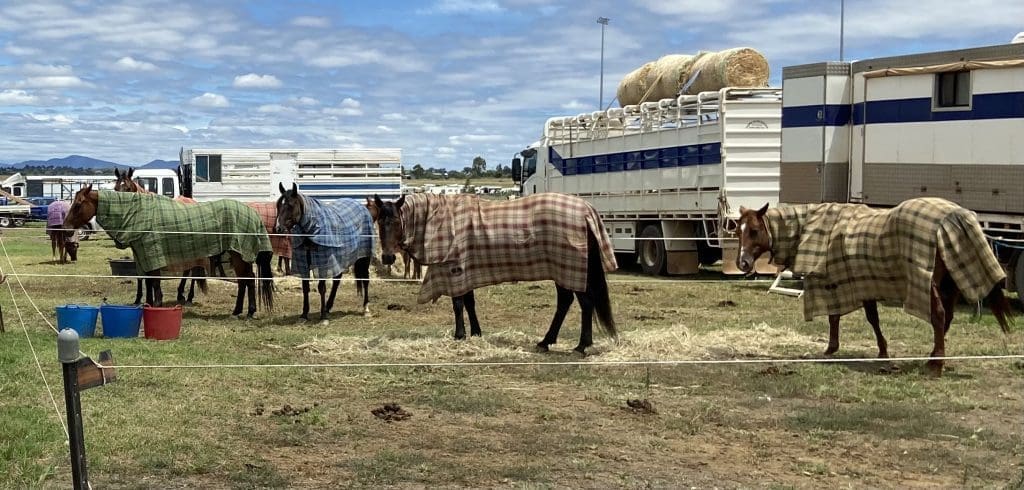 GOOSENECK trailers carrying some of the country's most prized stock horses have descended on the New South Wales city of Tamworth this week, with the entries to be auctioned off in one of campdrafting's most competitive annual sales.
The Nutrien Classic Campdraft & Sale has been running for 15 years, with the aim of giving a market to the increasingly expensive Australian Stock Horse genetics. Over the years the classic has become one of campdrafting's premier events – with a mare at last year's sale fetching $170,000.
But within almost every conversation about horse trading at the event, cattle prices are mentioned – with the record-breaking sales put down to cashed-up cattle producers. Since the sale started 15 years ago, larger scale producers out of Queensland have traditionally made up 30-40pc of buyers, but sale organisers are predicting that figure to be as high as 60pc this year.
Nutrien's Mark Barton has been organising the event since it started and said it had evolved over the years and the sport had become more professional.
"These days it's no different to a stud cattle sale, we have professional trainers come here and select genetics for clients," Mr Barton said.
"You're seeing cases here where a young mare is still on the truck and they are doing embryo work to keep breeding competitive horses.
"Traditionally, a $30,000 mare would chase $300 in prize money at a weekend campdraft – but these days there's some semi-professional drafts worth more than $100,000. The Nutrien Classic has $170,000 in prize money this year and possible $200,000 next year."
Mr Barton said while the sport had become more professional, it was still mostly treated as a weekend activity.
"There's a big element of people just getting together and enjoying their pastime and their industry," he said.
"In the last couple of years with COVID, the absence of campdrafting in some places has been noticeable because it is such a big social sport and does things like fundraising for charities."
Still a hobby for long-time competitior
One of the sport's best-known competitors, North Queensland beef producer Evan Acton said campdrafting was still primarily a hobby.
"To buy a really good well-bred horse you're looking at $50,000 to $100,000 now, and you would not be winning the cost of your horse back too often," Mr Acton said.
"I bought one last year for $80,000 and it's in a competition worth $50,000 prize money this year – so even if you won, it you're still $30,000 down."
Mr Acton said participating campdrafts and travelling to different events was like being part of a tight-knit community.
"Competitors get into it because they love the horses, the friendship and the comradery around these events. It is unbelievable," he said.
"We travel a long way to come here but a lot of these people from NSW and Vic come up north for the campdraft circuit as well – which is great."
Last five years sees major campdraft investment
Pete Comiskey, who is one of campdrafting's most successful and well-known competitors, said there had been a noticeable change in the past five years.
"In previous generations, you had the horse on the station and brought it into the campdraft for a bit of fun," Mr Comiskey said.
"Now you are seeing a lot of professional breeders, horse chiropractors, farriers and other services having a viable business in the campdraft industry."
Mr Comiskey said he was expecting the price of campdraft horses to remain strong this year, and in-line with cattle prices.
"If people are making money out of their cattle, that has to flow on," he said.
"They're going to buy better bulls and horses, there's a lot of demand for trucks and campdrafts are booked out every weekend. People are spending a lot more time on their horses and they're coming here in really good condition and well trained for the sale."
Check out our report on the Tamworth sale early next week