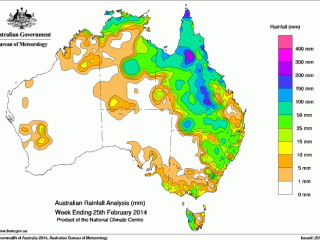 As the dust settles on last week's rain the picture of where it fell and what difference it has made is becoming clearer, as another slow moving trough promises to deliver more welcome rain to New South Wales in particular in coming days.
As the map (left) showing rainfall for the past week illustrates, the best rain fell in a corridor extending from Queensland's Gulf country down through the Central West and onto the Maranoa, and also in northern coastal areas and the state's far south west corner.
That captured some of the driest areas of the state, but the patchy nature of the storms have also left many properties both within that corridor and either side still in dire need of rain while the roughly month-long window for warm grass-growing weather remains open.
Where it was received, last week's rain ranged from providing valuable follow-up on properties which had received good falls earlier this month, meaning they're now likely to enter winter carrying a strong buffer of feed, while for many last week's storms delivered the first good rain of the grass-growing season, meaning follow-up in the next two to three weeks remains very important.
So bare was much of the country that falls of least 50mm were needed to kick-start buffel growth.
Where that happened producers should get a short-term reprieve from drought feeding programs for at least the next six to eight weeks or so, and hopefully longer if follow-up rain arrives.
Generally speaking surface water still remains a big problem. Some of the heavier rain delivered runoff that will give people breathing space, but many missed out on water-running rain.
Paul Burke at AgForce Townsville said heavier falls were received along the northern coast and in the Gulf, while other areas such as Croydon, south of Georgetown, Einsleigh and the McKinlay Shure remained in a dire situation.
"Where it fell, it is still hot enough for grass to grow," Mr Burke said.
"Some of the country is starting to look alright, but it certainly hasn't been drought-breaking rain yet."
Luke Westaway at TopX Richmond said that generally speaking falls of around 50mm had been measured from Charters Towers right across to Mount Isa. For some the rain had provided good follow up, while for others it was the first rain they had received this summer.
"There has been up to six inches in places, which is fantastic," Mr Westaway said.
"There was not too much damage, everyone said the rain has fallen beautifully, and it was really just in the nick of time."
Mr Westaway said the storms had also replenished dam supplies and provided some breathing space in the region.
"Basically it has got us six months ahead of where we were, but we will be in the same position we were in three weeks ago in six months if nothing else comes from here on."
In the Central West some properties in the desert regions received up to 150mm, while the Longreach and Tambo townships recorded around 100mm for the week.
The scattered nature of the rain was illustrated by the fact that some properties along the Thompson River just 20km of Longreach missed out on rain altogether.
At Blackall, Jack Burgess from Grant Daniel Long said most places within a 100km radius of the town had received falls of 25mm to 100mm.
"The rainfall was good, we've got a bit of feed growing now and people can stop feeding lick for the short term, but it was still patchy in areas.
"A lot of places need that follow-up now, if they get that in the next two to three weeks it could be a tough winter. We really only have another month left for grass growing weather, then it gets a bit cooler and the days get a bit shorter and the grass doesn't grow as much."
Tony Lilburne at Grant Daniel Long Quilpie said the State's south west corner, which has been suffering from severe drought conditions, had also received scattered but good falls during the past week. Some properties near Eromanga had received more than 75mm in the past 24 hours, he said this morning.
"It has poured here (at Quilpie) this morning," he said.
"I think we're getting a pretty good coverage at the moment, out to Windorah as well."
New South Wales is set to benefit from a slow moving low pressure trough which is set to intensify and move east across the state today and tomorrow.
The forecasters says the system could deliver 15-30mm to the Upper Western and South West Slopes today before triggering storm activity in central and north-western NSW tomorrow and Friday.
By early next week, a newly developed trough is expected to kick off showers and storms again in western NSW.
A key message for all producers, regardless of how much rain they received, is that it is still necessary to have contingency plans in place for the forthcoming dry season – Read Desiree Jackson's article here