Weeks of empty supermarket shelves has put the protein sector in the spotlight as it faced supply chain issues due to Covid-19.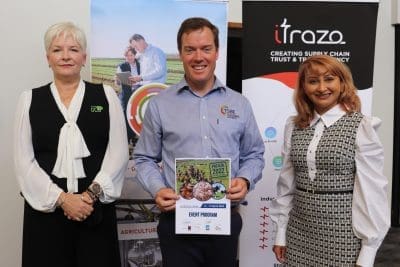 With a shortage of workers who were either sick or in isolation, the industry is now bolstering to solve the labour challenge through innovative solutions.
Workforce is one of the four topics that will be discussed in depth at Toowoomba and Surat Basin Enterprise's (TSBE) Protein 2022 Conference which was officially launched this week.
TSBE Food Leaders Australia (FLA) General Manager Bruce McConnel said he's excited to be bringing together local producers, business owners and industry representatives in Dalby on 16 – 17 March.
"At Protein 2022 we'll be discussing the industry growth, sustainability, workforce and innovation with some highly regarded expert speakers."
"These sessions will allow us to further drive investment into the sectors which we know already benefit from our region's reliable grain production and established infrastructure," he said.
One of this year's speakers is FIP Group General Manager for Sales Adrienne Ritchie, who will share her knowledge around staffing and recruitment.
"Finding staff was a struggle before COVID-19 changed the world and now more than ever we are seeing local labour demand far outstripping supply."
"We need to start promoting the protein industry as a whole, and not just as 'Jo Blogs Abattoir,' but the amazing opportunities and exciting careers in protein."
"It won't yield immediate results, but it will help secure the future staffing needs in this space," said Ms Ritchie.
Southern Queensland is the home of intensive animal industries in Australia, with the protein sector being one of the key strengths.
More than 80pc of Australia's egg production is in Queensland, with 42% of the nation's feedlot capacity located within a 200km radius from Dalby.
Western Downs Regional Council Mayor Paul McVeigh said the intensive ag industry is extremely important for the region.
"It's not just our feedlots and our piggeries, but it's all those supply chain industries that supply quality products to our community."
"This is about bringing together all parts of our community that service the protein industry so everyone can discuss their challenges," said Cr McVeigh
iTrazo Tracetech CEO Reeanjou Ram said she's excited to speak at Protein 2022 and further understand what those industry challenges are.
"So that we as a technology provider are able to deliver solutions, because a lot of the time technology providers are guilty of pushing technology and saying this is going to solve the problem."
"We need to understand their challenges, then provide some bespoke solutions that can really be effective for them," said Ms Ram.
Mr McConnel is encouraging anyone who works in the protein sector to attend TSBE's Protein 2022 conference.
"Regional Australia is now owning the conversation about protein and this conference is a key example of bringing business leaders to the region for these important discussions," said Mr McConnel.
For more information or to book a ticket to Protein 2022 visit: www.tsbe.com.au/events/protein-2022-conference