The extraordinary lengths Consolidated Pastoral Company is taking to shield its two feedlots in Indonesia from foot and mouth and lumpy skin disease outbreaks were highlighted at a Rural Press Club of Queensland lunch in Brisbane yesterday.
Illuminating first-hand accounts of how the FMD and LSD outbreaks are being managed in Indonesia were shared in a panel session featuring CPC chief Troy Setter and business consultant and Indonesian cattle lot feeding industry pioneer Greg Pankhurst and moderated by Brisbane-based agribusiness lawyer Trent Thorne, Hamilton Locke.
CPC operates two feedlots in Indonesia, one in Lampung and the other near Medan, and the company has been pulling out all stops to reduce the chance of FMD or LSD from finding a way into either facility.
"We have always had good biosecurity and control but we're absolutely ruthless on it now," Mr Setter told the sell-out audience of 200 people at Brisbane's Tattersalls Club.
Beyond simply protecting the welfare of cattle, the 'ruthlessness' now in place was driven primarily out of recognition of how devastating an FMD or LSD outbreak would be to the jobs and livelihoods of the thousands of Indonesian families who rely on both feedlots.
"Our cattle are important, don't get me wrong, but it is all about the jobs of the 13,000 or so families that rely on us and the 600 to 800 people who work directly in the feedlots," Mr Setter said.
"We sat down with our team within a day of FMD being called in Indonesia and said this is about protecting your jobs, this is about protecting your family's livelihood, and that really resonated with people."
Some of the additional biosecurity steps now in place at CPC's two Indonesian feedlots include:
Every truck arriving at the feedlots with cattle or fodder is inspected and washed three times (and this involves as many as 150 trucks per day), including full immersions in car-wash type facilities.
Truck drivers and workers are put through full body sprays and clothes and foot washes, and trucks are also cleaned on the inside, with 30 security guards overseeing the process.
This all occurs just to get to the front line before people or trucks carrying animals and feed can even enter the feedlot. Anyone entering the feedlot area is then required to do a full clothing change, which can mean as many as 800 pairs of clothes each day, changing into colour-coordinated clothes which indicate the areas they are allowed to go.
All staff must also walk through multiple footbaths throughout the facilities, designed to not only keep footwear clean but to maintain awareness.
"You have to have two changes of clothes and get through multiple washes just to get to the livestock handling facilities," Mr Setter said.
"It has been really tiring but we have kept it out and we have worked closely with local farmers as well."
Asked by the moderator Trent Thorne how receptive the workforce had been to the intense measures, Mr Setter said they had all embraced the changes.
"There's lots of reminding about why we are doing things, and if you go back into a dirty area, if you step back behind the line you have to go back around and get changed and get washed again, but the team has embraced it, it is a real credit to them."
Other "on the ground" insights from Indonesia shared yesterday included:
Indonesia's vaccine rollout is progressing, but very slowly.
Indonesia's 14 million domestic cattle are owned by individual farmers with only two or three cattle each. Each animal is worth about AUD $2000. They typically represent a farming family's entire net asset base.
Getting groups of cattle together amid the outbreak has been discouraged, so vaccination teams have to visit every single farmer, Mr Pankhurst explained.
It is a slow process and not always effective. For a variety of reasons – tradition, lack of knowledge about vaccines, concern about how the animal may be affected, even superstition in some cases – about 15 to 20 percent of farmers are choosing not to vaccinate.
FMD is proving to only have a mortality rate of 1 to 5 percent in Indonesia so far. While it "really knocks" many cattle around, many also recover. "Some (farmers) have seen their neighbour have cattle with FMD, they haven't died, so why should they get the vaccine?" Mr Pankhurst said.
However, the Indonesian Government has this week started paying workers and farmers to vaccinate.
This move may encourage more vaccinations and accelerate progress at a faster rate than has occurred to date.
Mr Pankhurst explained that traditional medicine is still in use in parts of Indonesia, and it is not uncommon for farmers to be urged to use superstition-based treatments to control FMD.
This included practices such as squeezing lemon juice or sprinkling turmeric on animals, or making cattle eat a potato, believing those steps would make their animals okay.
"There is still a lot of tradition there that is very hard to get around and very hard to convince people that this vaccine is so important and must be used," he said.
"I hope we can achieve 80pc vaccination rates and at least with that we will be getting some coverage."
Is Australia doing enough in Indonesia?
Mr Setter said he believes the short answer is yes, but assistance must be maintained.
"I think Australia is doing enough, but this is going to go on for a very long time and Australia's assistance needs to stick and needs to stick for quite a few years, because this is not going to be solved in the next few years."
Greater efforts are needed on LSD control, however.
Work to roll out vaccinations for LSD was underway in Indonesia, but six weeks later FMD arrived, and progress on LSD has been very limited since that time.
Mr Pankhurst said he understood an Indonesian vaccination task force is moving to roll out vaccinations for LSD at the southern end of Sumatra to create a buffer between that island and Java, which, if successful, would also reduce the risk of LSD jumping over to Australia.
He urged the Australian Government to focus more efforts on LSD in Indonesia.
"I know Livecorp has put a proposal to the Australian Government to start vaccination in Lampung (in southern Sumatra). The Indonesian have it at the back of their mind that they need to do it but it is again very slow."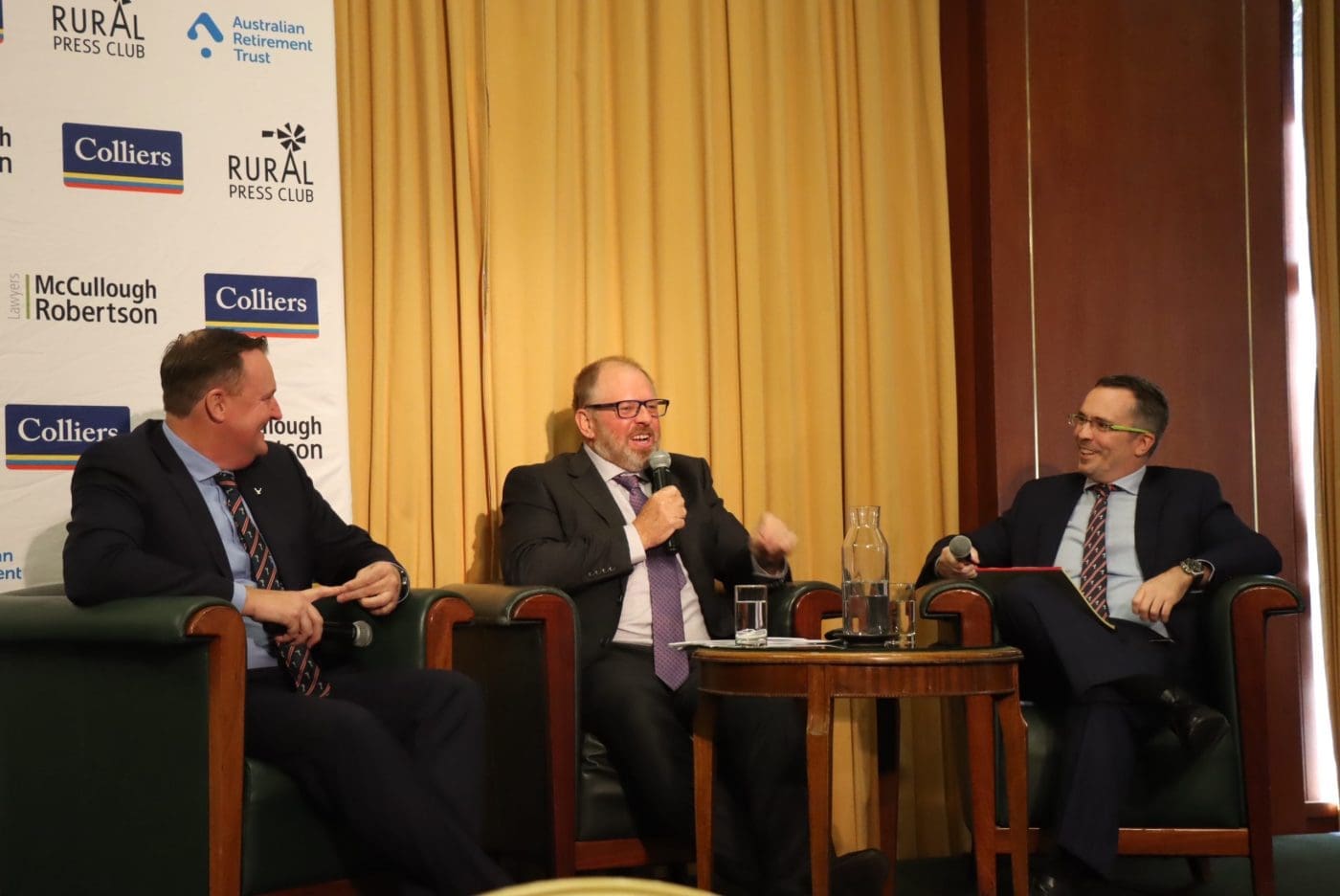 Is full eradication of FMD and LSD in Indonesia possible or likely?
Mr Setter told the session that he believes both diseases are likely to be in Indonesia for quite a few years.
"I think it will be like Malaysia, I think there will be flare ups, there is a lot of inter-island trade of livestock," he said.
"FMD and all exotic diseases are microscopic, they're hard to see. FMD can get blown around but it is predominantly spread by meat and people, and in Indonesia meat and people are really mobile to say the least, but the Indonesian Government is committed to trying to clean it up."
"What we're not talking about is the small stock in Indonesia, there is about 50 million small stock (sheep, goats and pigs), and it doesn't impact them as severely as cattle but they can be carriers and they will be impacted and there will need to be more vaccines."
Sick cattle receive enormous care
Mr Pankhurst noted that Indonesian farmers were able to give sick cattle an enormous amount of care.
"If a farmer gets a sick animal he literally stands beside the animal 24 hours a day, gives it a drink, gives it something to eat, the care for animals in Indonesia is huge."
"You won't have an animal that would perish because it can't get a drink of water or can't get something to eat, so the value of care in Indonesia is extremely high."
Most susceptible stock
Mr Setter said animals that were worst affected by FMD in Indonesia were those under production stress such as lactating dairy cows. It was estimated that about half of Indonesia's dairy herd of 600-700,000 has been lost to FMD this year, a major impact in a country where demand for fresh milk has been growing dramatically in recent years.
Bos Taurus cattle were proving to be more susceptible than bos Indicus cattle, with young calves and heavier older cattle like bulls also more likely to have higher mortality rates than feeder and store weight cattle.
Animals recover from it
As a rule, he said, death rates were running at around 1 to 5 percent of affected cattle, so it was important to understand that not every animal with FMD dies.
"And that is really key to pick up, that animals recover from it," he said.
In feedlots he was aware of where Australian cattle had been infected, they had suffered weight loss and sickness in the initial days of infection, but within 30 days had generally recovered and returned to the weight they were prior to the infection.
He also added that they were hearing anecdotal reports of good success with pain relief products.
"I know there is some Tri-solfen in country, we have some in case we do get FMD. That has worked really well and using antibiotics on animals that have got secondary infections has worked really well."
Trade protocol priority
Mr Setter and Mr Pankhurst also added that as much work needs to be done as possible by Australia to negotiate protocols and export agreements with importing countries to maintain a pathway to continue supply as quickly as possible if there is an outbreak.
"Negotiation of those trade protocols is imperative, we don't want it Australia and I hope we never see it, but the quicker that we get something on the table to negotiate those trade protocols is so important, because we will be able to continue to export,  whether it be live cattle to Indonesia or live cattle to Vietnam or Malaysia, Brunei, or boxed beef to those countries that already had FMD, it is imperative to see that," Mr Pankhurst said.