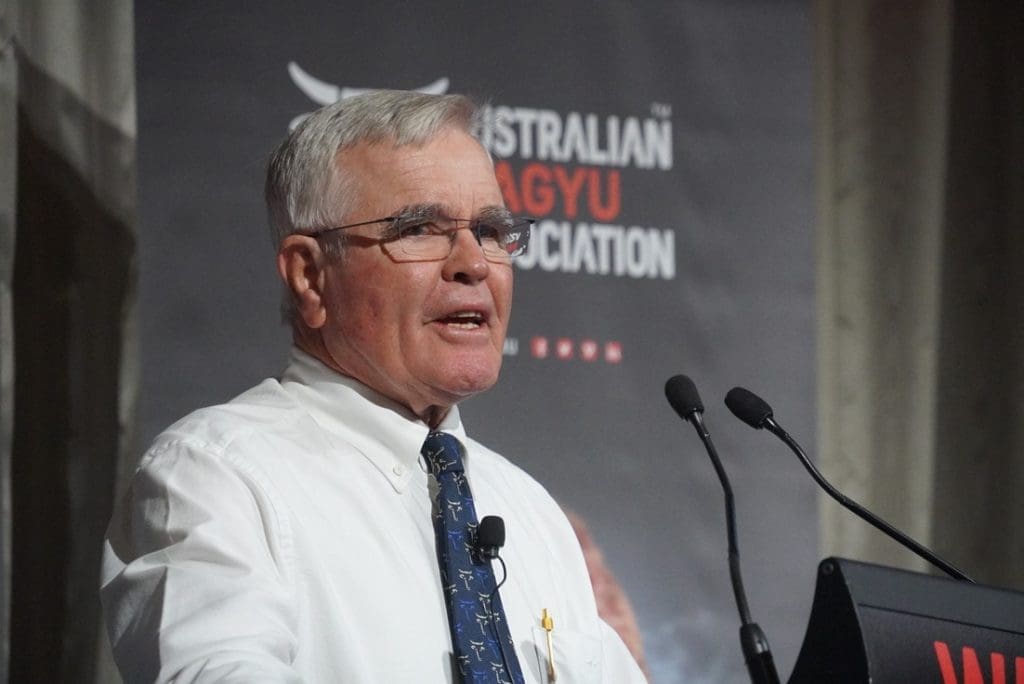 PROMINENT Queensland cattleman Peter Hughes was inducted into the Australian Wagyu Association's Hall of Fame during the opening stages of the 2022 Wagyu Edge Conference being staged in Melbourne this week.
Mr Hughes, his wife, Jane and family, have grown their Hughes Pastoral and Georgina Pastoral businesses into what is thought to be the largest privately-owned Wagyu cattle business in the world, now running around 200,000 head of cattle across properties in Queensland, the Northern Territory and northern NSW.
About 420 Wagyu supply chain stakeholders from across Australia, North and South America, Europe and Northern and Southern Asia are attending this year's AWA conference – regarded as the largest breed-specific beef gathering in the country.
"Right across the Australian Wagyu supply chain, there are dedicated and talented individuals working to improve our breed – and there is a lot to be optimistic about," AWA president Charlie Perry said in his opening remarks.
From a position where the breed had less than 20 members only 25 years ago, today the AWA was the third biggest breed association in Australia by membership numbers, and the second biggest by numbers of cattle registered. Mr Perry said this statistic obviously did not capture the vast numbers of cattle now involved in Wagyu F1 programs.
"The Wagyu animal is now an absolutely integral part of the Australian beef industry," he said.
In providing a tribute to Peter Hughes, Mr Perry portrayed him as a calculated risk-taker, prepared to adapt in a world of increasingly rapid and constant change.
"Peter Hughes is a true giant of the Australian beef industry," he said.
"In recognising him, we acknowledge the immense contribution he has made to the growth in Australian Wagyu. His impact spans all aspects of Wagyu production, from supporting the development of new Wagyu producers, to the establishment of global supply chains."
"The Hughes family is among the pioneers in the Australian Wagyu industry, as well as the current wave of consolidation and development of Australian pastoral properties."
Since recent significant property acquisitions including Riveren and Inverway in the NT's Victoria River district, and Stanbroke's Miranda Downs Station in Queensland's Gulf region, the Hughes property aggregation is now estimated to run more than 200,000 head of cattle – and Wagyu is a large (and growing) part of that.
Peter Hughes later acknowledged that Wagyu genetics would be introduced on both recently-purchased properties, populated with calves bred on the company's existing Lake Nash Wagyu breeding property on the Barkly as the basis for herd building (see separate story to come).
The Hughes Wagyu breeder herd based out of the home property, Tierawoomba, now numbered 50,000 purebred cows, turning off 30,000 progeny each year into long-term supply chain relationships.
"Peter bought his first Wagyu bulls from friend and neighbour Wally Rea," Mr Perry told the conference.
"Wally recalled that Peter was cautious about getting into Wagyu – but when he got going, he really got going."
"Wally recalled that Peter wanted to see how the cattle would perform on his country first. He had to see it to believe it. Peter was, first and foremost, a cattleman, and wanted to make sure that Wagyu would suit his country."
A primary driver for Peter Hughes to get into Wagyu was fertility and docility, and he spoke at length during his acceptance speech about the fertility gains that were made over his existing Bos Indicus crossbred herd.
The early cattle performed so well in the Central Queensland environment, from weaning rates to surviving drought, he bought more bulls, and the rest is history.
"While Peter is the undisputed Australian 'Cattle King', he is a down-to-earth and personable individual who is generous in making time to provide advice or guidance to anyone who might ask," Mr Perry said.
"Peter broke down the traditionalist barriers against Wagyu in his region, provided the confidence that encouraged supply chains and the broader Wagyu sector to expand."
"Things change – and those changes are not always expected," Mr Hughes said in his acceptance speech.
With its early origins as Hereford breeders, the Hughes family adopted Brahmans in the 1950s, and Mr Hughes professed to be 'as strong a barracker' of Brahman cattle as there was at the time.
"But one of our neighbours, Wally Rea, would talk about nothing but Wagyu cattle. He had only heard about them then, but was convinced that at that time, it was a risky business ordering a steak anywhere – and especially in Queensland."
"It was alright sending hamburger beef to Japan and America, but we had to lift our game if we wanted a beef product in Australia that was going to compete with pork and chicken."
"Wally imported Japanese genetics to the US, and from there, semen and embryos to Australia. We bought some of his early bulls.
"There's been a tremendous lift in the product that Australian beef producers produce since then (almost 30 years ago), and if we are not in fact leading the world in beef quality now, we must be very close."
Beef Central profiles the Hughes family's 30-year journey into the world of Wagyu in an upcoming story.