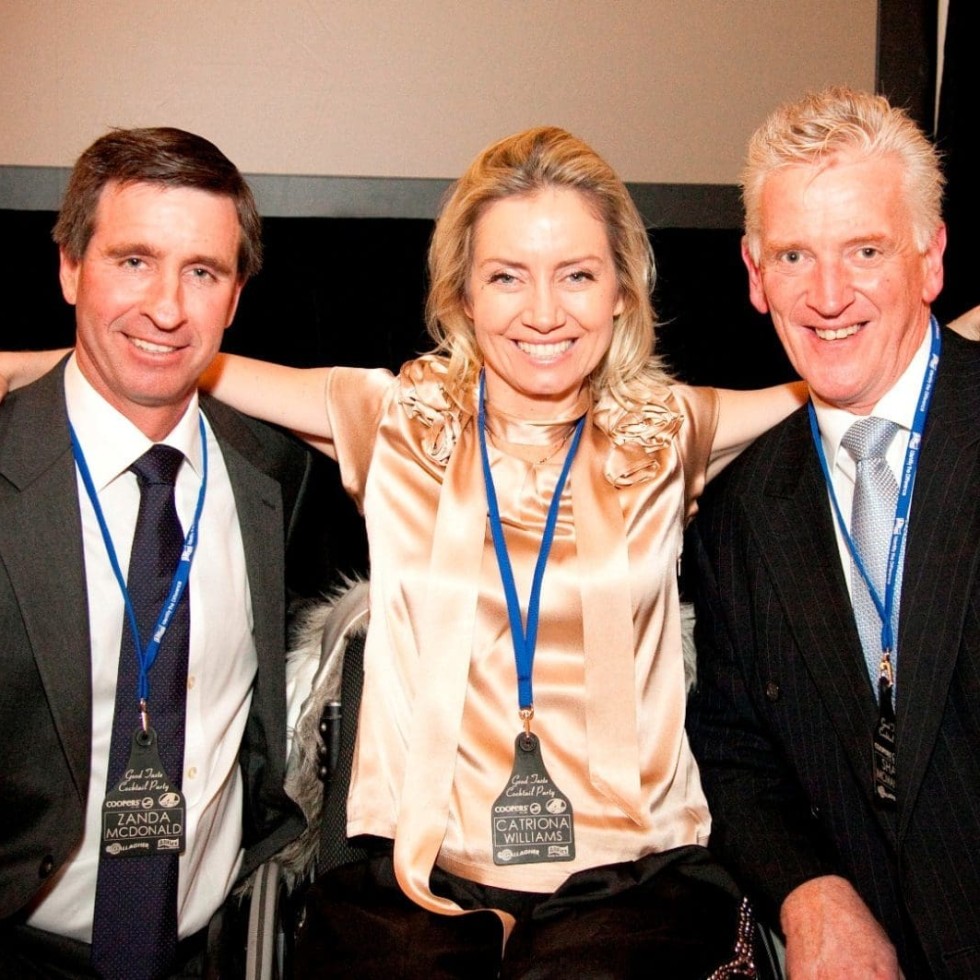 Some of Queensland's top beef producers have pledged their support for The CatWalk Trust – a charity dedicated to raising funds for Australasian research into a cure for spinal cord injuries.
The show of support came after Catriona Williams, CatWalk founder and former international NZ equestrian, addressed a gathering of 100 major cattle producers from Queensland and the Northern Territory at the Allflex annual cocktail party held as part of Brisbane's Ekka last week.
Shane McManaway, chief executive of Allflex Australasia and himself a beef and deer producer, said the group was delighted to host Catriona as the event's guest.
"She is such a positive person and a truly inspirational speaker. The CatWalk Trust is a marvellous charity doing some great work. It's also a cause that we farmers can identify with. Accidents happen in farming and because of the nature of our work and the equipment we use, spinal injuries are not uncommon," Mr McManaway said.
"Farmers frequently discuss how these types of injuries can be prevented and 'what if' it happens to them. It's an issue that's high on our agenda so we're taking the bull by the horns – so to speak – and supporting this worthy charity to help find a cure for spinal cord injuries."
Catriona, now a paraplegic after suffering spinal injuries from a riding accident in 2002, said she was thrilled with the support. "I have a couple of very close friends who are in wheelchairs because of accidents on the farm and to have this community get behind our goals is absolutely magic," she said.
At the recent Ekka gathering, Mr McManaway also announced that CatWalk will receive support from the Platinum Primary Producers' Group (PPP), which comprises more than 100 of Australasia's leading farmers, of which he is chairman.
The PPP Group meets annually to discuss the issues of the day. Each year, it supports a charity. This year, the conference in New Zealand raised $48,000 for the Christchurch Earthquake Appeal. Next year's conference, in Queensland in August, would do all it could for CatWalk, he said.
North Queensland beef producer and PPP Group member, Zanda McDonald said his family company employed around 80 stockmen riding horses seven days a week, mustering 175,000 cattle over an area of eight million acres.
"My wife and our four daughters all ride after school and lend a hand. We know only too well how a riding accident can change someone's life forever," Mr McDonald said.
"We use horses every day for work and pleasure and can empathise with Catriona and CatWalk. Catriona has a passion for horses and strong connections with the agricultural industry and I feel it's a perfect fit for our company, MDH Pty Ltd, to get behind the charity and join with the PPP Group in taking this forward at our 2013 conference."
The CatWalk Trust works closely with the Spinal Cord Injury Network of Australasia (SCIN) – the umbrella organisation for all spinal cord injury groups in Australia and NZ. All money raised by CatWalk in Australia is split 50:50 between CatWalk and SCIN. This ensures that every dollar is spent in the best way possible to further research across Australasia. More information can be found on The CatWalk Trust's website at www.catwalk.org.nz