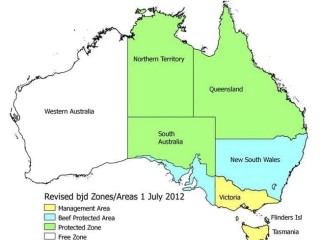 The consequences of the recent Bovine Johne's Disease detection in three animals on a central Queensland cattle stud continue to ripple far and wide.
150 properties in Queensland, four in the Northern Territory and six in Western Australia which have received cattle from the stud are now subject to movement restrictions.
Test results within the next three to four months will determine their fate.
Negative test results will see the movement restrictions lifted, while positive results will see affected properties placed under full quarantine status and forced to eradicate stock, with little to no compensation available at this stage.
Petition
Opposition to the official eradication-based response to the BJD outbreak has prompted members of the stud cattle community to launch a petition calling for the removal of quarantine restrictions.
The petition demands a greater focus on efforts to make vaccinations, more accurate tests and adequate compensation available to affected producers.
Opponents of eradication schemes argue that BJD causes fewer deaths in the national herd than snake bites or lightning strike, while existing control measures are likely to lead to substantial financial and personal hardship for affected producers.
They would prefer to see producers given access to commercial vaccines and to allow the disease to be self-managed at farm level, as is done with other diseases such as pestivirus, leptospirosis and botulism.
They also believe that the regular movement of stock across borders separating infected, protected and free zones and the potential for non-controlled animals to spread Johne's disease means eradication efforts are futile.
Government and industry leaders however maintain that all efforts should be made to eradicate the disease in Queensland while the chance exists.
Brisbane meeting
A high-level meeting in Brisbane tomorrow will focus on key questions relating to BJD in Queensland, such as eradication versus management approaches and possible compensation options for affected producers.
In a letter to delegates who will attend the meeting, Queensland agriculture minister John McVeigh maintains that the "best scientific advice" is that the state needs to stick with the national BJD protocols to maintain the state's 'Protected' status.
"Senior cattle disease specialists in my department are confident that with a fair dinkum effort and strong support from industry, this outbreak of BJD can be beaten," he said in the letter, seen by Beef Central.
"The last thing we need is panic fed by misinformation and misinformed comment in the media. That is why (tomorrow's) meeting is important for all stakeholders."
Cattle Council of Australia supports the approach as being consistent with the national program, and acknowledges that ultimately the decision of whether an eradication or management approach should be followed is up to industry leaders and Governments in each state and territory.
Beef Central understands that tomorrow's meeting will hear from experts about the differences between eradication and management approaches, and how management strategies have worked in other states such as NSW, Victoria, SA and Tasmania.
'Too early to make a call'
Cattle Council of Australia animal health, welfare and biosecurity advisor Justin Toohey said that with testing still underway in Queensland, the Northern Territory and WA, it was too early at this point to be looking at alternatives to eradication.
"They have got 150 properties locked up (in Queensland) but 148 of those could be free, we don't know that yet," Mr Toohey said.
"If that is the case and you end up with say three infected – and this is purely hypothetical – if that is the case then eradication is entirely feasible.
"It is way too early to be calling the tune on that."
Compensation options
Mr Toohey acknowledged that a major concern with the current approach was that a large number of properties are currently subject to movement restrictions without the prospect of adequate compensation.
"They are taking the hit if you like for the rest of the state, so they should be adequately financed or assisted, call it compensation if you like," Mr Toohey said.
"They are going to have to lock up their properties until testing is done – until officials go onto their property, work with the owners to make a plan, take samples, send them to the lab and wait up to three months for the test results.
"They currently do not have a degree of comfort that compensation might come their way."
Beef Central understands compensation strategies will be discussed at tomorrow's meeting.
Western Australia, South Australia and Victoria all have state-based compensation schemes in place for use in animal health emergencies, generated through voluntary levies or duties paid by livestock producers.
Producers in WA where authorities are considering whether to cull bulls that have come in contact with bulls bought from the index herd in Central Queensland can draw some security from the fact their state in place has a compensation fund worth millions of dollars.
Queensland had a similar fund in place until about 20 years ago when it was discontinued after a legal challenge successfully proved that it was unconstitutional for a state to impose a compulsory levy.
WA, SA and Victoria have bypassed that constitutional limitation by using a voluntary levy with an "opt-out" clause.
Whether adequate support exists for a similar levy in Queensland is yet to be tested, but strong industry-wide support would have to be demonstrated for the State Government to enact such a levy.
Tomorrow's meeting will also be attended by representatives of most major breed societies, recognising that the disease is not exclusive to any single breed, and has the potential to infect any type of beef cattle operation if exposed to an infected animal.
Groups represented at tomorrow's meeting will include AgForce, Biosecurity Queensland, QDAFF, Cattle Council of Australia, veterinarians and the BJD national management plan.
No silver bullet solution
Mr Toohey also warned against suggestions that the commercial release of a new vaccine– tipped to be in February/March 2013 – and an improved diagnostic test will offer a silver bullet solution for BJD management.
He said misinformation may be spreading false hopes that new tools would eliminate BJD as a disease of concern for producers.
"We have been informed the vaccination will reduce the numbers of animals in a herd that shed the bacteria that cause BJD infection, will reduce the rate of shedding from each animal and will reduce clinical cases, (however) it will not kill the disease," he said.
"They will still shed and be infected, so you can't expect to operate your business as though there is nothing wrong, because you may still have infected animals.
"Also, once vaccinated, they will thereafter test positive to the disease, even if it is only the vaccination, and won't be eligible then for (live) export.
"Plus, they can incorrectly test positive to bovine TB.
"The new diagnostic test will make turnaround much quicker but the ultimate proof of freedom may still involve the longer-term culture testing," Mr Toohey said.
Lab consolidation won't impact testing: Qld Govt
A spokesperson for Queensland agriculture minister John McVeigh has rejected ongoing rumours that resourcing cutbacks may compromise the state's ability to handle the current BJD testing program.
He said that when the state's veterinary laboratories are consolidated in March next year – at which time the Townsville and Toowoomba labs will close – testing capacity will not be impacted.
"All the testing is done in South East Queensland, and we have national arrangements with Sydney and Melbourne," the spokesman told Beef Central.
"If we start getting inundated we have plenty of capacity to do these tests– they are just faecal tests."