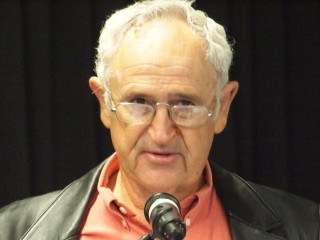 Landholders have pleaded with State and Federal Governments to base decisions on vegetation management and access for resource companies to agricultural land on sound science, and not flimsy desktop audits.
Ongoing frustration at being exposed to high-impact decisions which push emotional, physical and financial resources to breaking point, despite lacking scientific justification, was a common theme of addresses to the 10th annual Property Rights Australia conference near Toowoomba on Saturday.
Central western Queensland landholder Ashley McKay, who successfully defended a long-running tree clearing prosecution brought against him by the former Queensland Labor Government, said the election of the Newman LNP Government in Queensland, which has recently introduced major vegetation management reforms, had been a breath of fresh air.
However, focusing on the Government's recently announced audit of agricultural land in Queensland, he also warned the state government about the perils of basing decisions on desktop audits.
"I would warn very seriously against desktop audits," he told Queensland agriculture minister John McVeigh following his address on Saturday.
"We have fought 50 court cases in this country and most times the desktop audits were wrong.
"They're a good guide, but nothing can beat on the ground."
Property Rights Australia vice chair Dale Stiller said too many decisions were being based on information that was not backed by proven science or sound legal advice, including Environmental Impact Statements currently being used to underpin the construction of powerline infrastructure to support southern Queensland's burgeoning coal seam gas industry.
"One thing that plagues landowners is desktop studies, and (decision makers) not knowing exactly what is happening on the ground."
PRA president Joanne Rea said landholders affected by resource developments, some of whom are dealing with up to nine resource or infrastructure companies, were continually being forced to spend productive working hours engaging scientists to refute specious arguments, at the expense of much-needed attention to their own labour-starved businesses.
The fact that some resource companies still refuse to pay landholders for the time they are required to spend away from farm work negotiating land access agreements for projects they did not ask for, and the value resource companies should place on landholder's time, was a commonly visited topic at this year's conference.
Joanne Rea said landholders were continually being emotionally, physically and financially stressed as a result of the resources boom.
Tips on living in a gas field
Southern Queensland landholder Richard Golden is among those currently dealing with no less than nine different agreements with resource and infrastructure companies. His two cattle properties are each subjected to three gas tenements and an exploration permit for a longwall coal mining project, while one of the properties is also in the path of a planned a 275,000 volt tower power transmission line.
"So, by the time we are finished, we will have had to negotiate nine agreements with four different companies about three different activities," he told Saturday's conference.
Mr Golden is not a landholder who can be described as anti-resource development.
He told the audience that in his view, Australia is a free-enterprise country, and if the forebears of landholders could impose what they believed to be a higher and better use than the previous occupiers of the land they farm, then it was somewhat hypocritical for landholders to say that another legitimate activity such as resource development should not be able to operate in their space.
He said he also supported the freedom of landowners to choose to sell to resource companies and the freedom of gas companies to buy landholdings in a voluntary sale.
However, the big issue from his perspective in both instances was "the manner and the process".
Mr Golden said one of the most important lessons for landholders was simply "never to trust anybody", particularly global gas corporations which were ruthless businesses, not charitable institutions.
"They operate in Queensland with laws which already favour their interests, even without the disparity in skill, experience and financial capacity," Mr Golden said.
"Like the dingo waiting patiently in the shade beside the waterhole, knowing that the roo he chased in there must eventually come out, companies which choose to do so are in a position to wait patiently while landholders financially drown in legal and expert costs, or volunteer to come out to be slaughtered."
He said landholders continued to be plagued by a lack of relevant and accurate information regarding proposed resource developments on their land, and advised fellow landholders to ensure they received legal representation and advice at all stages, and did not take anyone or anything at face value.
Just like a mudguard, he said, resource companies had two distinct sides.
One was the 'shiny' side – the language they used to communicate their corporate values and principles to the world, which included "internationally renowned, world's best practice gas field operator and gas producer, with warmth, integrity and generosity, building a minimal impact gas field in a welcoming receiving environment, where there is little if any real conflict between the gas field and the existing land use. Deeply committed to strong and respectful relationships with landholders, and good-faith negotiations to obtain mutually beneficial agreements. Determined to achieve real co-existence."
Then there was the "smelly, dirty underside", which Mr Golden described as: "Building and operating a gas field in our business premises and our homes, for an uncertain number of decades into the future.
"Breaches such as trespass, weed certificates for the wrong vehicle, no certificate at all, certs out of date, certified vehicles contaminated with vegetative matter and soil, unauthorised entry, letting cattle out, letting cattle in, letting cattle between paddocks, cutting stock water supplies, cattle falling into bell-holes, mixing of soil horizons in gathering construction, building a gathering system in a property where they have not even got a Conduct and Compensation Agreement, and then when they are sprung in the act, leaving plastic tape fluttering on pegs in that paddock where stud bulls live so the bulls can eat it and die, creating the environment for undesirable grasses to dominate landscapes, and on and on and on."
Mr Golden provided the following tips to landholders affected by resource developments:
Remember that in the end the company culture rules;
Don't even shake hands without legal advice and representation, and count your fingers after;
Scream about the suggestion to introduce any form of capping on recoverable professional costs;
Report every breach however small;
Concede nothing without a fight;
Remember the mudguard syndrome;
And mourn the loss of trust, and privacy, and the families and homes we have struggled to make and protect