There is likely to be an increase in receiver-driven rural property sales in Queensland and northern Australia in coming months, a leading valuer told a rural property gathering in Brisbane last week.
Toowoomba-based Herron Todd White valuer Stephen Cameron was speaking at his company's annual property breakfast.
Providing a comprehensive review of the Queensland cattle property market, Mr Cameron suggested the words, 'Under the instructions of mortgagees' might become a more common sight in property listings as 2013 progresses.
"Since 2011, we have seen an emerging trend on properties brought to the market by mortgagees," he said.
This would potentially limit any short-term recovery in the property market, he warned, because there was not only a higher volume of these mortgagee properties coming to the market, but receivers were there, primarily, to 'achieve a result.'
The impact of more receivership sales would be made more acute because there was "basically a limited buyers' pool at present," Mr Cameron said.
"Obviously, that's potentially going to reduce values in certain areas."
Mr Cameron illustrated his points using the graph published here, plotting receiver-driven rural property listings, showing that there had been a spike in receiver sales in Queensland during the second half of 2012.
"Property listings are only now starting to pick up for 2013 after some rain, and I think we are going to see a fair bit more of that happen this year," he said.
The trend to receivership was not isolated to any one geographic area or asset class, however, extending across the whole range of grazing, mixed farming/grazing and other land uses.
"It's right throughout the market, and right throughout Queensland."
Mr Cameron used the example of a recent valuation exercise he had carried out on a 5000ha Queensland property. He chose not to disclose its location, but said it was about the 'norm' in terms of size for its district.
"Within a 100km radius of that property, there was about 50,000ha of land on the market that would have sat in that same asset class," he said.
"Within a 10km radius, there was 14,000ha of land for sale – and 90 percent of that was mortgagee-in-possession properties."
"It didn't matter whether it is going to be an arms-length transaction or whether there are anxious sellers in the market – they are all competing for the same buyers at the end of the day," Mr Cameron said.
"This might be seen as an extreme example, but if a vendor is going to compete with the property next door that's going to sell under a receiver's instructions, then they obviously have to discount their price to some degree to attract the buyer onto their property."
Obviously the increased number of Queensland properties put to market by mortgagees this year was going to be of concern for any short to medium-term recovery in the rural market. It would potentially hamper 2013 going forward, until the market 'got rid of' that clearance stock.
Mr Cameron chose not to apportion specific declines in land value in different regions of Queensland, saying individual listings could impact on local values.
But referring to the graph published here, and accesible in larger format at bottom of page, he said the overall trend was that values were continuing to decline. In North Queensland, there had been a spike evident in 2011, but this was more likely a statistical anomaly that would disappear if smaller holdings were removed.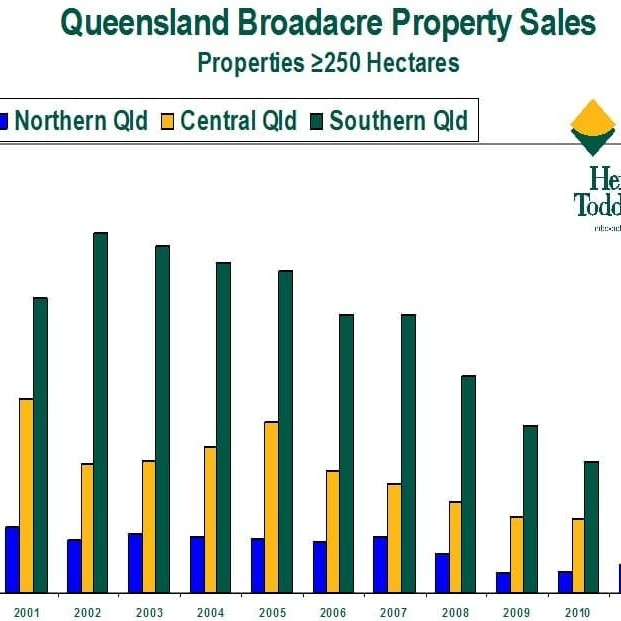 Central Queensland had come off quite rapidly since the peak of 2007, and was trending downwards as well.
Sales volumes (numbers of properties sold) showed a slight upwards trend in North Queensland, but from a low base; Central Queensland had been very quiet last year; and southern Queensland had maintained volumes seen over the past few years.
"If we are going to see any sort of real recovery occur in the Queensland grazing land market, we must firstly retain a strong cattle market – with cattle prices at least remaining where they are at present. We need, also, some sort of normality in seasons, rather than jumping from extreme weather events that we have seen recently."
"While the cost of borrowing is not an issue in the current market with cash rates at around 3pc, we also need some relief in currency values to improve competitiveness and profitability in international beef sales."
"But if buyers' appetite for risk can improve, and the industry sees a little light at the end of the tunnel, we can start to return to a bit of normality – that steady equilibrium between purchasers' and vendors' expectations that has been missing."
Mr Cameron said the big question for the 2013 year was still perhaps, "Have we hit the bottom of the market?"
"In short, in some areas, yes we have. But there is still obviously a lot of pain out there. Those good quality blue chip properties will still sell at sound values, but anything in that marginal area is going to find it very tough this year."
But having said that, he suggested there were some 'big opportunities' out there in the market at present.
The Queensland market over the past year had been characterised by a lot of buyer uncertainty – compounded by a number of factors including a high A$, overseas financial instability, and the Indonesian live export ban. While this had not necessarily affected all of the market, it was another factor affecting buyer confidence.
Lesser influences included things like the implementation of the carbon tax last July, with uncertainty surrounding what costs would be incurred by producers.
"Last year, in summary, there was a low volume of sales and limited liquidity in the market, however we started to see a trend emerging where vendors' and buyers' expectations started to meet up, with some sales being seen through the system," he said.
This had produced a return last year closer to historic relativities in land value between grazing and farming land in some areas.
"Overall though, the past 12 months has been a year we would rather forget," Mr Cameron said.
During his presentation he provided a breakdown for each of the state's major pastoral regions:
North Queensland
In the North Queensland pastoral zone, the 2012-13 wet season for many areas did not eventuate, and looked increasingly unlikely now that March had arrived.
There was also a large volume of mortgagee-in-possession properties being placed on the market, with the biggest concentration in the Mitchell grass downs country.
"We're starting to see producers de-leveraging from highly geared balance sheets, typically, selling off their (second) finishing country on the downs, while retaining their traditional breeding country back in the forest country areas," Mr Cameron said.
An example was Fairview, a 32,000ha downs property near Kynuna which sold for $139/ha as a mortgagee sale. In the northern forest country, there had been about five 'anxious' sales, and about eight in total in the past year, suggesting there was still a level of pain being felt. Values ranged from Fog Creek, selling for $30/ha to Toomba, North of Charters Towers, selling for $158/ha. A mixed downs and forest country block near Richmond, Somerville, made $274/ha.
Mr Cameron said there appeared to be a real 'disconnect' in the northern Queensland market, particularly further west, where smaller blocks that used to get 'snaffled-up' by neighbours wishing to expand, struggle to sell in the current market.
In the corporate side of the northern market, there had been no real activity evident over the past 12 months in North Queensland, with the exception of Neumayer Valley, 149,000ha in the gulf country, which sold for $30 million.
Values across the region had remained quite soft, however there had been properties sold for various reasons.
"It's always the case that good properties will sell at sound values, but there tends to be a disconnect at present for those secondary properties, whether it be due to location, or unfavourable issues surrounding issues like tenure or vegetation maps," Mr Cameron said.
"Any issues that arise, then obviously buyers are starting to discount on them, unless they tick all the boxes."
In North Queensland's higher rainfall coastal grazing land market, there was an emerging trend where values were now a lot more affordable than what it was at the peak of the market. A recent sale of 680ha near Innisfail sold for $2650/ha, a trend also seen further south. This compared with nearby Atherton Tableland areas, where grazing values were between $5000 and $9000/ha, a market which had held up quite well.
A factor in far north Queensland land values was the defunct Managed Investment Schemes, which bought country in 2007-08 for commercial timber plantations. There had been some massive capital losses experienced since then, however. Wallacevale, a former Droughtmaster cattle stud near Tully had been purchased in 2008 for $8.25 million, selling last year for $2m. Two others sold last year for about a third of their earlier purchase price, while others remain unsold.
Central Queensland
In Central Queensland, the property market remained subdued, Mr Cameron said.
High-end properties above $3 million were finding it very difficult to gain traction in the current market, where 12 months ago, there was movement in that range – although some of those were coal or gas acquisitions, he said.
"Today, the coal and gas-driven acquisitions have dropped right off: the $10-$30 million acquisitions are now quite rare."
"Market values in Central Queensland in general are probably sitting at 20 to 35pc below where they were was back in 2007," Mr Cameron said.
More recently, the detection and impact of Bovine Johnes Disease in Central Queensland, which had impacted about 150 producers in the region, could have a big impact on those specific landholdings.
Southwestern Queensland
In the state's southwest, there had been an impact from increased cost of production in terms of freight, management, and labour access. A small spike in sales had occurred around the Quilpie-Cunnamulla region, possibly driven by wool prices above 100c/kg which had injected a little confidence back into that market space, with conversion of some cattle land back into traditional sheep production.
Wild dog predation was a deterrent with sheep however, with estimates suggesting predation cost the Queensland industry around $33 million each year. Some producers had securely boundary fenced their properties with dog-proof netting fences, but such projects came at considerable cost.
Mr Cameron suggested the market in western Queensland had dropped 30-50pc overall from earlier highs. That market probably appreciated the most at its peak, but often, big rises also meant big falls in the current buyers' market. Again, any second tier properties were finding it difficult to attract interest.
Southern Queensland
Mr Cameron chose the Moonie-Meandarra region between Dalby and Roma as an illustration.
The graph here shows that sales were quite high over the period from 2005-2007, before falling quite rapidly. Today, the number of sales in the region was sitting where they were around 1998.
Most significantly, last year there were around 26 sales across the region, while currently there were about 130 current listings.
"You could say there is about five years' worth of supply on the market, at current sales rates," Mr Cameron said.
"That trend is not isolated just to this region. A similar comparison could be drawn to pretty much most of the Queensland market at present," he said.
"There's a high volume of properties listed; there are more 'anxious' sellers in the market at the same time, and obviously that is driving prices in those areas."
In the region of southern Queensland influenced by coal and gas mining, there had been a big slow-down in land purchases by miners. Xtrata, alone, had bought an estimated 40,000ha of country between 2007 and 2011, but the rate of purchase by miners had slowed dramatically last year.
In 2011, Xtrata had bought 11,000ha for a combined value of $37 million, with miners overall buying 34,000ha worth a combined $92 million. Last year, there was only about 11,000ha in total bought around Wandoan, worth around $35 million. The largest buyers were Santos, which bought about 6000ha of country, and QGC around 4000ha.
"That massive shortfall potentially has the impact of softening values in those areas," Mr Cameron said.
"In the 2007-11 period, eight out of ten sales in the Wandoan region had a connection with dispossessed landowners bought out by miners, who were buying back into the market. They were often bought out for premiums of 20-60pc above grazing land rates, allowing them to reinvest back into the market at strong levels."
In general across the mining-impacted regions of Southern and Central Queensland, there potentially might be some softening in land values, and relativities between areas impacted by mining, and those that are not.