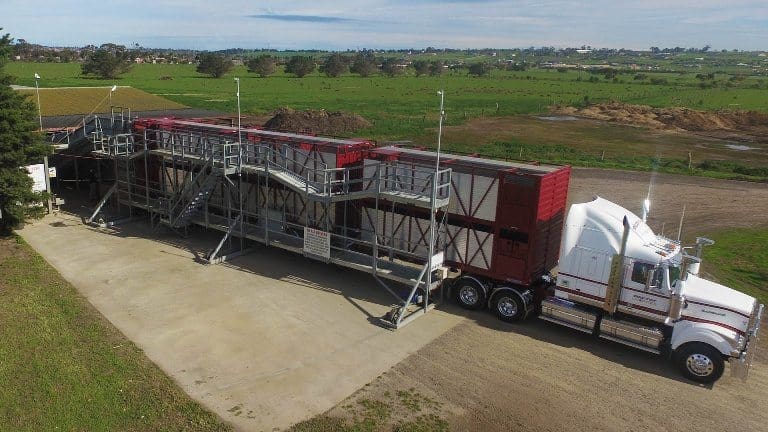 The feasibility of establishing a "user pays" system to fund the installation and use of safer livestock loading and unloading infrastructure at high density livestock facilities like saleyards and abattoirs, will be investigated in a new federally funded trial.
The project will specifically trial a Stock Crate Pivoting Access Landing (PAL) frame (as pictured above), an innovative piece of unloading equipment designed to improve workplace safety, efficiency and cattle welfare.
The PAL featured in the video below was based on an original concept from MC Herd principal Frank Herd and then designed and developed by Proway Livestock Equipment and installed at MC Herd's Geelong abattoir.
The trial was proposed by the Australian Livestock and Rural Transporters Association (ALRTA), and was one of 12 proposals approved for a share of $3.9 million in funding by the NHVR, announced by Federal Minister for Infrastructure and Transport Darren Chester on Friday.
The project will fund the construction of a Stock Crate Pivoting Access Landing frame at a major livestock processing facility in Australia.
It will also:
Install a billing, reporting, monitoring and access control system on the PAL frame;
Promote the voluntary use of the PAL frame;
Collect data to enable productivity and safety comparisons;
Examine transport operator 'willingness to pay' to use the PAL frame;
Consider the ongoing cost of administration of the user-pay system and physical maintenance of the PAL frame;
Consider if the system should be based on 'cost recovery' or whether it is feasible to accumulate surplus funds to incentivise additional infrastructure investments;
Examine supporting decision making frameworks for setting usage fees, rectifying maintenance issues and general management of the infrastructure.
"Landings used for loading and unloading livestock can greatly add to the safety of operators, reducing falls and giving better access to the trailer," Darren Chester said.
"Livestock are unpredictable, particularly when loading or unloading, and any sudden movement is a risk to an operator who is usually working at heights.
"This trial will not only construct and trial a Stock Crate Pivot Access Landing frame at a livestock processor, but also look at innovative funding options and how it might be rolled out at other locations across Australia.
"The rate of falls, injuries and even fatalities among livestock operators is too high and I look forward to seeing the outcomes of this trial to improve both operator safety and productivity in the heavy vehicle industry."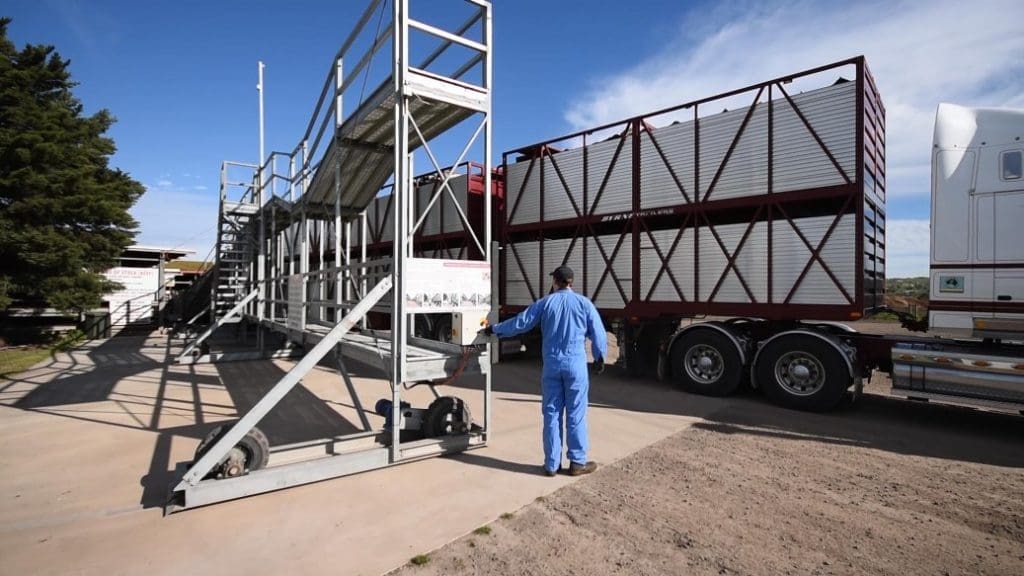 The ALRTA has welcomed the decision by the Transport and Infrastructure Council to provide funding under the Heavy Vehicle Safety Initiative 2017-18 to investigate the feasibility of user-pay loading and unloading infrastructure.
Chair of the ALRTA National Animal Welfare Committee John Beer said the 'proof of concept' project had potential to greatly improve safety and productivity in the livestock supply chain.
"Transport operators have to rely on other parties in the supply chain to provide loading and unloading infrastructure, such as livestock ramps and pivot access unloading frames," Mr Beer said.
"High quality infrastructure can greatly improve safety and productivity for heavy vehicle operators.
"However, economic self-interest usually drives infrastructure owners to provide only the bare minimum to meet their own operational and legislative needs.
"As a result, safety and productivity improvements in the road transport supply chain can lag decades behind what would be otherwise be possible if the costs and benefits of infrastructure improvements were shared more equitably across all parties.
"This project will demonstrate an innovative new funding mechanism that overcomes these market failures and incentivises rapid infrastructure improvements throughout the road transport supply chain," said Mr Beer.
See Beef Central's earlier article on the Stock Crate Pivot Access Landing at Geelong here