A strong emphasis on partnerships and a systems-based approach to delivering consistency, safety and reliability are just two of the key features that have driven McDonald's to its position as the global leader in the quick-service restaurant business.
This was one of the strong impressions left on a group of Queensland and NSW beef producers who took part in an 'open book' McDonald's supply chain visit in southeast Queensland last week.
The tour took a paddock-to-plate approach to the McDonald's supply chain, starting with the cattle holding yards at JBS Australia's Dinmore abattoir, and ending in a behind-the-counter look at a typical Macca's restaurant outlet six hours later.
In between, the group visited a pattie manufacturing plant and McDonald's major distribution centre, and heard from the joint venture company responsible for securing raw material supply.
In 2012, McDonald's spent $609 million on produce for its Australian restaurant operations, including the purchase 26,000 tonnes of Australian beef. Globally, the company uses about 120,000t of Australian beef each year. Some 57,000t of manufactured patties produced in Australia are exported each year for use in McDonald's restaurants in South East Asia, Japan and the US.
So what's behind the decision to throw the supply chain's doors open to producers?
One of McDonald's stated priorities is to heighten sustainable food practices across Australia, and the tours (two more, already full-subscribed, will be held in Qld and NSW before mid-September) are part of a process to underscore McDonald's commitment in this field.
"We've been working hard to open our doors and be as transparent as possible with our customers and suppliers through various initiatives. These tours will give our primary producers the opportunity to learn what each other is doing, and what they can do to contribute towards sustainability and the future of the Australian beef industry," McDonald's chief restaurant support officer Joanne Taylor said.
"Our supply chain model is built on a culture of partnerships and collaboration, and it is that thinking that led to the development of these tours," she said.
"It's important that we continue to give our suppliers the right support and education to produce the best food possible, that exceeds both food safety and sustainability standards."
Beef was McDonald's most iconic ingredient, and the company's top sustainability priority, Ms Taylor said. "It accounts for the largest cumulative source of environmental impacts in the McDonald's system, and is therefore our greatest challenge in meeting our commitment to food sustainability."
"These tours will give our primary producers the opportunity to network and learn about how McDonald's is working with its suppliers to strengthen the supply chain's ability to deliver a long-term, assured and sustainable supply of Australian beef to our customers."
Presented here in 'diary note' form, are some of Beef Central's impressions from last week's tour…
Stop 1: JBS Australia's Dinmore beef plant
JBS Australia's Dinmore plant is one of six nearby export abattoirs accredited to supply the AFC Coominya beef pattie factory.
As the nation's largest abattoir, Dinmore processes up to 1700 head per shift, with nine shifts a week, pushing the plant utilisation out to 20 hours a day. That typically requires 80 B-double loads of cattle a day, plus twice weekly train services.
With the kill floor operating at a chain speed of a body every 17 seconds, the plant generates 35,000 cartons of beef each day, filling about 50 containers. Twenty-two staff work in Dinmore's quality assurance team alone.
"Burgers are a massive and growing global beef business, and McDonald's are easily the biggest in the game," JBS's Brendan Tatt told the tour group.
"Five years ago most of our McDonald's business was going to the US, Japan or here in Australia. Now, it's also going to countries like the Ukraine, Taiwan, Philippines, Korea, China – you name it, anywhere McDonald's has a store we're likely to be sending beef there," he said.
"It's not always easy, because the 'cost of entry' in doing business with McDonald's is very high, with expectations and regulatory requirements over product safety and performance. But it's exciting partnering with a company like McDonald's which is expanding across the world so aggressively."
Dinmore plant manager Murray Wilson outlined JBS's responsibility as a McDonald's beef supplier.
"In the animal welfare area alone, for example, McDonald's auditors will look at the process from when they come off the truck, through the yards, and up the race. From that point, the scrutiny is very intense on goad-use (jiggers), bellows, and correct application of stunning. Each section of that is 100 head of cattle, so at 200 head an hour, that animal welfare audit process, just on the race, will take four hours," Mr Wilson said.
Staff working at the pre-knocking stage receive intense training on animal welfare and low stress stock handling, with refreshers every three months, to reinforce the messages.
"If you want a consistently tender product, it makes perfect sense to maintain good animal welfare practices as pre-requisite," Mr Wilson said.
Just as McDonald's was a big global brand, JBS also had an international reputation and 'brand name' to protect, meaning it took issues like food safety and animal welfare very seriously.
"That's why we do a lot of business with McDonald's – because we know each other's businesses and systems inside-out. It's very important to us to protect our reputation, and equally, we need to have confidence in their systems at the other end."
In order to meet the challenges of blending the perfect beef pattie, accurate fat content analysis is carried out on every carton of manufacturing beef leaving the Dinmore plant, allowing trim to be packed anywhere from 65CL (percent lean meat) to 95CL. The pattie plant will then use formulas to combine different CL blocks to deliver the perfect beef pattie – typically 75-80CL.
Stop 2: Australian Food Corporation Coominya pattie plant
AFC Coominya is owned and operated by Keystone Foods, one of McDonald's global pattie suppliers. It is one of two pattie plants in Australia licenced to supply McDonald's.
The facility currently supplies McDonald's patties for Australia, Japan (supplementing locally-produced patties using Australian beef), the Middle East and Indonesia.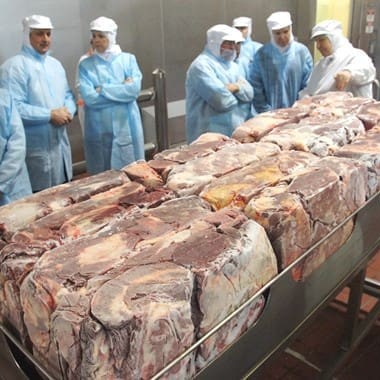 However it also has capability to supply the US, Taiwan, Korea, Vietnam, Brazil, Africa the Philippines and Thailand.
Utilising four Formax pattie forming units and two Scandia flat-belt snap freezers, the plant has the capacity to produce about 480 tonnes of finished material a week, using two shifts daily. Annual production capacity is 25,000 tonnes.
General manager Nicol Hingst said AFC was heavily involved in sustainability in the McDonald's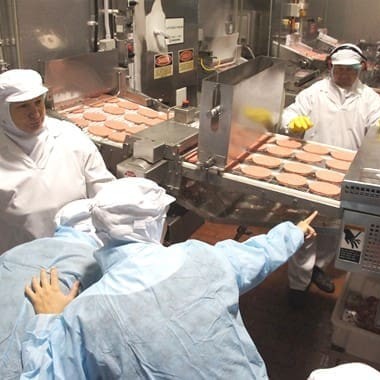 supply chain.
"It's all about a holistic approach, taking into consideration animal welfare, our people and communities, the environment and producing good, safe, quality products. It's really about doing the right thing, and it's become an expectation now of our customers, and our consumers," she said.
Water savings was just one area where the plant had made major sustainability improvement. Since 2007 the site has reduced water use by 52pc, and this year reached zero waste to landfill.
The plant uses 52 food safety and quality control measures applied multiple times per shift, extending from arrival of raw material to despatch of the finished product.
Both chilled and frozen raw material is used, with chilled meat arriving in large bulk bins. A number of abattoirs are approved for supply, including Nippon Oakey, Teys Beenleigh, JBS Beef City and Dinmore, Kilcoy, Nolans and Stanbroke Beef.
"It's very much a partnership with McDonald's involving ourselves, and our raw material suppliers," Ms Hingst said.
AFC holds the distinction of being the 'global standard' by which McDonald's manufactured burger patties are measured, a position it has held against all other McDonald's pattie manufacturers around the world.
On a reasonably frequent basis, McDonald's gets samples from AFC and all its pattie manufacturers worldwide, and assesses them using sensory calibration, judging on flavour, texture and appearance. AFC Coominya has been the global standard for the past 12 years.
"The shelf-life and production and presentation specifications are very tight for McDonald's, for both raw material and the finished patties. The aim is to make the flavour profile, texture and appearance consistent, regardless of where the pattie is consumed," Ms Hingst said.
Stop 3: McDonald's Booval (Qld) restaurant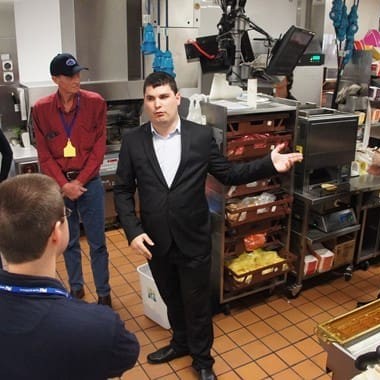 The tour group arrived at McDonald's Booval restaurant near Ipswich – one of 902 company outlets across Australia – during the peak lunchtime trade, and the behind-the-counter area was a frenzy of high-energy activity.
Booval is a 24-hour-a day, company-owned store (the split is 25:75 between company-owned and franchisee-owned outlets). Up to 30 crew can work at the site across a daily cycle.
The Booval store recently set an all-time one-day store record for sales. That was achieved on a Saturday, a period typically influenced by weather, children's sports activities, and what's going on locally or in nearby Brisbane.
Booval receives two meat protein deliveries each week from McDonald's Martin Brower distribution centre, each of about 400 cartons. Three different beef pattie sizes are used: 3:1 (three patties to the pound, like Grand Angus); 4:1 (quarter-pounder size) and 10:1 (cheeseburgers). The outlet uses 187 boxes (57,000 patties) each month of the smallest patties alone.
Deliveries are based on weekly projected sales, coordinated through an ordering manager. A new addition is a breakfast beef burger, incorporating a smaller Angus pattie and an egg.
The store has two double-sided, fully-automated grills, which removes any risk of inconsistency in the cooking phase from cooking by hand, especially given McDonald's heavy reliance on young, inexperienced staff.
A detailed daily food safety routine is followed, with a long checklist of raw materials and finished product, such as regular checking of core temperatures of cooked patties.
Beef sales as a proportion of overall protein varies considerably from store to store. At the Booval outlet, for example, beef is dominant – probably 80pc of all meat protein sales, and including a lot of 'double pattie' burgers.
Just 20 minutes away, however, a store like Bellbird Park sells a lot more chicken and fish, relative to beef. Ethnic background and other demographics can have has a lot to do with that, with a large Pacific Islander population around Bellbird Park, having a preference for white meat.
Even at a local store level, sustainability is a heavy consideration. There are detailed programs for cardboard and oil recycling, and energy conservation, including fire-up and fore-down schedules for different cooking equipment.
The producer tours are an initiative of the McDonald's Australia and New Zealand Beef Council, with support from Meat & Livestock Australia.
Beef Central will file a separate report on the operations of MAC Asia Pacific, the joint venture company that procures raw material for five large grinders/pattie manufacturers in Australia and overseas that supply McDonald's requirements. MAC services 15 countries with Australian and NZ manufacturing beef, in raw material form, covering 18 McDonald's aligned grinders/pattie manufacturers around the world.